Talk Me Off - Sound In The Signals Interview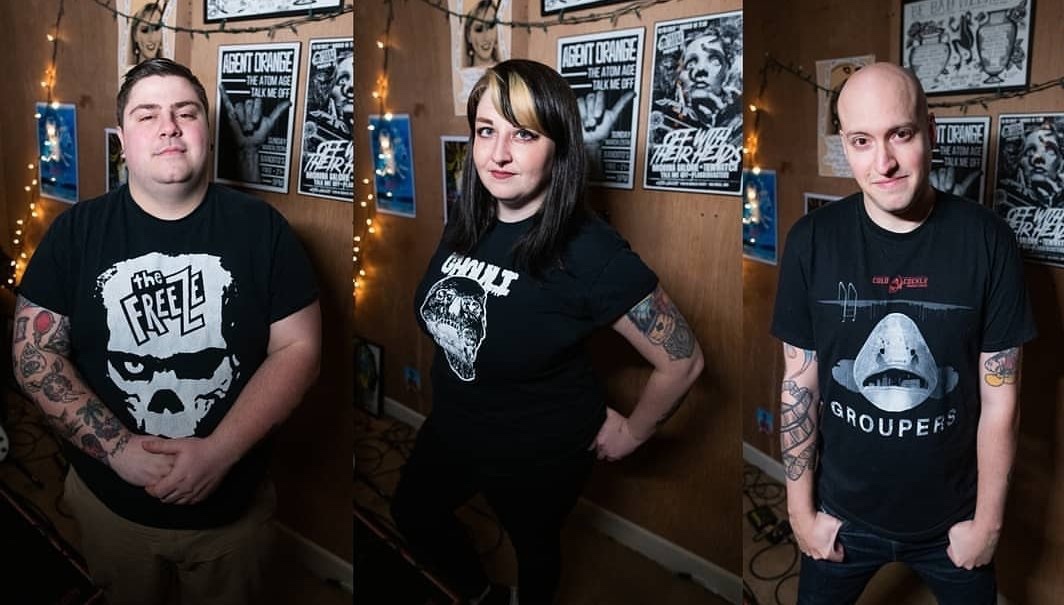 We had the chance to interview Holly and Ryan of Talk Me Off. We discussed their new album, the vinyl pressing, album artwork, and more. Check out the full interview below.
First, thanks for the interview.
Holly:
Yeah of course. Thanks for showing interest in the band!
For anyone who is not familiar with your band can you tell me how you got started? What initially got you interested in music?
Holly:
So I think we all started playing when we were teenagers. I know my whole family is full of musicians so it wasn't really an option not to play something. But as for us all getting together to play, I initially met Christian threw booking when I still lived in Florida and then once Christian and I moved to Richmond, we met Ryan threw a Screeching Weasel cover band Ryan and I did for a charity show. We all weren't busy with any other music projects and realized we all kind of wanted the same thing out of a band and all loved the same sound so we went for it!
Your new album 'Cursed' just came out. Can you tell me about the writing and recording process for the album? How long did you work on it?
Holly:
We recorded the album in 2 days with our buddy Josh, but made up for the short time in the studio with how long it took to actually write. The first year or so of the band we were really just focused on playing fun shows and doing some tours. We had about half the songs written during the first weeks of the band being a thing then stopped writing for a bit til we realized we wanted to do a full length. Then we pumped out the rest of the songs. I know I personally usually bring a pretty bare bones structure/lyrics/melody to the band and then just get everyones input to make it a more full song. I'm lucky all 3 of us are creative and have great ideas so Christian and Ryan just really help take the songs that I bring to them to the next level.
The artwork is fantastic. Can you explain the concept for it? Who came up with it and who created it?
Holly:
The art was done by one of my best friends, Jessica Hiemstra. I feel like the whole album has a lot of self-deprecating imagery and we wanted to art to be something that spoke for that. We all just had a few ideas but brought those to Jess and she came up with what it ended up as. She is so creative and really understands a lot of my mental state so I was so stoked she wanted to be apart of it.
"Liar" and the title track "Cursed" are a couple of my favorite songs from the album. Can you tell me about writing those songs and the inspiration for them?
Ryan:
I basically wrote Liar in about 15 minutes. I had been feeling like crap internally for a couple weeks and someone at my job told me how I shouldn't worry and that things always end up working out. I just found that kind of response so goofy because they really don't know for sure how well it'll turn out, do they? And so this song was born out of that.
Holly:
And as for cursed, I really just feel like that song completely wraps me up as a person. That one 100% came from my heart and unfortunately is how I feel a lot of days suffering from Bipolar and Depression. It was hard to show that one to people at first because it is pretty brutal towards myself, but it is also how I feel a lot of the time.
You released a vinyl pressing for the album. Was it a big priority to have this album pressed? How important do you think it is for artists to release their music on vinyl?
Holly:
Absolutely. We are all big fans of vinyl and I started my own collection when I was 12. We knew that we wanted this to be pressed. We were so lucky to get SmartPunk on board who had the same vision of getting this released as a 12" as well. I think the future of hard copy music is in records. Not saying I don't use spotify, but there is nothing like the ritual of listen to and taking care of vinyl.
What do you have coming up for the remainder of the year?
Holly:
We are starting to write more again and just out playing as much as we can. We got some short mini tours planned and hoping to figure out shortly what we want to do for our next release.
Thanks for taking the time to answer the questions. Do you have anything else that you would like to add?
Yeah no problem. Go start a band! Support local music. That's about it.
Follow Talk Me Off:
Bandcamp
Facebook
Instagram