Audio Karate - Sound In The Signals Interview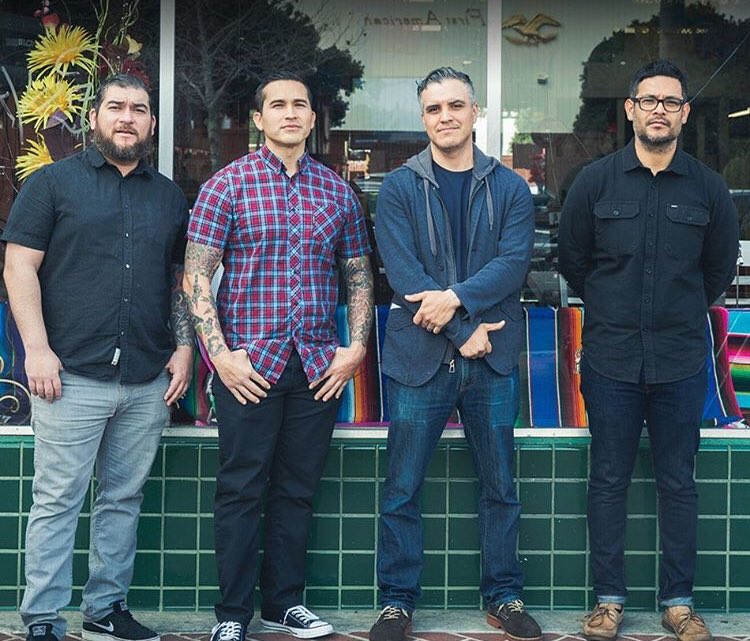 Audio Karate recently released the first single from their third album,
Malo
, which was originally recorded in 2007, but has been remixed and will be out on October 18th via
Wiretap Records
,
A-F Records
, and
SBAM Records
. Guitarist, Jason Camacho recently discussed how they approached remixing the album, why they chose "Sin Cuchillo" to introduce the album, and more.
First, let me say thanks for talking with us here at Sound In The Signals.
Thank you.
You just released your new song, "Sin Cuchillo". It's the first single from your long awaited album, 'Malo'. You originally recorded it in 2007 and this album was to be the follow up to 2004's 'Lady Melody'. Tell us a bit about this song specifically and why you chose this one to introduce the new album.
I had been working on the main riff since 2003 it so, pre-Lady Melody, but we never got around to writing a song out of it. Once we had the studio built, it was one of the first songs that came together. We chose it as the first single because it felt like an obvious choice, it has the memorable chorus. Who hasn't wanted to tell someone call me when you get to the bottom of your bullshit?
You also just released the video for "Sin Cuchillo". Can you share any fun stories from the video shoot?
That's my house. It's a plain, suburban home. Mike and Vanessa were pretend arguing and saying some absurd things about buying Lululemon and cheeseburgers and dumb shit. It was fun watching them try and keep it together. Kent the star of the video kept it together for being 6, super proud of him.
Like I mentioned, you recorded this album in 2007. Can you tell us about the time when you were recording it, what happened with the band during that time, and why you decided not to release it?
We were able to get out of our contract with Kung Fu and thought we'd take a shot at another label. As we recorded the album we were pretty burnt on touring. This was sort of the height of the lip ring, swoosh hair, stupid hot topic pop punk/emo thing which we never felt part of and didn't want to be a part of. At some point I decided I didn't want to play in a band full time and walked away from doing AK. The rest of the band continued with Indian School and I basically didn't touch my guitar for 10 years.
After deciding to release it now you remixed the album with help from Mike Jimenez (Rufio). What was this process like? How did you approach remixing and getting the album ready for release?
Mike and AK are super tight, we played with Rufio for their first show, I recorded his band at my studio, he plays in Indian School, so we are family. We had a mission not to retract or mess with what we had recorded, it was a time capsule album and we wanted to approach it as such. He and I worked on the mixes together alone then I'd take the mixes to the band which is never fun. "The hihat is too loud, is there any way we can make this sound more like that..." that kind of stuff. Ultimately, I am beyond pleased with how the album turned out considering we recorded it in a small homemade studio and I had zero formal experience engineering an album.
This isn't the first time we've heard something that was meant to be on the follow up to 'Lady Melody'. You released a 7" last year with two songs from that era. What did you think of the reaction from those songs?
The reaction was super positive to Bounce and Landing. I think the fact that the songs are from 12-13 years back cuts down on the usual criticisms of "I liked them better back in the day" because this was back in the day. As a fan, I'm not too keen on bands recording albums after super long breaks because time changes so much. On Malo people are hearing us still young, poor, drunk, confused and coming into our own a bit. I don't think anyone wants to hear the "we're almost 40 and have kids and mortgages and careers but we are still angsty and upset" Audio Karate record...that shit might suck.
Audio Karate has a fan base that has stuck with you and your albums have become classics for the genre. How does it feel to have made music that has stood the test of time? Do you still get surprised by it all? What do you think about the reaction to the new album so far?
It feels very gratifying and we are beyond thankful. We never sold a ton of records, but we consistently hear that people listen to them frequently after more than a decade and that means everything. It had been interesting to come back and see that we made fans of a generation of bands post 2008, bands I didn't know existed because I dropped off the radar. I came across a Kerrang interview where Jeremy from A Day To Remember name checked Lady Melody as one of the best albums to come out of the Blasting Room and that is crazy to me. Those guys sell millions. So all of that is really cool. We're beyond appreciative.
I guess that wraps it up. Thanks for taking the time to answer the questions. Do you have anything else that you would like to add?
Thank you very much for wasting space on some old hacks like us. We hope people check out Malo because it is an honest record and it doesn't suck too hard. We'll be at Fest and in Colorado in November, and playing a home town show in LA Dec 14 to celebrate the release. To anyone that's ever listened or come out to a show, thank you so much.
Follow Audio Karate:
Twitter
Facebook
Instagram
Website
YouTube