Equipment - Sound In The Signals Interview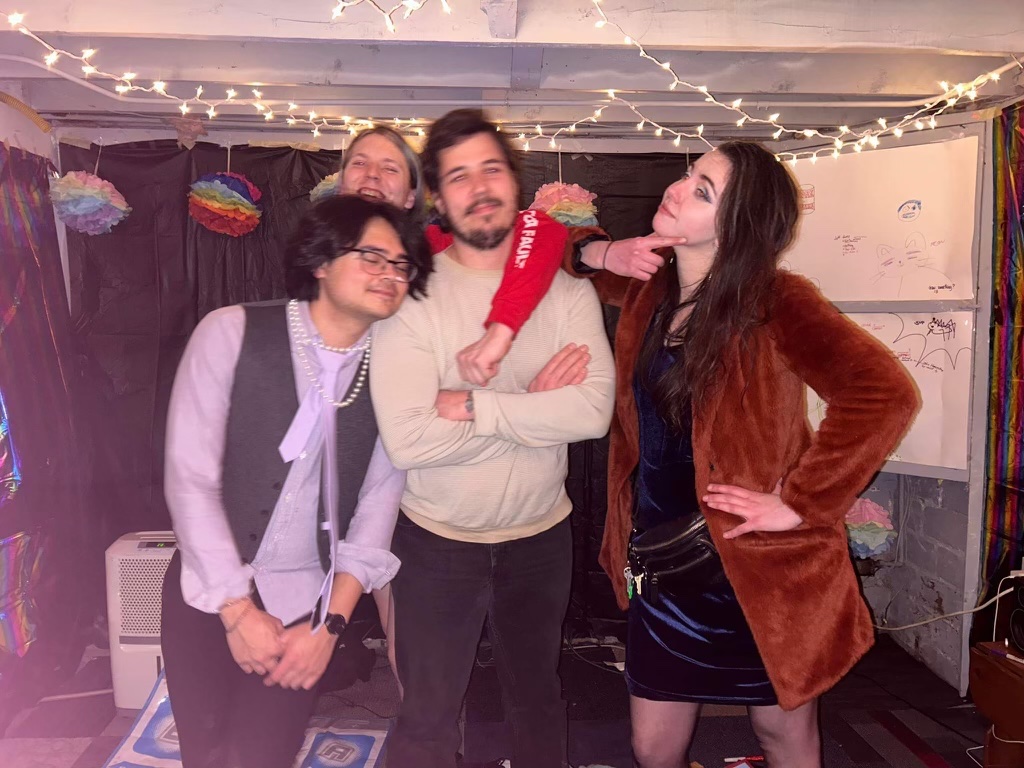 I recently had the opportunity to interview
Equipment
. We discussed recording new songs from their upcoming EP, '
Miracle
', which is due out February 24th, what to expect on their upcoming album later this year, upcoming shows with Free Throw and Can't Swim, and more. Check it out below.
First, thanks for the interview.
No problem! We love doing them, so thank you.
You recently released "Talk To Strangers". Can you tell us more about the lyrical themes you explored?
This song's main theme would have to be guilt. I think people should ultimately be able to find some type of peace after a bad deed, but this song is not about that part of the process, and the bad deed is still pretty fresh in this case. It talks about how there's even guilt in moving on from your past ("pain you inflicted doesn't vanish when you sheath your knife") and how sometimes you do something you're so ashamed of that you have trouble living with yourself. The chorus is a bit of a desperation plea to people you drove away with your actions.
Can you tell us more about the recording process? What came easiest in the process and what took more time?
This batch of songs turned out to be a little harder to play than most of our older stuff, or maybe we've played those old songs so many times that they became easy. Either way, the rhythm patterns of these songs are unforgiving in a way that you can't really be loose or the whole groove falls flat, so getting takes that were right on the money took time. Our drummer Jake Pachasa came in and knocked out his part pretty easily. It came down to the little stuff like playing the main riff that first plays in the intro JUST right. Oh, also, this song is so out of my voice's range. Singing it live is kind of a nightmare, but recording it didn't take as long as I thought it would. Shout out Steven Warstler (stevenblakemix.com) for being with Equipment since the start and continuing to kill it with every song we bring in.
You also released new song "My Birthdays Lately". How do you think you've progressed as songwriters on this new music? Did you try anything new with your songwriting process?
I think we've found our footing for this version of the band these past couple years. For a long time we didn't know what Equipment really sounded like, but now we do. When I wrote our first LP "Ruthless Sun" in 2017/2018 I thought I was at the level I'm at now. I wasn't, and it took until now to realize it, if that makes sense. I think we're finally comfortable enough now that we actually attempt the out-there ideas instead of shying away from them out of fear of not pulling them off. Also, the ideas are just better in general, and that probably comes from us spending so much time in a constantly-improving music scene.
These past few songs have all been very stream-of-consciousness in every sense of the process. We're so used to writing music and having it come out over a year later, but I wanted to document my feelings right now, on top of riffs I'm writing right now, and release the music right now. I wrote the lyrics for this song in an afternoon, and went into the studio less than a few weeks later. I wanted to go for this sort of sped-up, manic-sounding Weezer vibe. Our earliest music sounds very Weezer-heavy and coming back to this sound and just making it work so much better after 6 or 7 years felt great. I've also wanted to find a place for that breakdown at the end with the modal interchange (when it switches from happy to scary) for a while now, and I'm glad it fit so well here.
What can you tell us about the new album you plan to release this year?
All I can say about the LP is that it feels like the first time we really nailed something start-to-finish. When I say start-to-finish I mean tracklist-wise; the recording process was kind of lengthy with a huge break in the middle due to a big life change on my end. However, I think that break from working on the record paved way for some clarity and we were able to finish the album properly with a fresh coat of paint. I can't guarantee it'll make us any more of a "big name in music" but I know for a fact that people who like Equipment will like the album.
You're heading out on tour with Free Throw and Can't Swim in March. What are aspects of performing live that you are currently enjoying?
We don't practice as much as we should, but when we come to a city and the room is just full of people who are too excited to notice you screw up, we get really in our element and have a great time. That actually makes us a little nervous for the Free Throw/Can't Swim shows. These will be the biggest crowds that we've ever played to, but only 10% of the people there (if we're lucky) will even know who we are. That means we actually have to be a GOOD BAND. Even though that's a little scary, I think we're pretty good at putting together a setlist that makes sense for people who've never heard us before, sort of like an intro to us. Also, rumor has it we're throwing in a pretty recognizable cover to our set.
Thanks for taking the time to answer the questions. Is there anything else that you'd like to add?
Just wanted to shout out the amazing organic support we've gotten for the new songs and at the recent shows. We're not the biggest band in the world but we've been feeling a lot of love from so many sides recently, I'm trying to come up with a good way to pay it back and pay it forward. And to the people who have been with us for seemingly forever, I hope we make you proud this year!
Follow Equipment:
Follow Sound In The Signals: