Bobby Mahoney and the Seventh Son - Sound In The Signals Interview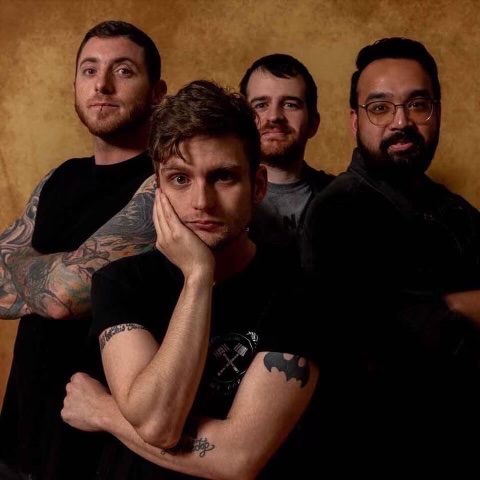 Mark Ashkinos
I recently had the opportunity to interview
Bobby Mahoney and the Seventh Son
. We discussed new EP, 'We Go On', how they hope the EP inspires fans, writing the EP and the lyrical themes they explored, the recording process, what makes a good performance for the band, and more. Check it out below.
First, thanks for the interview.
Thank you!
You recently released new EP, 'We Go On', which was written during the pandemic. How does it feel to have it out? How are fans receiving the EP?
It has been such a relief to put the "We Go On" EP out! We have been recording these songs since late summer/early fall 2020, and some of the songs' writing processes started a year before that- so it has been a labor of love. I didn't want to release anything new until we really had something we were proud of! Fans seem to be digging it so far! They were singing along loudly with all the brand new songs at the two (sold-out) release shows we played in Asbury Park- which was an amazing gift!
What do you hope fans take away from the EP?
I hope they are able to walk away inspired, refreshed, and excited! It is a powerful twenty minutes of music, and I hope they feel like they can tackle any issue or accomplish anything they can imagine! If we can do this then you can do anything you set your mind to as well!
Can you tell us more about the writing process and the lyrical themes you explored?
On this EP, we cover topics like being a creative person in this era, crumbling capitalism, boundaries, balancing outer conflict with inner-peace, legacy, mortality, New Jersey, Miami, Rock N Roll, the cosmos, and more. It became a bit of a collage, scrapbook, or journal for me over the last few years. There has been a lot of introspection, as well as a lot of analysis of our general place in the universe. The songs all started with acoustic guitar and vocals, and I would let the lyrics marinade across the whole process. The band took my acoustic demos and came up with their own demos or parts. Jon Chang-Soon (bass, vox) and I spent a lot of time in pre-production figuring out the overall "vibe" for these songs. The basic tracks were recorded with all of us playing together, socially-distant, in a basement. I wanted to capture that fundamental energy of us playing in the room together, and I wanted that to ground the whole record. We had been so starved for musical connection by Fall 2020, and we wanted that connection to be the sonic cornerstone of the EP- friends creating music together.
The title track "wonders about what happens to the energy things leave behind when we can no longer see or experience them. It's about the luck that we end up on this planet at the same time as others and that our paths cross in the ways they do, when they do, and why they do". Can you tell us more about writing this song specifically?
I started "We Go On" with the main riff and the title in November 2019. It was initially a bit slower, but I envisioned it being a powerful closing number for a show or record. I imagined the band playing the song in front of a big audience, singing along, and I reverse engineered it from there. Mortality and legacy are constantly on my mind, and the pandemic only amplified that. Many things in my current apartment- from the couch to many of the dishes, and even my main acoustic guitar- are all heirlooms from my Pop-Pop after he passed away, and this song is me unpacking my feelings about him and my other grandparents, and other close people who have moved on.
Can you tell us more about the recording process? What came easiest in the process and what took more time?
The general bones/outlines of most of these songs all go back to 2019, I believe, except for "Moth to the Flame '' which the earliest recording I can find for that is a demo from February 2020. We then spent March-August 2020 in lockdown, mostly doing pre-production over the phone, over zoom, and with the aid of voice memo and logic demo recordings. We spent a fair amount of time talking about the arrangements, the instrumentation, and how we were going to make each song have their own sonic signature, while having it sound cohesive throughout. The main tracking was done over one weekend, where we recorded drums, with scratch guitars, bass, and vocals. We then spent the next year recording different guitars, bass, keys, vocals, and mixing both in-person and over zoom. Working with zoom had its benefits and drawbacks. It was cool to remotely sit-in on a mixing session in my pajamas at home, but I definitely prefer being in the room. "Moth" came together relatively early, while "Take What You Can Get" and "No Amens" took the most time to really nail the sound we were looking for.
You've shared the stage with Frank Turner, Against Me!, The Gaslight Anthem, and Bon Jovi. What makes a good show for the band?
We are very grateful to have had so many opportunities to play with some of our heroes! I like to say we will play basements, arenas, and anything in between! A great show for us is when we feel like we are locked in together musically as a band, and the crowd is energetic and into what we are doing. It could be 20 people, it could be 200, or it could be closer to 20,000, but ultimately we approach them all the same way. A friend and guitar hero of mine, Matt Hogan (Tommy London, Willie Nile, Miley Cyrus) told me when I was young to play every show like I am playing The Garden, and I really took that to heart. One person at a time!
What else is coming up for the band in 2022?
We are excited to get back to some out-of-New Jersey shows- getting back to places like North Carolina and Virginia for the first time since 2019! We have a few local Jersey tricks up our sleeve for this summer too! We are also always writing and working on new songs, and it won't be long before people hear more from us.
Thanks for taking the time to answer the questions. Is there anything else that you'd like to add?
Thank you for taking time to ask them! I appreciate everyone taking a moment to check out the new "We Go On" EP, as well as our back catalog on
Bandcamp
and other sites! Every stream, view, share helps more than we can say! Thanks again!
Follow Bobby Mahoney and the Seventh Son:
Follow Sound In The Signals: