Joshua Ravenscraft (New Frontier) - Sound In The Signals Interview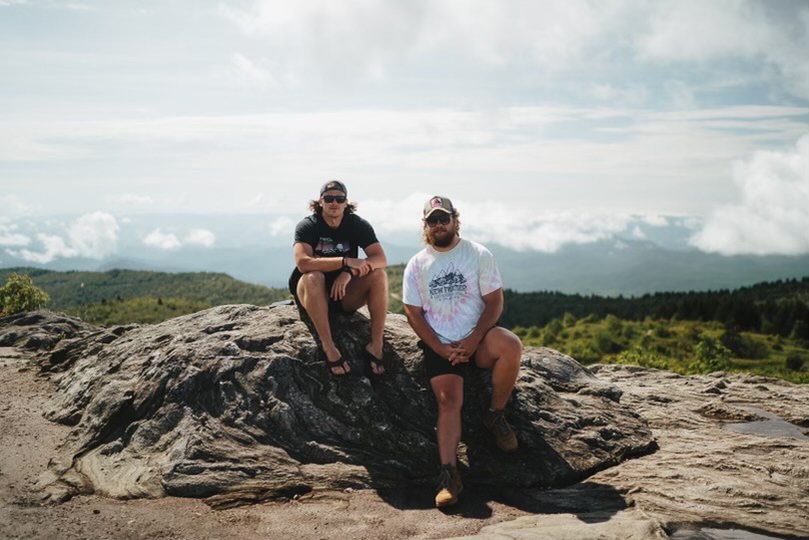 I recently had the opportunity to interview Joshua Ravenscraft, one of the founders of
New Frontier
. We discussed how the clothing brand hopes to "
bring good to the culture, the people, the communities
" of the Appalachia region, their design process, how music has influenced their style and brand, and more. Check it out below.
First, thanks for the interview.
You are welcome! Thank you for having us!
Can you give me a brief history of how you started the brand and what some of your goals are for those who may be unfamiliar?
Ultimately, New Frontier was founded on the core principle of bringing good back to the region of Appalachia. Not just through products, but to bring good to the culture, the people, the communities, and be a part of changing the connotation of an often overlooked region to something positive & innovative. We just so happen to be doing this through our high quality, small batch, outwear clothing items for everyday wears.
You just debuted your new short collection. Can you tell me about the product? What has gone into designing them and what are some of the details for them?
These shorts were a big "brand move" for us that we have been planning for 3 years now as we have built our base as a brand and who we are, and who we are not. Ultimately, we created these shorts with the people in mind in our audience. We wanted to provide women and men with a multifunctional everyday short that you could wear to the Smoky Mountains on a road trip, jump in a stream, swim, climb, hike, run, etc. These were created to move in, to live in, and go as far and as long as you please with no limitations to what this short can do. Key features are a lightweight material, that is durable but yet stretch with no limitations. The "skin" if you will, is a water resistant skin that dries quick & sheds water.
What's your usual design process? What inspires you to create new designs?
We always try to keep things simple here at New Frontier. The design process is an internal in-house series of creative sessions in Eastern, Kentucky where the magic happens. Every season, we do not just want to show up with new gear, but ultimately inspire people & motivate a region in what we are promoting - as well as doing no unnecessary harm to the environment with products or processes.
Your brand has such a unique feel and vibe. What are some of your biggest influences aesthetically?
The Appalachian region, you look to artists in Eastern, KY from Tyler Childers, Chris Stapleton, Sturgill Simpson, Nicholas Jamerson, Sundy Best, etc. This inspired us early on to accept where we are all from, and share it on an international stage in a positive authentic way.
Can you tell us about a couple of your favorite designs you've released and why they're your favorites?
Every design has a backstory, why it was created, what we were feeling at the time, what we wanted people to feel, so each design holds a special place in our hearts as each one has a different place mentally they each take you, kind of like a 2nd reality or a dream if you will. If I had to pick one, it would be the Kentucky Land of Tomorrow design. Jared or I were reading a Native American book back in 2016, and a certain tribe called Kentucky the "Land of Tomorrow". I believe that term is really how we see Appalachia as a whole, the land of tomorrow, we are the brand of tomorrow, and perhaps a hope for the future.
You work closely with the music scene. Who were some of your favorite artists to work with and what do you see as the connection between music and fashion?
Our first artist to give us the time of day was Nicholas Jamerson and Sundy Best at a Kenneland concert in Lexington, KY in 2016. At that time we had a few hats to our name and $200 bucks, Nicholas wore one of our "chief" trucker hats in front of thousands on the stage, and it was one of the coolest / fulfilling things I have witnessed. The biggest connection in music and fashion as a brand, we are all trying to tell a story, about a place, thing, feeling, and ultimately we are all storytellers, folklore or fiction, we are telling stories either through a song, lyrics, a design, or a product at the end of the day.
I really liked the commercial you released with Nicholas Jamerson. What was that experience like?
That commercial felt like an Eastern, KY day dream the whole time, basically the cameras were just on and we were being some sophisticated hillbillies caught on camera. 😎
Thanks for taking the time to answer the questions. Do you have anything else that you would like to add?
We look forward to continuing this journey and appreciate each and every person out there who is in our corner. We are just getting started. - Jared & Joshua Ravenscraft / Founders
Follow New Frontier:
Follow Sound In The Signals: