happydaze - Sound In The Signals Interview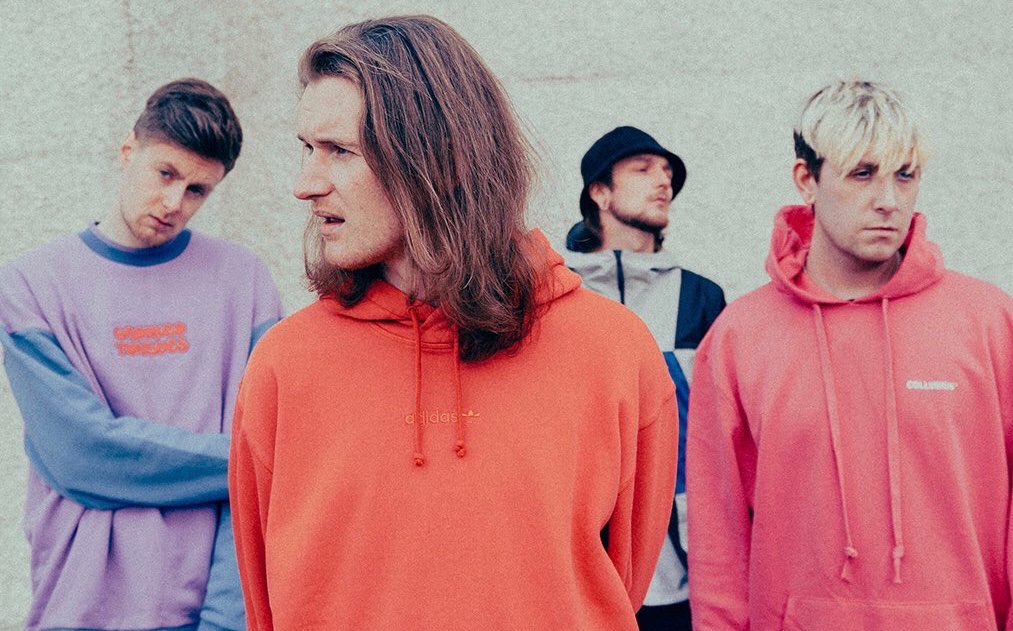 I recently had the opportunity to interview Luke of happydaze. We discussed the band's origins and influences, lessons he took from being in Woes, writing and recording the band's new song "Bad Taste", working with Seb Barlow, and more. Check it out below.
For those unfamiliar, a couple of you were in the band Woes. What made you want to go to on together in this new band? How did you find the other members?
Ryan and I were working on lots of new songs when Woes decided to call it. He and I wanted to keep on going with what we had been working on because we love music, we love writing and creating together and mostly we loved getting to go on tour together.
When it came time to getting a new band together we had our line-up sorted within a week of Woes breaking up. I have known our drummer Pete for 12 years through growing up playing shows together in Edinburgh and Rory for 10 years after we met in college and played in a couple metal bands together.
I really like your sound. How did you find it and what influences your writing in terms of style and lyrics?
It's definitely a progression from where we were in Woes. We wanted to explore the more electronic, high production side of music as opposed to the raw guitar, drums, bass and vocals format. I spent everyday working on songs from the day Woes came back from our last tour all through lockdown to now. Our influences come from lots of different places, whether its pop-punk, emo-trap, metal, 80's power ballads or 2000s emo we try find a place for all our influences in the songs we write.
What lessons did you learn from being in Woes that you have applied to this new band?
To be grateful for every opportunity that comes our way. We got to do amazing things in Woes and it's memories we get to have forever. Looking back, I don't think we took in how lucky we were getting to do what we were doing because, as all bands and artists are, we were constantly looking at what was next.
We are definitely still doing that now, but that's because we want to know when we can get back out to playing shows!!
You just released your new song "Bad Taste". Can you tell me about the writing and recording process for the song?
Bad Taste was the first song we wrote over Zoom sessions at the start of lockdown last year. The song is a conversation with someone who is important in your life, the anxiety that comes with feeling like you're letting them down and the want to be better for them. We've had the benefit of not needing to rely on recording studios to put out music over lockdown this past year, fortunately Pete lives right beside our studio which has everything we need to record our drums, and I can record everything else in my home studio.
I had the idea for the main verse beat in my head after listening to a lot of cut-sample style beats and wanted to recreate that sound without using other people's samples. So I cut up the guitar chords, keyboard stabs, recorded the couple of vocal hooks and pieced it all together. To add some extra spice to the beat we asked our friend Fourth Daughter (@
iamfourthdaugher
) to layer the vocal hook, which completely brought it too life. Once the foundation of the song was there the vocals took about an hour to write, its my favourite song we've released so far and I'm super proud of the production on it.
You worked with Seb Barlow on the song. What's it like working with him and what do you think he helped bring to this song?
Seb smashed the mix on this song. From it being written to being sent to him for mixing I think it was 2 weeks, and he had a first mix back within a few days. Seb will always work to get the best out of our tracks so they sound absolutely massive but he really killed it on this one.
You've been releasing singles. Do you have any plans for an EP or album any time soon?
We do - we have a lot of music written and we can't wait to get it out. No definitive plans yet but we will be releasing lots of music through 2021.
Thanks for taking the time to answer the questions. Do you have anything else that you would like to add?
Check out the video for Bad Taste, Matt West who made it absolutely smashed it - put so much work into creating what is just an unreal final product. Can't wait to work with him on more stuff in the future.
Follow happydaze:
Follow Sound In The Signals: