The Zheroes - Sound In The Signals Interview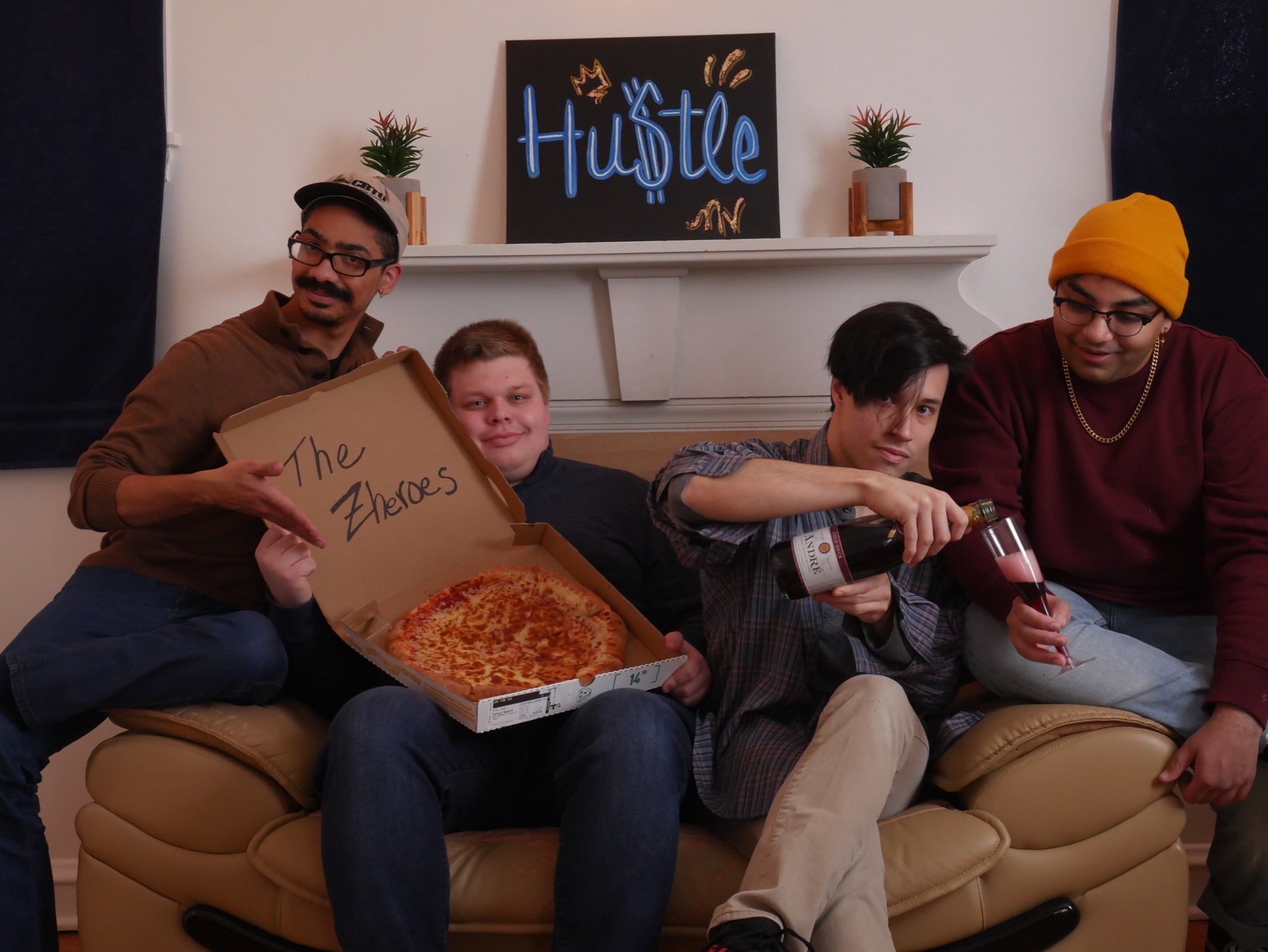 I recently had the opportunity to interview The Zheroes. We discussed the band's origins, musical influences, their latest single, "Once You Meet Someone, You Never Really Forget Them (Acoustic Version)", creating their logo, what's next for the band, and more. Check it out below.
Can you tell me how you got together and formed the band for those who may be unfamiliar? How did you initially become interested in music?
D: Well, I'm Drew, resident bird-watcher and vocalist.
L: Hey, guys, I'm Laser. I'm a local rapper and I play bass. Also I've got a Juicy Ass.
J: I'm Jorge Ivan Ramirez Marin Gil Peña Granada Garcia Arias Castro, I'm the drummer and I'm the 2021 TOP number 1 Trackmania Player in Colombia, 1 month strong!
E: Hey, what's up, I'm Eric, the guitarist and I just started Persona 3 so this might be the end of the band.
D: The band formed in 2014 when Eric and I met in college. We started jamming and here we are 6 years and 12 former members later.
J: I quite literally found an ad on Facebook during the fall of 2018 looking for a drummer and decided to reach out.
L: Yeah, and I joined spring of 2019 after a friend reached out to me about playing second guitar for the Zheroes, and they asked me to fill in at bass for a bit, and a year later here I am loving it so far.
J: I got obsessed with music in high school and due to not knowing what to major in college, I ended up studying music by accident. After that I was just too afraid to be a quitter and went with it and now I have a master's in music composition.
E: I got into music as a young lad listening to my dad's records while cooking with him. I distinctly remember listening to Queen Live at Wembley. And that's how I knew.
L: I got into music by learning how to play guitar to impress girls in middle school. But that didn't really work out, so instead I found a new passion and I started recording my own music in high school, and I just haven't stopped.
D: I didn't really give music too much thought until I heard "Wake Me Up When September Ends" by Green Day in 2005 on the radio. After that I didn't have access to the internet until 2012, and that's when I started listening to Green Day and Linkin Park. However, I never thought I would start a band until a friend in high school said I could never be a rock singer so here I am out of spite.
You released your newest single "Once You Meet Someone, You Never Really Forget Them (Acoustic Version)" recently. What was the recording process like for the song?
L: Pfffff, I wasn't even there.
D: It was slow. The goal was to finish it while Laser and Jorge were busy with finals but it took a little longer than expected and we finished right after the insurrection of the capitol...unrelated.
E: A lot of it was me with Drew after his midnight work shifts, a lot of refraining from meme sharing, many times unsuccessfully. Drew fell asleep multiple times due to fatigue. We are really happy with the single's positive reception on digital platforms as we just broke over 10k streams after only 2 weeks of its release.
D: It's also the first song my parents approve of.
Dan recently announced he was leaving the band. How will that impact your songwriting going forward?
D: uuuhhhh, 99% less keyboards...for now.
E: We'll see how that works out, we might go New Wave.
J: It makes the recorded versions of the songs very different from our live versions, so we are still figuring out our sound without him. We might bring synths back when I learn to juggle my drumsticks with one hand and play midi controllers with the available hand.
You refer to the band as "the duck band". Can you tell me about the meaning behind that?
D: Yes...
(Everyone stares at Drew intensely)
Who designed your duck logo and came up with the concept for it?
D: The original concept came from the "Where The Dead Sleep" music video. Based on that, the art was created by Kayla (@kayfox_art). They also helped us design our new merch, which is available on TeeSpring.
What's coming up for the band in 2021?
L: Well, Eric just got Persona 3 soooooooo........
J: And I might try to keep my crown as the top colombian player for Trackmania.
L: Guys, I think they mean music...
D: We are working on our debut full length album, and we hope to have the first single out by the spring.
J: We still have our sound to figure out so we're using all this "no live shows" time to figure that out.
E: We also have enjoyed doing livestreams with bands like Angry Son, Pinkshift, Watersdeep, Peach Creek during the Quarantine, so we'll definitely do more of those.
Thanks for taking the time to answer the questions. Do you have anything else that you would like to add?
E: We are actively seeking for a second guitarist so if you know someone send them our way.
D: Remember to follow us on social media as "thezheroesband"
J: We also have our individual projects. I personally have mine as "JirmStyle" so if you'd wanna check that out I promise I'll be fun.
L: Again, thank you so much for having us for this interview.
Follow The Zheroes:
Follow Sound In The Signals: