Homeplate - Sound In The Signals Interview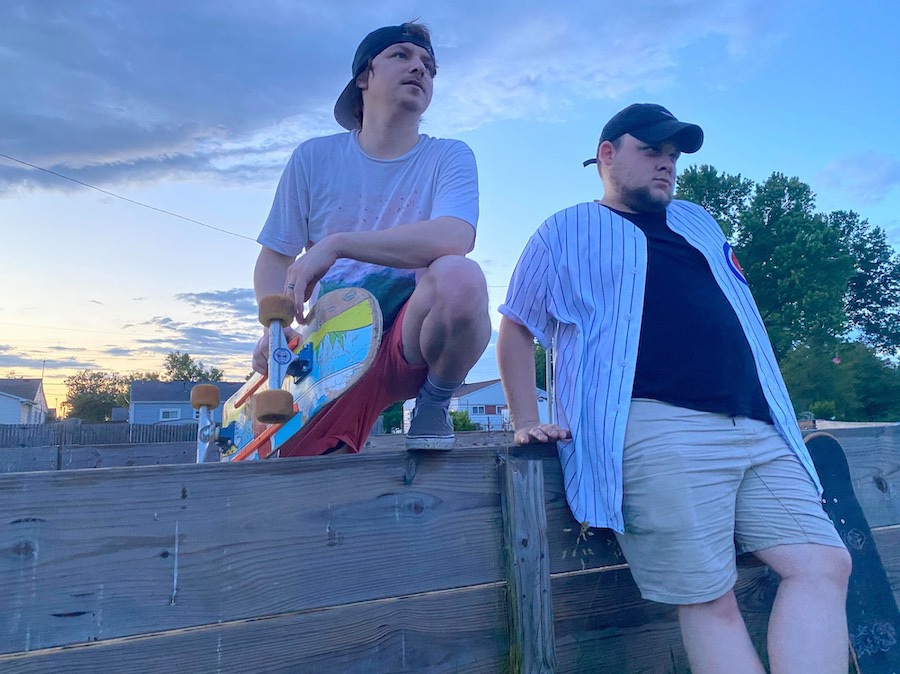 We recently had the opportunity to interview Derby City, KY pop-punk band, Homeplate. We discussed what it's like forming a band during the quarantine, their upcoming EP, and more. Check it out below.
First, thanks for the interview.
No problem, we welcome it!
You formed Homeplate as a two piece in quarantine. Can you tell me about how the project got started and how you two met and decided to work together?
We met originally through a local Christian alt-rock band called The Upside, which ran for about 3 and half years. We became roommates during this time and the idea kind of started with us just messing around for a couple of years in our bandroom together, but we never thought we could do anything with just two people in the styles we loved... then we saw '68 in concert for the first time. Seeing two guys just have fun and go crazy, they really inspired us to believe this could happen. Once COVID-19 came, we needed something to uplift our lives and just make us happy and thus Homeplate was born. We looked at each other with no interest for it to go anywhere, just to have fun and be goofballs. Somehow, we've ended up here, God is good!
How did you get interested in pop/punk and what are some of your favorites from the genre, both new and old?
David: I started off with Hawk Nelson thanks to the PS2 game Thrillville which had "The Show" on it. From there I ran through and listened to the Christian pop-punk circuit. Pop-Punk was around all throughout my childhood with Sum 41, Blink, MCR, and all the old greats. My top 5 would be Sum 41, Neck Deep, Hawk Nelson, Simple Plan and A Day To Remember (you'll hear their easycore influence all throughout the album!)
Cody: I got into pop punk in 2007ish listening to Simple Plan and MCR. It's actually hard for me to choose some favorites as I don't listen to pop-punk the majority of the time, but some of my favorites throughout the years would be State Champs, MCR, Silverstein and old A Day to Remember.
You just released your debut single "Broken Youth". Can you tell me about writing that song and why you picked it as your debut single?
Broken Youth, while it may sound uplifting and fun, is actually written out of a lot of pain. I lost my mom in 2018 and then lost my step-mom in 2019 and lyrically I'm kind of looking back at myself and saying what I should of known back then. I often think the lyrics probably don't make sense to some people, but to me it's special.
We picked this song because musically it is so chaotic. It jumps around from pop-punk, easycore, and ska. It changes bpms and time signatures. We write some simpler songs, but we wanted to have one that showed we're not just writing generic pop-punk. We believe this song is a great introduction to us as a band and shows that we don't really care to muff it up.
You're releasing the EP through 'Indie Vision Music'. How did you start working with them?
I can't remember how I found IVM, but I knew of their website for a long time. They caught my attention with At The Wayside though. No disrespect to any of the other guys on the label, but they just took my radio by storm. That summer was nothing but their self-titled EP and my Del Sol. From there I just slowly fell into the little underground circle that they've created and found a lot of awesome bands. I sent Brandon the demos from Homeplate, honestly for fun, and he loved them. The rest is history!
Indie Vision is known as a Christian music site and label. Does religion play a big part in your band?
At first it really didn't. We are both active Christians, but we honestly just wanted to be musicians having fun. When I started writing lyrics however, my Christianity did begin to influence them. Everything is written from who I am, and Christ is at the center of that.
Your debut EP 'Derby City' is out August 14. What can people expect from the EP?
The EP is a throwback to all the dudes who built pop-punk. It honestly goes through every stage of pop-punk from the early 2000s to now. Expect a little of everything you've come to know with our own twist to it.
Is there a particular song you're excited for people to check out?
We'll split this one again!
David: Long Ago is my top choice. It was the first pop-punk song I ever wrote, nearly 4 years ago. It's gone through many revisions, and it's a lot of fun. It's what I like to call party-punk and we're stoked to play it live.
Cody: Time Stands Still. No question. The first time I listened to the demo of it I got cold chills, and it reminded me of being that kid sitting in your room jamming to a song that you've never heard before.
Thanks for taking the time to answer the questions. Do you have anything else that you would like to add?
Yeah, we'd love to just shout out all the people who have encouraged this project and have taken it where we did not desire at all lol. Shout outs to Phil Carper, our producer, Derrick Schmidt for bass inspiration, Michele Fortunato, our ska dude from Paris, Eric Knighton from Brave Days for the support and vocals, and finally the absolute man himself, Brandon Jones, for giving us a really cool shot at this. He's keeping the scene alive man, and he deserves so much more recognition for it.
Follow Homeplate: