Oakrest - Sound In The Signals Interview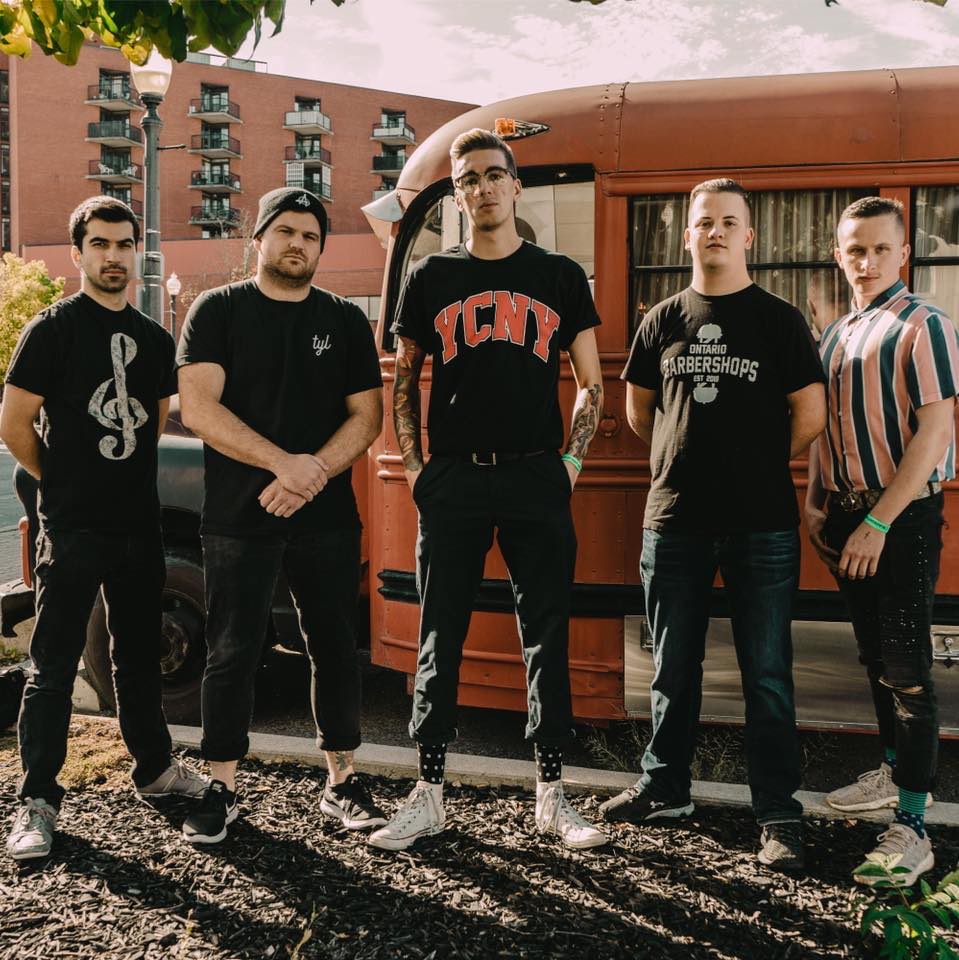 We recently had the chance to interview 5 piece pop-punk band, Oakrest about their influences, vinyl pressings, their new video for "Alone In This World", and their plans for 2020. Check it out below.
First, thanks for the interview.
Thank you!
Can you tell me a little about how you got together and formed the band? What got you into music?
It was was mainly blink-182 and all the 90's/2000's pop-punk bands that got me into playing punk rock music. It was quite a long process to get to where we are right now. The whole concept of Oakrest started as me (Jacob Szabo) and my buddy (Shane Houston) jamming blink-182 songs in my basement. That eventually turned into writing our owns songs like This Story Needs An End and False Intentions, while My Mistake was already written (I wrote it when I was 15). As time went on, people came and left because we were just some starter pop punk band from Keswick ON.
Even when we recorded our first EP "
This Story Needs An End
" it was just me (Jacob Szabo), Adam Allen (bass) and Jacob Graves (Guitar). At this point, Shane had moved away and had to quit, so we recorded our EP with session drummer Stefan Loebus. As more time passed, we had a drummer for a little while, but he also had to leave. At this time, things were looking pretty grim for Oakrest, as it was just me (Jacob Szabo) and Adam Allen (Jacob Graves had to leave due to school). Adam and I successfully did a weekend run to Toronto, Montreal and Ottawa as a three piece in the summer of 2018 with the help of Mitchell Buchanan on drums.
It was at the end of summer where we decided to record our sophomore EP "
Annamaria Dr.
" with our producer Anton Delost, and again with session drummer Stefan Loebus. As we went into winter, Oakrest actually almost broke up due to not being able to find more members. While recording our music video for "Long Thoughts" it was then Jacob Graves decided to re-join the band, while also joining us was our friend on lead guitar, Darren Demoares. As we sold out our hometown show with our EP release of "Annamaria Dr." we knew Oakrest was not calling it quits. It wasn't until the end of Summer 2019 when we stumbled across a drummer on Facebook who was looking for a band! Chris Zoubaniotis joined and right away we played a rowdy basement show in Stouffville ON. Although, shortly after this show, Darren had to leave the band, leaving us as a 4 piece. It was fall of 2019, and having a lot of shows booked, we needed a lead guitarist, so what did we do? We put up Kijiji ads. After a few messages, we connected the best with Stewart Drake, who then became the full time lead guitarist of Oakrest. Oakrest now consists of 5 full time members, Jacob Szabo, Adam Allen, Jacob Graves, Chris Zoubaniotis and Stewart Drake.
One thing I really like about your music is that you have a sound that reminds of the "golden era" of pop/punk, while also sounding new and exciting. What or who inspired or influenced your sound and what are some of your influences both new and old?
The big one who inspires us was blink-182. I think we can all connect with this band in a way since they did sort of pave the way for most successful bands. Although, it was not just blink-182 who inspired our sound. Lots of bands came to inspire and influence us like New Found Glory, Sum 41, Neck Deep, All Time Low, Seaway and State Champs.
You just released your new video for your song "Alone In This World". What was the video shoot like?
The video shoot for Alone In This World was surreal. This was the first time we have ever felt like we were recording a "music video".
It seemed like a pretty fun video to shoot. Do you have any funny or interesting stories? How did you come up with the concept?
Well we had to be up pretty early that day, and of course I (Jacob Szabo) was rushing us all out the door making sure we had everything. It wasn't until we reached the highway, I was still in rush mode and actually got pulled over for speeding! But as the day went on we basically just got to be alone in Kids Fun City. There was pizza, there was games, and there was a lot to be done. Although, throughout the entire day, this was the first day of snow. And of course, while we all had summer tires on, there was a snow storm happening outside. We all got home after the video shoot (eventually) safe and sound.
Greg Pratt guests on the song and in the video. Can you tell us about how it worked out for him to be featured on the song?
While I was writing the song, it got to the part of the bridge and I probably went through 3 different ideas. I finally landed on the decision to do something we've never done, have a hardcore feature. I knew Greg from his old hardcore band "False Hope" so he was the first to come to mind to feature on this song. It was great working with a really good friend of mine, especially one that's so talented.
Lyrically, I like the song a lot. What themes are behind the lyrics? What was your process when writing it?
The themes behind this song I guess are loneliness, and anger. At the time I felt so alone and blamed the world for this.
You did a vinyl pressing for 'The Story Needs An End'. What was it like getting a vinyl pressing for your work? How important is it to get your music out on vinyl to you?
Ive been a collector of vinyls since I was probably 15, so seeing our first EP on vinyl was pretty amazing.
Is there any chance we'll see a vinyl release for 'Annamaria Dr.'?
When we released "Annamaria Dr." we actually printed 10 copies on vinyl. I've been aching to print more, but it does cost quite a bit to get these printed.
What's next? Do you have any plans to write or release new music this year? Maybe an album?
This year we've decided to take it upon ourselves to tour more! Throughout the years of being in a band we've played our one-off shows quite a few times, and I believe we're ready for the next level. We do have plans to go back into the studio early summer/late spring, so keep your eyes peeled!
Follow Oakrest:
Twitter
Facebook
Instagram