Tournament - Sound In The Signals Interview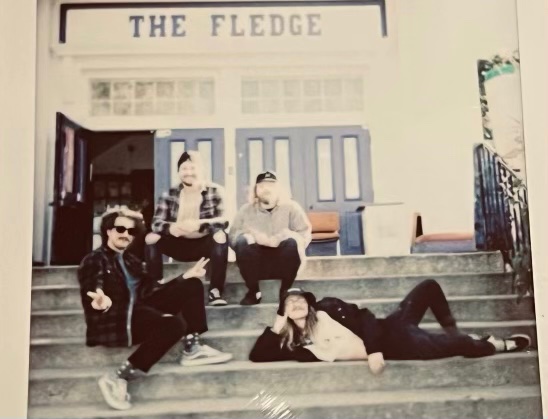 I recently had the opportunity to interview Billy from Tournament. We discussed how they explore their sound and musical influences, their EP, 'Maybe Next Year, Champ', songwriting, the potential for cassettes, what to expect on their upcoming album, and more. Check it out below.
First, thanks for the interview.
Thank you for having us and for thinking we're a real band!
The band is comprised of some members from a few various bands. How did you get together and form this band?
Tournament is an irony-pilled cosmic gumbo made up of Dane (he/him, bass & vocals in Corduroy Pants), Billy (he/him, bass in FinalBossFight!), Maverick (he/him, drums in Corduroy Pants & Dad Caps), and Kieffer (they/them, goblin noises in Dear Heretic). Dane and I (Billy) occasionally write for our other projects but we were both interested in branching out a bit as songwriters. We got together with our super-talented and versatile drummer Maverick in early 2022 and we began playing shows in the early summer of that year. Kieffer joined us on lead guitar in the fall of 2022 and helped us fill out our sound with their unbelievable technical ability and unmatched stage presence.
Dane likes to tell us that "you're only here because Donnie from Clipboards said no!".
Can you tell us a bit about how this band is different from your other projects sonically? Is your approach to writing different than in your other bands?
When we first started jamming, it took a while for us to find a unique sound. Dane, Maverick, and I came in with a cavalcade of influences such as midwest emo, pop punk, skramz, alt-country, college rock, folk punk, and yacht rock. Since some of our early work revolved around boats and the ocean, we decided to christen ourselves a "boat emo" band. We sail wherever the wind takes us, but we're usually sad about it.
We're having a lot of fun experimenting with whatever genres our hearts desire. We have a couple of familiar-sounding midwest emo tracks lined up for our next project. I have a handful of alt-country songs that are being fleshed out. Dane's been really into rock and roll lately which has led to some of the most fun songs we've ever played. He's also been writing more on guitar than usual, repurposing some ideas that he was cooking up during his solo sad boy days. Kieffer has a couple of math rock and post-hardcore ideas that we're working on to challenge us on a technical level.
Your EP 'Maybe Next Year, Champ' came out last year. Have you been pleased with the response it's received? What are your thoughts looking back on it?
We are super pleased with the response our EP got and flattered to see new folks discovering it every day. If it weren't for the compassion and support of our friends and peers in the Lansing DIY scene, I'm not sure we would have made it very far. Their kind words and encouragement have made this all worthwhile. Having a dozen or so folks in the audience chanting our lyrics back to us is an incredible feeling.
We had a release show at The Fledge in Lansing with our friends in Labour Day Weekend, Dad Caps, and Seaholm. Pat Ray was there. It was awesome.
As much as I like the songs off our debut EP, I know we can do a lot better. We've tightened up a lot since then and we're slowly finding a sound that fits us more cozily. Musicians are only as good as their ability to evolve and learn.
What's one of your favorite moments from recording that EP?
Dane ripping a fat solo at the end of Rorschach that put The Eagles to shame.
I really like "Crossface Chickenwing". Can you tell me about writing that song specifically?
This was supposed to be a funk song. I had an idea on guitar that eventually got repurposed into the jangly riff you hear at the beginning of the track. Eventually, we settled into a groove that was a little folky but mostly emo. Lyrically, I'm contending with sadness and anger that I can't quite find a source for. This sometimes makes me feel like a fraud when writing emo music because I have a hard time pinpointing what exactly makes me feel depressed and anxious. This song is about me wishing revenge on an unknown entity, but I can't seem to do so without putting my foot in my mouth ("I'll write it down but only if I annotate it"). Maybe I'll figure out what's bothering me on the next release.
Is there any chance that we'll see cassettes or vinyl releases for that EP anytime soon?
Cassettes may or may not be on the horizon. I'll just Leave It At That.
Have you been working on any new music and/or do you have any plans to release anything this year?
We're writing our first album and hoping to get into the studio by the summer. It's a slow process, but if the 4 or 5 new songs we have fully fleshed out right now are any indication, this should be a really cool and weird LP. Expect some lap steel guitar, trumpet, banjo, screaming, serenading, and a couple of features.
You have a show coming up on February 23rd with Finalbossfight!, Corduroy Pants, The Casper Fight Scene, and Tequila Mockingbird. What can fans expect from that show?
Shows like these make me so grateful to be able to play with my best friends. We love all these bands to shreds and we're excited to help kick off FBF!'s and The Casper Fight Scene's little weekend of shenanigans. If you haven't been to a show at The Church of Elvis Presley in Lansing yet, this is the one to go to. Hit up one of the bands on Instagram for the address.
Fully planning on getting disrespectful and belligerent when Tequila plays Wonderhoy!.
Thanks for taking the time to answer the questions. Do you have anything else that you would like to add?
Listen to Music To Your Ears by Danny VanZandt.
Follow Tournament:
Follow Sound In The Signals: