Floorbird - Sound In The Signals Interview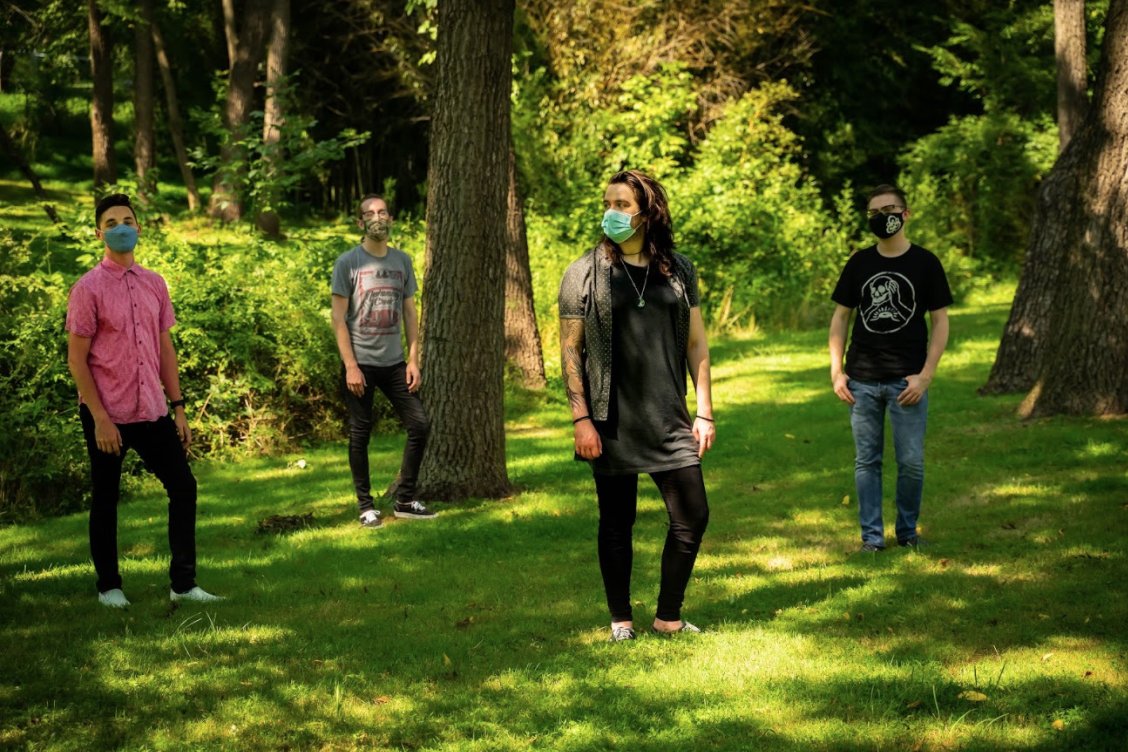 I recently had the opportunity to interview Eric of
Floorbird
. We discussed musical influences, filming the band's new video, their new EP, and more. Check it out below.
First, thanks for the interview.
Of course! I'd never miss an opportunity to talk about myself!
Your new video for "Navy Blue" came out recently. What was the video shoot like?
Hot and humid. We're never doing a video shoot in August again. But besides the weather, it was really cool to do something like that entirely in-house. Drew (bassist) came up with the concept, directed and edited the video; we also had some friends help with filming.
I really like the vibe of the song. How long did you work on it and what were some of your lyrical inspirations?
Thanks! This one was surprisingly demanding. That chorus had so many rewrites with the same melody - those lyrics alone took weeks. It's a pretty simple song besides that, but the lead guitar in the first and second choruses took way more tries than I expected. Small accents, slides, et cetera were tough to get exactly correct on that one. Navy Blue was something new for me, lyrically. It's about my own communication issues, and how I tend to shut down in moments of conflict. But it's also an exercise in...I don't know what to call it. I guess compound songwriting? Typically if I'm writing lyrics, it's to tell a story, to capture a specific moment and the feelings attached to it. But our feelings don't exist in a vacuum; they're never just tied to one specific moment or story. Our emotions are always informed by many moments, and many stories. So Navy Blue was kind of an anthology of different moments that feed that 'shut down' feeling described in the chorus.
It's from your new EP 'Fall Apart Anywhere'. What was the recording process like for the EP and where did you record at?
All DIY, all in-house. I run a small demo studio in my home, and Kevin (guitar) runs a serious project studio as well. We never had all of us in the same room to record (especially considering COVID). I demoed everything at home, and we each had to record wherever we could, whenever we could. It was the first time I've ever done a record that way, and the learning curve was pretty steep. Our friend Jon Sambrick also runs Thornwall Studios out in Lancaster, PA. We reached out to him for mixing and mastering and he was on board right away. He's got an incredible ear; so much of the sound on Fall Apart Anywhere comes from his mix.
A personal favorite of mine from the EP is "I Brought You A Blanket". It ends the EP really strongly. Did you always know it would close the EP?
Thank you! And actually yes - before that one was even finished, it was slated to close the EP. I had planned on making it this whole 7-minute ordeal with some extra verses written, but it got too boring so we had to chop it down. Most of the guitars on that one are also from the original demo. I had a $100 Rondo Music les paul at the time - it didn't sound great and was a bit out of tune. Every time I tried to re-record it for a cleaner take, it just didn't have the same feeling, so we ultimately just left the demo tracks in.
The song reminds me of vintage Dashboard Confessional in a great way. What are some of your musical influences as a band?
Dashboard influence is all over this record, for sure. The Dangerous Summer is another major influence, along with The Maine and The Hotelier.
Thanks for taking the time to answer the questions. Do you have anything else that you would like to add?
Of course - thanks for having us! We've got a lot of stuff coming up between now and the end of the year - videos, live stuff, and new music. If you like what you've heard so far, please go follow us on whatever social media platform suits you.
Follow Floorbird:
Follow Sound In The Signals: