Ghost Party - Sound In The Signals Interview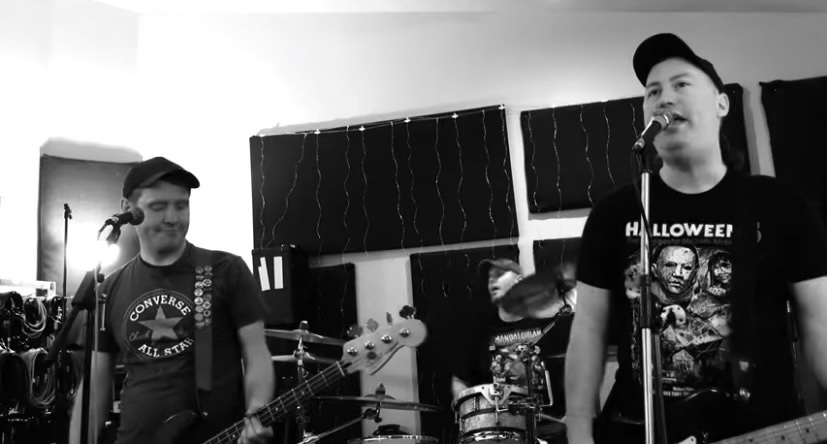 I recently had the opportunity to interview Teflon Dave of Ghost Party. We discussed how the pandemic inspired him to start the band, the history of the Ghost Party name, their songwriting process, cassette and vinyl releases, plans for new music, and more. Check it out below.
First, thanks for the interview.
No problem, thanks for taking the time for us.
You have a lot of great success and a strong cult following with Horror Section. What made you decide to start this new band?
I think the pandemic had a lot to do with it. At a certain point it was clear that the world wouldn't be ready to resume shows and recordings for Horror Section, but I didn't want to stop making music. I did a solo acoustic tape on Memorable But Not Honorable in 2020 so I think that might have spurred me to take it a step further. I don't consider this a replacement or detraction from Horror Section at all though. I just wanted to do something fun and creative with some friends and I'm pretty happy with how it's going so far.
You've used the name Ghost Party for a lot of things including your label and a podcast. How did you come up with that name and what is some of the meaning behind it?
Nothing really groundbreaking behind it per se. I can't draw at all but found myself doodling little ghosts over the years and at some point started drawing beers in their hands and thus Ghost Party was born. This coincided with some major changes in my personal life so I found myself moving to a new house which became Ghost Party Manor, put out the first Horror Section 7" on Ghost Party Records, and started a podcast called Ghost Party Podcast which ran for a few years. I have other ambitions, but I'll keep those to myself for now. But what can I say, I like a consistent theme!
I know the other members are friends from other bands. Can you tell us more about who all is involved in this new project with you?
The band is myself, Pat, and Billy. Pat has been in tons of bands including Parasite Diet and is also releasing material under Classic Pat and has a new project called Spacenoidz. He's also in the Putz with Billy - not sure how he does it all! Billy is also in the Covert Flops, so we are definitely all intertwined in various bands.
When did you start working on the band and what has the writing process been like so far?
The idea started in 2020 I think. I was in a band with Pat years ago called the Fintas. We first got together and considered re-recording those songs and maybe some new ones and instead opted to just do a new band instead. Writing process is pretty laid back. I send demos to Pat who gives feedback, but we try not to overthink it. Our biggest challenge so far is that I use Dropbox and he uses Google Drive haha. I'm not the best at technology.
What's been your favorite song you've written for the band so far and why?
'Worst Movies, Best Nights' is probably my favorite as it captures the spirit of the band. Hanging with friends watching awful movies, drinking beer, and eating too many pizza rolls. Thematically and lyrically I wanted to keep this band really light. Horror Section can be pretty serious at times and I put a lot of thought and research into those songs. This is kind of the opposite haha.
You've released some cassettes for the band. Can we expect any vinyl pressings in the future?
Yeah, the demo tape was self released and we just did a second and likely final pressing. In the spirit of fun we pressed the first tapes and released them the same day we dropped our videos online - no promo, no hype! I would love to do vinyl, but I don't want to release the demo recordings on that format. It bums me out that vinyl has become such a hurdle again but what can you do.
Although you're a long distance band, you hope to play some shows and record a record in St. Louis. What can you tell us about future plans?
We are working on plans to play out, but of course there are natural challenges with that. As for recording when we get a few more songs we'll be booking time at Encapsulated Studios with Gabe Usery. Gabe does all the Horror Section recordings (and is the drummer) and he's also been working with Pat and Billy on their various bands for a few years now. So I'm excited to work with him, I'm always pleased with the outcomes.
Do you plan to release any new music with Horror Section this year?
Yes, but I can't elaborate any further right now.
Thanks for taking the time to answer the questions. Do you have anything else that you would like to add?
Thanks again for the questions! Final plug would be to check out our 2 music videos! I haven't done a live video before in Horror Section, but put myself out of my comfort zone and thanks to Pat's camera and editing skills they turned out pretty great! Cheers!!
Follow Ghost Party:
Follow Sound In The Signals: