Overwith - Sound In The Signals Interview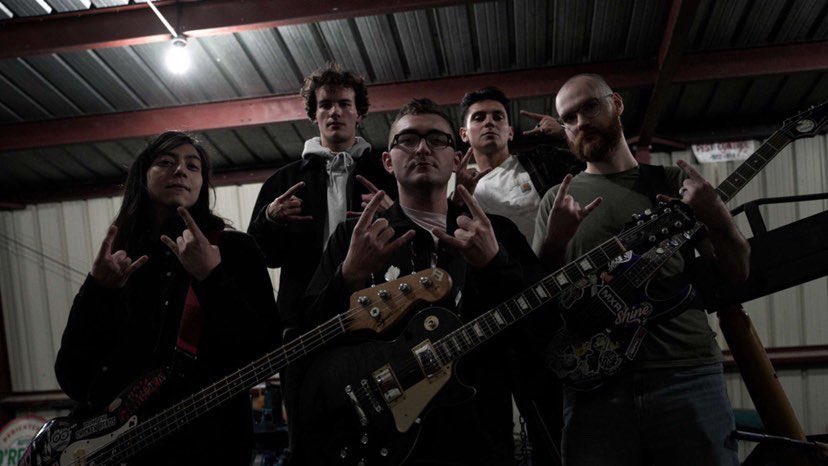 I recently had the opportunity to interview
Overwith
. We discussed how they formed the band, their biggest influences, the writing and recording process for new album, 'Missed The Mark', songwriting and the themes they explore with their music, designing the album's artwork, their live show, plans for new music, and more. Check it out below.
First, thanks for the interview.
Of course! Thanks for the opportunity.
Can you tell us how you formed the band for those who may be unfamiliar?
Overwith formed roughly five years ago under several names. It started with myself (Gage) and Andrew throwing rough ideas at a DAW with members who would come and go until we finally wrote what would become "Early is too Easy". I knew Daniel and Martin through another project I had been working on with them and asked them to join up. When we all went back to Early is too Easy and put our respective parts on it, it became pretty clear that we had a unique cohesion. When it came time to practice for shows, we brought on Marco who's input has helped us finalize a lot of difficult decisions. I'd say music has always been a pretty important part of every members life to some degree.
Who are some of your biggest influences?
We all listen to very different music and take influence from a wide array of artists. I would say as far as this EP goes we take a lot of influence from modern pop-punk groups like Hot Mulligan and The Story So Far. Vocally, I take a lot of inspiration from Dance Gavin Dance along with similar acts. Our drummer Martin comes from a jazz background and adds another layer to the songs that we wouldn't have been able to add ourselves.
You recently released your new album, 'Missed the Mark'. Can you tell us about the writing and recording process?
The recording process was a bit of a rough road starting out. Daniel, our 2nd guitarist and producer was just starting out in a new recording studio running things on his own right before Covid, after about 3 months of working on the tracks he had to shut down and relocate to his home studio. So a lot of the recording process was Daniel scheduling times for everyone or just one of us to track and then he essentially as the man with many hats. When we finally got into the groove of things it went really smoothly and will most likely be the way we record our LP towards the end of this year.
Can you tell us more about your overall songwriting process and and the types of themes you like to cover in your music?
Our songwriting process usually starts with one person's idea for a song. We're all pretty decent at working recording software so that makes it a cinch to get demos into the group's ears. From there we all try to add our flavor into the mix which usually results in our collective approval. The themes covered in the songs are usually just playful commentary on everyday situations. Cool stuff, annoying stuff, sad stuff. Sometimes it can be deep and introspective but we find it more enjoyable to keep it light and relatable.
The artwork is very unique and catches the eye. Who came up with the concept for it and designed it? Why did you choose it for the album?
The artwork is essentially just the sketched out versions of a few concepts touched upon in the album lyrically. We had a few other concepts sketched up but ultimately we decided that one was our favorite. We knew we wanted to create our own artwork, this just happened to be what we landed on.
You have some shows coming up. What can fans expect at the shows? What's it like performing at this time in the pandemic?
Fans can expect a very visceral, very raw performance. We have varying levels of complexity in our mixes that we believe is best left to the recordings. Our live sound cuts straight to the point of each song in the lineup and we're confident that's what will make us stand out. Performing in the midst of a pandemic is incredibly difficult, hence the lack of available dates not just for us but for every band at this time. It comes with a lot of careful planning and attention to detail but we've done our best to stay safe and keep those around us safe as well.
Thanks for taking the time to answer the questions. Do you have anything else that you would like to add?
Appreciate you having us! We plan on releasing more music throughout this year so keep tuned for that! We've been recording recently and plan to add some songs over our next few shows.
Follow Overwith:
Follow Sound In The Signals: