Combat - Sound In The Signals Interview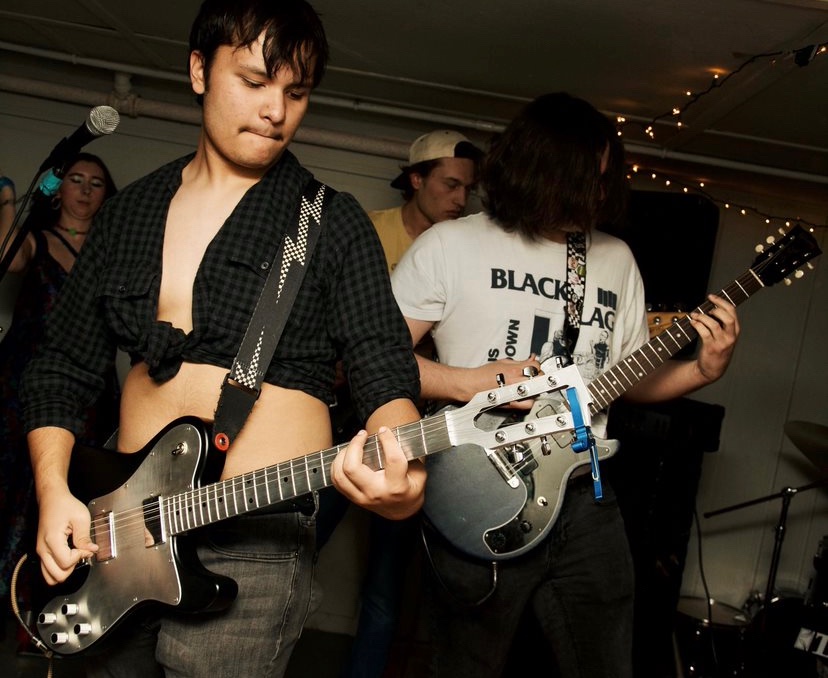 Asia Buchanan-Fisher
I recently had the opportunity to interview Holden Wolf of Combat. We discussed how the project got started, the recording process for new album 'Text Me When You Get Back', working with Chillwavve Records, writing new song, "Text", upcoming plans, and more. Check it out below.
First, thanks for the interview.
Of course!! This is actually the first time I've ever been "properly" interviewed for any music thing I've been a part of so this is rad.
Can you tell me how you formed the project for those who may be unfamiliar? How did you initially become interested in music?
The first record was done right after quarantining had started and was basically just me teaching myself how to record/write/program songs on my own which I decided to release on a whim under the name "Combat". It wasn't until December of 2020 when I released my split with Hain's Point that I had even really considered "Ok I should probably try to make this a real band".
You announced your new album 'Text Me When You Get Back' will be out March 18th. Can you tell me more about writing and recording the album?
We're all super stoked!! We recorded the album at the (now defunct) legendary Inner Ear Studios with Don Zientara last June. We knocked the whole record out in a single day, typically keeping only the first or second take. Me and Josh, who plays bass in the band, have wanted to record there pretty much since our sophomore year of high school so finally being able to have that experience there was extremely fulfilling and surreal. I'd say Don Zientara has recorded a good quarter of my favorite records of all time in that studio. We even got to have a bunch of our friends sit in on the recording and they ended up singing some backups on the album.
You are releasing it via Chillwavve Records. What made you decide to go with them? How has the experience been so far?
Chillwavve have been super nice and welcoming to me! I've got a bunch of pals who have put stuff out on the label and figured it only felt right to put it out through them. They actually released the first record from a band I've filled in bass for from time to time, Courage Mother! (Please listen to them Lily Monico is one of the most talented songwriters I know).
Do you have plans to release any cassettes or vinyl for the album?
Most definitely cassettes and possibly CDs!! Records in general are iffy right now. Obviously I would be ecstatic if we could actually press the album but it really just boils down to whether or not there's sufficient demand. I am a total vinyl nerd though so if we do it we'll do it right.
You also just released your new song "Text". Can you tell me about writing the song? Do you have a favorite musical or lyrical moment from it?
The song is actually a two-parter, Text being the second half! It was the last song I wrote for the record and it went through so many variations before I finally settled and recorded the version that's out now. I remember sitting down at my guitar trying to rewrite the song for days with nothing I was really happy with coming out. Finally I just kind of pieced a bunch of parts I had written prior and the full song popped out. My favorite moment would definitely have to be the lead guitar riff coming in in the bridge which is actually a motif that you'll be able to catch throughout the record when it finally comes out!
Why did you decide to pick it as the first single to introduce your upcoming album?
I think everyone kind of just agreed that it work best as the first single! It's fun, concise and works without too much context.
What else do you have planned for 2022?
I've actually started writing the next record! Don't have any real projection as to when that might be coming out but my guess is somewhere around the end of 2022 or start of 2023. We also have a bunch of really awesome shows lined up which we're excited to announce soon. Otherwise I'm working on at least 2 other records with some other bands I'm in which I'll be hush-hush about. Really stoked, though, 2022 is shaping up to be a good year as far as me being musically productive.
Thanks for taking the time to answer the questions. Do you have anything else that you would like to add?
Thank YOU!!!!! Just wanted to take the time to thank Josh, Max, Jason, Lily, Christian, Ciara, Austin, Aaron, Dillon, Isabella, Matt and anyone else who has contributed anything at all to the band, it means the world to me. Also check out Josh and Max from Combat's band, Hain's Point. They are SOOO GOOOODDDDDD and have a fantastic new record out.
Follow Combat:
Follow Sound In The Signals: