Park National - Sound In The Signals Interview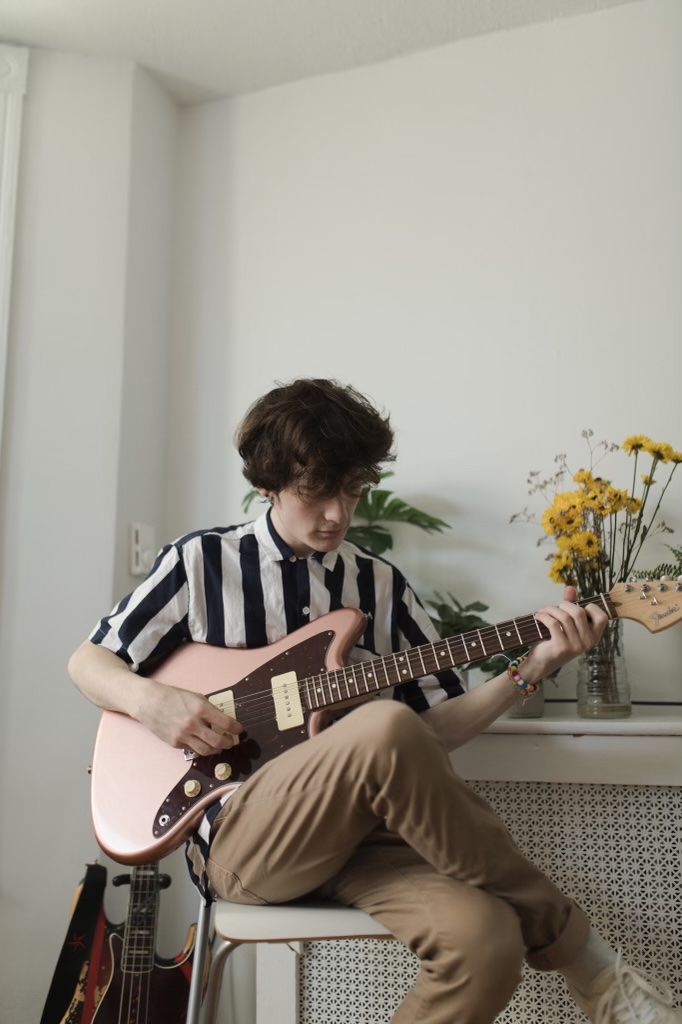 I recently had the opportunity to interview Park National. We discussed a favorite moment from recording his latest album, 'The Big Glad', how it changed the way he views himself as a musician and challenged what he previously thought he was capable of, his DIY approach to music, details about his upcoming album, plans for 2022, and more. Check it out below.
First, thanks for the interview.
Of course! Thanks so much for having me!
You released your album 'The Big Glad' in 2020 and since then you've gained some really big buzz. Looking back what's your favorite moment from recording that album?
This might be a very obvious answer, but I think my favorite moment from recording the album had to be finishing it. Making a record from start to finish entirely alone was always something I'd wanted to accomplish, and Park National gave me the opportunity and the incentive to do so. That first moment when I bounced the final mix for the last song was when it sank in for me that I'd just finished this big project that I told myself I'd do one day. So that felt really really good. It changed the way I view myself as a musician and challenged what I previously thought myself to be capable of.
I feel like you're on the cusp of becoming one of the next big breakout stars in the emo/punk genre. What do you think it is about your music that appeals to so many people? Has the response surprised you at all?
I think my music has a sort of charm to it that has been appealing for a lot of people. Something about those songs being completely DIY recordings and me playing every instrument myself gives it this very youthful vibe that I think a lot of people gravitate to. In other words I think there can be a "cuteness" to it. And the response has totally surprised me. I was never expecting to get even a fraction of the response that's been given, and I've always felt so lucky and so grateful for that!
You released some cassettes for 'The Big Glad'. Is there any chance that we'll see a vinyl pressing for it anytime soon?
I've always wanted to press The Big Glad on vinyl, but I've pretty much just been waiting for the opportunity to do so. Pressing to vinyl seems like a difficult thing to do these days given how few manufacturers there are, so I'm not really sure how to go about getting a vinyl pressing in a cost effective way. So I'm just sorta waiting for the opportunity to arise.
I saw that you've been working on a new record. What can you tell me about it so far?
The record I've been working on for the last year or so has been a hugely long process on every front. The idea of doing another album in the same exact way that I did the first wasn't fully feasible anymore because of my changing living situation. Back when I recorded The Big Glad I had access to all of my instruments and had space to record at any given time. Nowadays I'm living in an apartment building so I have slightly fewer options in terms of recording since I'm unable to turn up guitar amps super loudly or record any drums whatsoever.
However, I still wanted the next album to be recorded in a DIY fashion, because it's a style of working that I feel really comfortable with and it has taken me a long time to develop trust in other people when it comes to making my music. Because of this, one of my closest friends Truman Sinclair and I had the idea to do a multi-day recording session at his house in Los Angeles. Truman records and self-produces music with his band, Frat Mouse, and I've always been a strong admirer of his creation process. So the idea of making the album with one of my best friends, in a way that would uniquely integrate both of our work styles together, was something that I couldn't turn down. So that's what we did!
Back in July 2021 I flew out to LA for about two weeks and we recorded and produced the bulk of what will be the next Park National record. Because of time constraints as well as getting the gnarliest cold of my life while I was out there, we were unable to write or record any vocals, so this is the stage we're at currently. It's been a really slow process the last few months because I've been extremely busy with college and life in general, but things are slowly coming together and I'm excited to finally get these songs out soon!
Do you have a timeline for when we might hear some new songs?
I'm expecting to have something out in the first few months of the new year if all goes according to plan!
Is there a specific new song that you're working on that you're most excited for people to hear? Why?
There's one new song that I've been playing at every live show so far, it's called Just Like You. I'm really excited for people to hear this one because I've already gotten to share it with a lot of my close friends who have been to more than one of our shows so it's become a really special song ever since shows started back up.
What are some of the things you're hoping to accomplish with Park National in 2022?
In 2022, I am first hoping to finally get this damn record out! It's been such a crazy long process, creatively as well as mentally. It's been challenging trying to get a record done while also dealing with so many life things! But I'm really excited for this new year and stoked to get things moving with new music.
I'm also hoping to play much more shows in general, and go on our first tour. It was actually supposed to start today but we cancelled it because it wasn't the most safe or responsible thing to do given the current Covid situation. So I'm really hoping that more people start getting vaccinated and taking Covid more seriously so that we don't have to keep cancelling exciting things!
Thanks for taking the time to answer the questions. Do you have anything else that you would like to add?
Adding on to the previous answer….. please get vaccinated if you haven't already!
Follow Park National:
Follow Sound In The Signals: