Oolong - Sound In The Signals Interview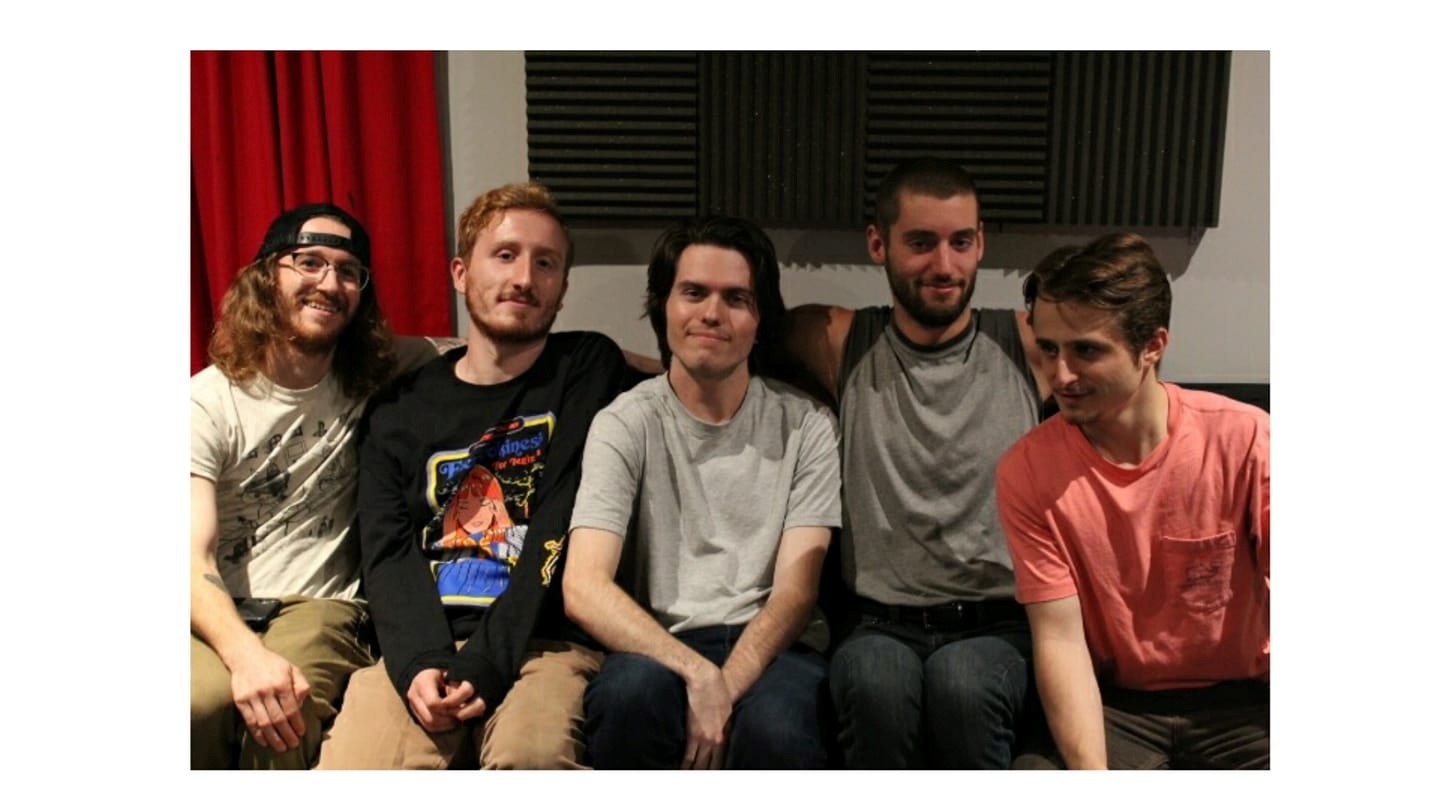 I recently had the opportunity to interview Matt of
Oolong
. We discussed writing and recording their album 'About Your Imaginary Friend', releasing it during the pandemic, his thoughts looking back on the album a year later, choosing the packaging and merch designs for their upcoming vinyl pressing, and more. Check it out below.
First, thanks for the interview.
Thanks for reaching out!
You just announced a vinyl pressing of your album 'About Your Imaginary Friend'. It's spread across three labels. Can you tell me about how the pressing came together and a little about working with the three labels?
Our manager Robby was the one who started coordinating this release over Twitter with all the labels (with Vinny overwatching and keeping himself updated/adding his input). Big shoutout to Sun-Eater, Chillwavve, and Open Door Records for all coming through to make this release absolutely beyond awesome. We had planned for this to be a release across multiple labels starting way before 2020 ended, I believe.
If I had to put it simply, the labels, Robby communicating with all the labels, the merch artists, they're the ones putting in a lot of hard work for this release. Thanks to everything they've been doing for us, we essentially get to relax and just keep people posted on our socials as it all rolls out. It's nice working with labels; because running your own merch DIY-style is absolutely possible, but it's also great to work with a team that takes care of aspects like printing, shipping, inquiries from the fans, etc...
How close did you work with the labels on packaging, vinyl details, and the merch items that will be released?
We kept in close communication over socials the entire time as things were getting done leading up to the release, so we were able to see updates on the merch designs, as well as the back cover for the vinyl sleeves. The digital age has its merits, sometimes.
The album recently turned a year old. Have you been pleased with the response it's gotten so far? What are your thoughts looking back at it now?
When we first released the album, and to this day really, we released the album with a mindset of "if anyone listens to this and enjoys it, we'll be happy. If people don't listen, we'll just keep making more music."
After a year, we get quite a few messages/comments from our socials of people saying how much they really enjoy the album, asking us about songs, sending us funny stuff, and it really makes all of us so ecstatic that people care enough about our band to reach out to us in that way. The fact that people wanted to buy our merch is also wild, and we're so glad we got to do this release for those who did wanna rep our stuff. The response, to put it as simply as I can, is better than what any of us could have ever asked for; and we're always grateful for it.
What's one of your favorite moments from recording the album?
This is a moment I will never forget when we were recording AYIF. The song, "My Afternoon's Shotgunned," we wrote it about 2 weeks before we went to Philly to start tracking drums with Sam. Essentially, Vinny had to teach Sam this song in the studio, and he created drum parts for the entire song in about 30 minutes if I remember correctly. At about 5:18 in the song, Sam does this incredible fill that he didn't plan at all. We thought about doing another take but we decided to leave it in because it sounded so cool to us.
"Roxies and Cigarettes" has been a huge song for your band. Can you tell me about writing that song and about your lyrical inspiration?
Roxies was the second song written for AYIF, right behind Welcome to Destiny Island. Vinny wrote this track in about 2018, and just like many of our songs, he focused on the structure and instrumentation first and foremost.
He knew he wanted this to be a medium-paced track with a heavily math-tinged emo punk style, if you had to give it a specific name. The instrumentals were changed around, and sections re-done quite a few times before we had the final song you hear on the album. Once we had it rehearsed and down clean for the first time, we sorta knew that this would be one of the singles off the record, and it ended up being the only single we actually released before just dropping the whole LP. We posted a video of us practicing this track on Reddit, and this post ended up giving our band a lot of traction. You can still see the post on r/emo to this day.
As far as the lyrics, we don't really like discussing that too much. But we believe the title and lyrics are fairly self-explanatory if you read through them. Lyrics are usually the last thing completed for our songs (sometimes this isn't the case though).
What was the experience like releasing and promoting an album during the pandemic?
Well, the pandemic has been a bit of a challenge for us, since our only real plans after we released that album were essentially to tour on it until we felt like making more music. We were able to play 2 shows a month before the album drop, with Tilted, Ogbert, and Good Sleepy which was absolutely fantastic. We also got to play one more show with Closure and Taylor Bradshaw right after we dropped the record and right before the pandemic. With the pandemic, we've had to focus more on our digital platform, which is definitely fun but it can get stressful from time to time.
Thankfully, having our manager Robby running the Twitter and Tik Tok accounts definitely lightens the load on us, as far as all that stuff. We've done some livestream shows here and there, but we just miss real shows a ton; once we can play in-person live sets we're gonna have to do some kind of make up tour haha.
Now we just take small opportunities here and there to promote our stuff, and maintain the socials. Nothing too crazy.
Have you been working on any new music? Is there any chance that we'll hear new songs this year?
Unfortunately, I don't think I'm at liberty to discuss this. Hehe.
Thanks for taking the time to answer the questions. Do you have anything else that you would like to add?
Check out Sun-Eater Records, Open Door Records, and Chillwavve Records! Great people making fantastic moves! Not too much I have to add, thank you for taking the time to ask us these questions, it really means a lot.
Follow Oolong:
Follow Sound In The Signals: