High School Never Ends Podcast - Sound In The Signals Interview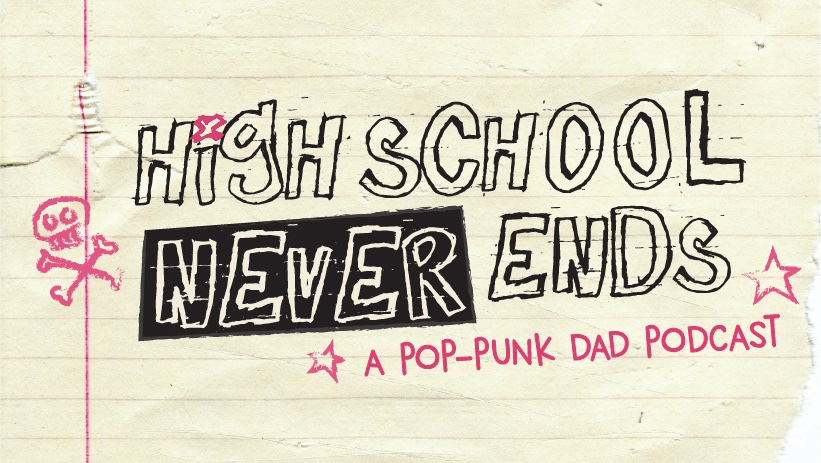 I recently had the opportunity to interview Wingman Steve & Chris-183 of the
High School Never Ends Podcast
. We discussed how they decided to start the podcast, how music can connect you to specific times and experiences in your life, the nostalgia for the late 90s and early 2000s pop-punk and how it still resonates with new listeners, new bands they enjoy, some of their favorite episodes, and more. Check it out below.
First, thanks for the interview.
S: Thanks for having us. Always great to chat with someone helping cultivate this scene.
Can you tell me more about your podcast, how you met, and how you got into podcasting?
S: The podcast started off as an intoxicated idea. I've been obsessed with pop-punk music since high school and I had known Chris used to do a nostalgia-related podcast but never listened to it or anything. We're former co-workers and one day we just started texting and I asked if he'd want to start a podcast about pop-punk music and being a dad...the rest is history.
C: It's just funny how one night's random conversation has become such a big part of lives over the course of the past year. And yeah, as Steve alluded to, I had been podcasting on and off since 2015, mostly pop culture/nostalgia related subject material, however for numerous reasons fell out of it for a while - until that night Steve and I decided to give this a go.
How did you initially become interested in music?
S: My dad was big into music – nothing like punk.. but there was always music on. He loves jazz and he loves Prince. What started with listening in the car transferred over to MTV pretty quickly and that's where I started forming my own opinions.
C: I would never consider myself a music historian, nor do I even know the first thing about how to write or play music, however music still ended up playing a huge role in so many aspects of my life. To me, music has always been important in that it connects me with specific times and experiences in my life, which is especially holds true for me with the pop punk era of the late 90s into the 2000s. That, and I was always the one at parties that HAD to have control of what was playing.
You discuss the nostalgia for the late 90s and early 2000s pop-punk on your podcast. What do you think it is about that time that holds for people who lived through it and for those who are newly discovering it?
S: I think that whatever type of music you liked when you were "coming of age" sort of molds the listener you'll become. In high school if you were a bit of an underdog who was always lovesick over a girl you can't get… blink-182 is going to hit home. Kids in the late 90s early 00s were a unique bunch too – we experienced an analog childhood but witnessed the dawn of technology (someone in some article called us Xlennials). We were riding our bikes till the streetlights came on but once we got to high school we were able to go on AOL and chat and shortly thereafter download music. At the end of the day pop-punk is about catchy hooks, hating your hometown and heartbreak so when younger kids today find it I think it can still resonate.
C: I think this specific genre of music hit us exactly at the right time too, as we were specifically going through all of the subject material they would sing about - dating, breakups, partying, rebelling against the norm - all the stuff that relates directly to people 18-25. In my opinion, pop-punk music came at the perfect time, and was written specifically for us.
Do you have a favorite episode of the podcast or one you would recommend people check out? Why?
S: Big shoutouts to some of the guests we've had including Adam Lohrbach of Home Grown, Tim Rogner of Allister, Shawn Harris of The Matches, Chris Fafalios of Punchline… they each came on and walked through their entire bands' history with us, and they were all super nice guys. For someone who is a fan of any of those bands check those out. I think my personal favorite was our New Years Episode though. We had 7 different guests come on and "party" with us each in a short segment. It summed up the first year of our show very well.
C: This is such a loaded question, because there are so many episodes I thought were amazing. Totally agree with Steve though - Adam, Tim, Shawn, and Chris were all awesome conversations that lent to some of my favorite episodes of the show. So those, the episode we did on MTV, and the New Years episode definitely have to all be at the top of my list. I'd also suggest people check out any of our album spotlight series, as those are usually a blast to record, and really dive deep into one specific album.
One of my favorite episodes of yours is the one with Shawn Harris. How did it work out for you to have him on the show?
S: That was a big one for me, I am a HUGE fan of The Matches. We had recently spoken with Chelsea Christer who made the Bleeding Audio documentary about them. I'm always trying to think of who to invite on the show and Shawn Harris always seemed so eclectic on stage so I was a little intimidated reaching out to him. After seeing the documentary I saw what a nice guy he was and just sent a message inviting him on. He agreed and that was that. Never judge a lead singer by his stage clothes. These days everyone is just a DM away.
C: I was incredibly excited to have the opportunity to sit down with Shawn and talk, however I can't say I wasn't a little intimidated at first. The great thing was all of that went out the window the minute we started, and the conversation just continued to flow. He was just an overall great guy with some amazing insight on the band, his life, and literally anything else we happen to bring up - one of my favorite interactions to date without question.
Who would be a dream guest or someone you'd like to have on the podcast?
S: I'm the biggest fan of Mark Hoppus. Not that I'd have any clue what to ask him but he's probably one of my biggest dream guests. Mark, Ryan Key (Yellowcard) Gabe Saporta (Midtown/Cobra Starship) and Kenny Vasoli (The Starting Line) would all be on the wish list.
C: I'm a Tom guy, so for me first and foremost it's Tom DeLonge, and I'd have about ten pages of questions ready to go. A few others would be John Feldmann (Goldfinger), Ryan Key, Bert McCracken, and Rivers Cuomo (outside of the genre, but still a dream guest in my opinion).
What are your holy trinity of pop/punk/emo albums?
S: 3 albums?? Yikes. We do a segment called Rankin It on every show and we make our guests do this but it's tough being flipped around. I'd have to go Starting Line – Say It Like You Mean It, Yellowcard – Ocean Avenue and blink-182 untitled.
C: This list for me changes daily, but today I'd say Blink-182 Take off your Pants and Jacket, Story of the Year Page Avenue, and Green Day Insomniac.
What albums or artists would you say are underrated?
S: In terms of older stuff.. Allister, Lucky Boys Confusion, Fenix TX, Home Grown, Ludo… all acts that could have been the biggest in the world. Because of the podcast we've had the chance to chat with a lot of cool bands making music right now and I've become a big fan of College Radio, Television Supervision, Ivypaint, Of Brighter Skies, Cheer Up Dusty, Port Maria and more. If you're reading this and you want a snippet of all of them we have a "HSNE Ultimate Pop-Punk Playlist" on Spotify which is a great spot to hit random and hear old school favorites mixed in with today's acts.
C: Agree with Steve on Allister and Homegrown, in addition to Chroma by Cartel, and Why do they Rock so Hard by Reel Big Fish. Also. Steve forgot to mention IDX in his long list of notable underrated bands.
What's coming up for the podcast? Can you tell us about any episodes or interviews that you're excited about?
S: We like to keep the upcoming schedule close to the vest… tune in and find out! But I will say that we're going to keep mixing up our content between talking about bands' full discographies, shining spotlights on some of our favorite albums and interviewing local bands and acts from back in the day. New episodes out every Thursday.
C: That, and maybe some surprises that fall into none of those categories!
Thanks for taking the time to answer the questions. Do you have anything else that you would like to add?
S: Thanks so much to everyone who's checked out our show. We're just a couple of pop-punk enthusiasts and the support we've gotten from random listeners to headlining acts has been really cool. There are also a ton of other cool shows on the Dragon Wagon Radio network – check em out!
Follow High School Never Ends Podcast:
Follow Sound In The Signals: