Good Sleepy - Sound In The Signals Interview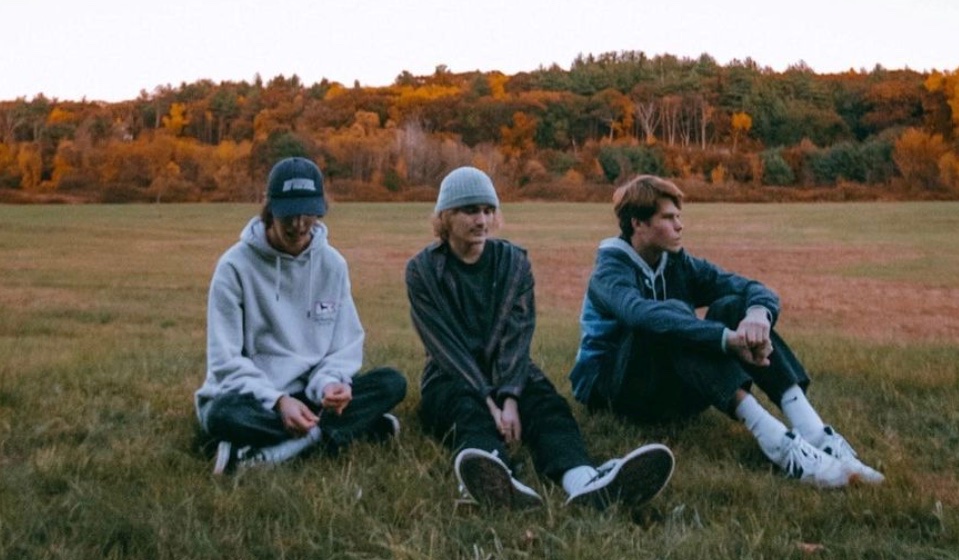 I recently had the opportunity to interview Thomas of Good Sleepy. We discussed the writing and recording process behind the band's upcoming album, 'everysinglelittlebit', how isolation has influenced the lyrics, their new song, "childlike", lyrical inspiration, the meaning behind the album's title, the album's artwork, and more. Check it out below.
First, thanks for the interview.
Thank you for having us! Love to answer some questions. :)
You just announced your new album 'everysinglelittlebit'. Can you tell me about the writing and recording process for the album?
We started writing everysinglelittlebit in early 2020. COVID put us all into quarantine a little bit after this, so we actually ended up demoing the entire album long distance. Despite us not being together, it was a big team effort putting this album together and we all were very involved in the writing process. For most of writing of the album, Seth and Ryan would send me (Thomas) their demoed guitar parts, and I would demo the drums and vocals in my basement at home. It was a bit of a challenge and took extra time because of this, but we ended up with an album that is really special to us. The isolation of these times influenced lyrics of the album pretty heavily, and it also heavily self-reflective that was allowed for with all of the alone time.
We wanted to write it the instrumentals to reflective all of the past elements of DIY Good Sleepy, with bangin' licks, floaty riffs, and tight hits but we also wanted to amp it up a bit and by cleaning it up making it a little more dramatic. We recorded the album at Sound Acres Studio in Pilesgrove, New Jersey with the great, talented producer Gary Cioni and the one and only Chris Freeman, who plays guitar in another great band called Hot Mulligan. Recording at Sound Acres was such a blessing, I can not begin to say how thankful we are of Gary and Chris for doing all the work they did with this record. We stayed at the studio in the southern farmlands of New Jersey for three weeks, and it was definitely the greatest experience we have had as a band together. Recording this album was great, smooth sailing, and we had a dream team. So thankful.
This is your debut album. What was the biggest difference for you in the song writing and arranging process when creating an album versus an EP?
The actual writing process of this album was really not very much different than that of our past EPs and demos other than the fact that we did it long distance, but I think we had more of a sound in mind on this record that we were going for and we wanted it to be really cohesive. It was a lot to focus on and ideas got lost in translation sometimes with the distance not allowing for us to communicate our thoughts as clearly, but this only led to us write with a lot more intent and purpose. I think we started with about 17 or 18 songs and brought 12 to the studio. We were much pickier with our songs this album and it I really feel like it paid off and makes for a real memorable sound in the finished version.
You released the first single "childlike". The song is fantastic. Why did you choose it as the first single to release from the album?
Thank you so much!!! "childlike" certainly delivers the sound that we were going for in our writing process on this album. It explores the theme of youth; childish feelings, being treated like a child. It has a lot of deliberate meaning and the instrumentals ranging from ambient to more energetic and hard hitting demonstrates what we were trying to make happen on this album nicely. We also were just really pleased with how this one came out. It's definitely one of our favorites too!
What was the lyrical inspiration for "childlike" and how does the song fit in with the themes and style of the new album as a whole?
The lyrical inspiration behind "childlike" is pretty dense. I think people are really rooted in their in how their experience as a child whether or not they realize it or not. Being young is an important part of life. Good Sleepy started when we were very young — 15,16. The album is called "everysinglelittlebit" because it is an amalgamation of personally reflective thoughts and meaningful experiences from our lives, trying to put every single little bit of them together and to understand them and create something something beautiful, like an album. Exploring the child in you is a key part of the process in understanding yourself and stopping childish feelings and behaviors, and that is what I was really exploring in writing the lyrics of this song. The song is energetic and hard hitting, its playful in the melodies, and sometimes a lil' spooky n sad.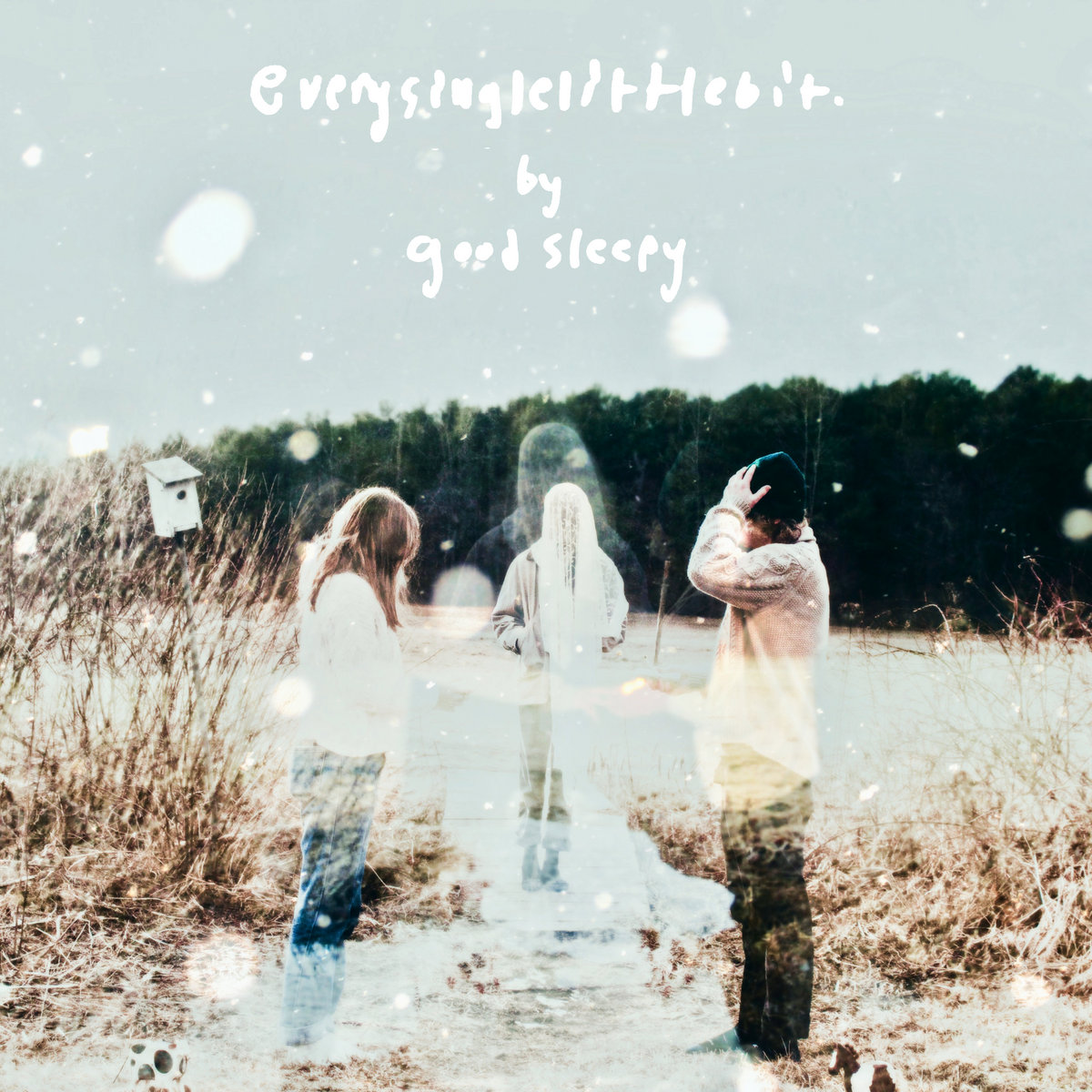 The artwork for the album is really neat. Can you tell me about who came up with the concept and where the image comes from?
The process for making the album cover started with me drawing up a shitty little design for a basic idea of what we wanted the album cover to look like. We staged the photo in the conservation lands central Massachusetts. It is multiple layers of images, taken on multiple different days. We took the first few images on a cloudy day, and the next set on a snowy night. The concept is really supposed to be reflect a theme of the ~ghosts~ of someones mind haunting them in their relationships. It was pretty fun making the album cover, we had the talented Rose Gaulin and Angela Nolan responsible for the taking of the editing of the pictures, and with myself putting the album cover together with the lovely pictures they took.
You are releasing the album on No Sleep Records. What's your experience been like working with them and why did you choose No Sleep?
No Sleep Records rules!!! They've put out some of the best records in the past decade. We could not have been happier with our decision to join them, we have met so many talented people and made so many good friends because of No Sleep. Chris Hansen has been nothing but kind to us and we appreciate No Sleep Records for everything they've made possible for us.
Thanks for taking the time to answer the questions. Do you have anything else that you would like to add?
Thank you so much for having us!!! Your questions were great and I had fun answering 'em. All else I can say is that we have pre-orders on vinyls and merch available and to make sure to check out our talented photographers on their social medias
@rosegaulin
and
@angelaesphotos
. They do a great job. Thanks again! :)
Follow Good Sleepy:
Follow Sound In The Signals: