Stars Hollow - Sound In The Signals Interview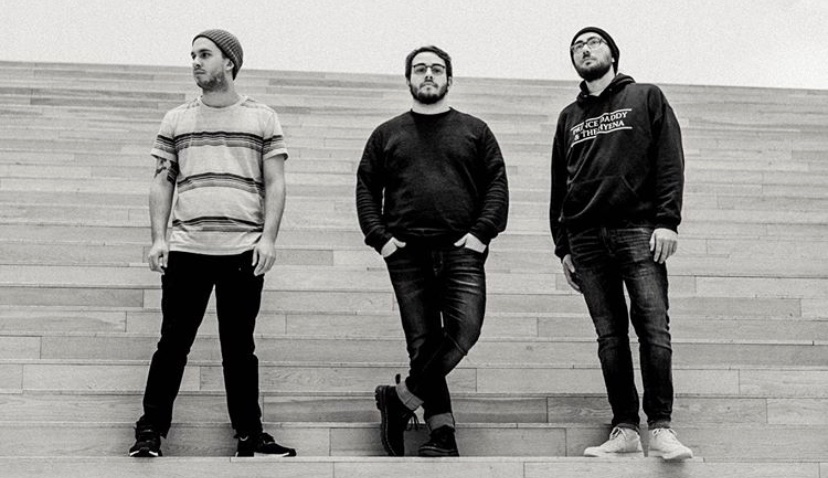 I recently had the opportunity to interview Stars Hollow. We discussed the band's upcoming album, the vinyl repress of
Happy Again
, and more. Check it out below.
First, thanks for the interview.
No problem! I love doing stuff like this.
You've been working on a new album. What can you tell me about the writing and recording process so far?
Yeah, it's actually almost done being mixed and mastered! It's weird because some of the songs were started before our last song Tadpole was written. The writing process was really thorough. I wrote the skeletons for everything, demoed them all out, then we programmed drums for a rough idea, demoed bass, then started playing everything together. When we played together we changed a lot of stuff to feel more natural and fun. It was great to be so intense about writing and then allowing it to flow at the end.
We recorded with Greg Lindholm again, and that process was great. He's ridiculously helpful with song structure, vocal melodies and extra instruments. I think every band should have a Greg in the room to be like "hey, this would be cool, try it." We started recording in September of 2019 and finished in May of 2020. It's crazy to think about. I'm really excited about the mixes we've heard so far.
Can you tell me about some of the songs on the album? What can fans expect? Did you experiment with songwriting or style?
The album follows a general theme kind of like our EP
Happy Again
. There are 8 full songs and then a couple that tie everything together. I don't want to give away too much in terms of theme.
In terms of style, it's kind of like our former stuff, but definitely more fun and exciting. More of a poppy side to things. I feel like there's a lot more to grab onto within a few seconds of listening as well.
We were a lot more open to trying different pianos, synths, and keyboards. There's also less screaming, so we had room for vocal harmonies. The music generally feels way more big and full. I don't think people who enjoy our music will be disappointed at all, and I definitely think people who didn't love us previously might enjoy us now.
You've said your album is currently in the mixing phase. Ideally, when do you think fans might be able to expect it or new songs from it?
It depends on a few factors, but I'd say either really late this year or early next year. We expected to have it out by now with a release tour in October. Thanks COVID.
Your band has been able to generate a ton of buzz and I think you're in a position to become even bigger. What do you think has placed you apart from the pack so much? Has the fan reaction or anything else surprised you so far?
I'm really not sure why we've developed buzz to be honest. I think it has a lot to do with how hard we've worked since the band started. We've toured a ton and done as much as possible to get our music out there. This band realistically started in 2015, and we've hit it pretty hard ever since finishing college in 2016.
I also think that we might scratch an itch for people who like emo but don't quite connect with the lyrics of some other emo bands. I'm not a crazy good lyricist, but I definitely write in a very real way that people may like.
Overall, it's a surprise that anyone has ever cared, and I'm super grateful for everyone that listens to us.
You just announced a new vinyl pre-order for 'Happy Again' and 'Tadpole'. Fans have been eagerly waiting for some new vinyl pressings. What has gone into putting this new pressing together and how much input did you have on the variant choices?
This pressing was really random actually. I talked with our bassist Gavin about doing another pressing while people wait for LP1 because he was involved in the first pressing before he joined the band. We decided to reach out to our friends in Acrobat Unstable to see if they'd want to do it with us. They said yes and then it was ready for order within a week. We had a lot of input on the variants which was really cool. I'd work with Acrobat Unstable again any day.
The emo revival of a few years ago spawned a ton of interest in the genre and style, but most of those bands are now inactive. Who do you see as the most important bands in the genre now?
I think today there are a lot of bands that are way better than bands from that time period. I firmly believe Charmer will be legendary in the genre years down the road. Origami Angel and Niiice. both very much embody the essence of DIY emo right now. I think emo is going to shift more toward that fun/youthful feel, and those bands embody that super well. Jail Socks too, but they're getting closer to being good pop punk.
Thanks for taking the time to answer the questions. Do you have anything else that you would like to add?
The world is crazy right now. Be a good person. Care for others, including all BIPOC and LGBTQ+ people. Also, support your favorite bands. COVID is the nail in the coffin for a lot of smaller bands, so give them love while you can.
Follow Stars Hollow:
Instagram
Twitter
Facebook
Follow Sound In The Signals:
Instagram
Twitter