Fluorescents - Sound In The Signals Interview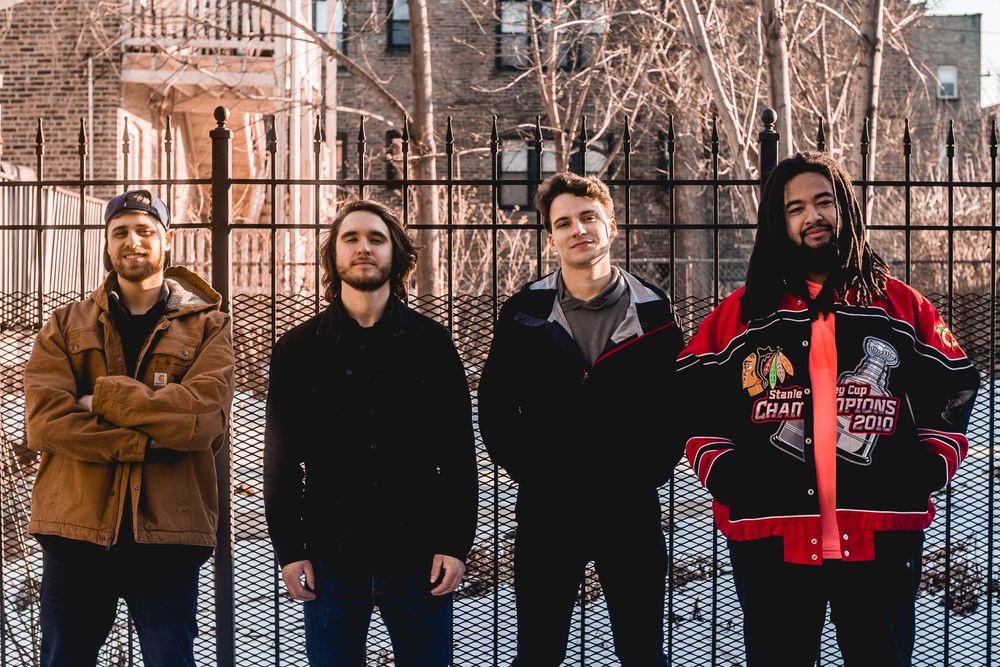 We recently had the opportunity to interview Tyler and Bobby of Chicago post-pop-punk band, Fluorescents. We discussed their new songs, their upcoming EP, life in the pandemic, and more. Check it out below.
First, thanks for the interview.
Likewise! It's going to be Tyler & Bobby answering the questions today.
For anyone who is not familiar with your band can you tell me how you got together and formed the band?
T:
Fluorescents solidified back in 2018. Prior to that, Bobby, Sasquel & I had jammed in a few different neighborhood bands together. Alex joined the band on drums a little over a year ago.
B:
Ill never forget the day Tyler text me and asked me to jam and try and form a pop punk band. I was all in from the start, and we started making music with our old drummer. We added Sasquel a few weeks later, and we've been going strong ever since.
You just released your new video for "Back For More". Can you tell me about putting the video together?
T:
We'd been recording all of our live shows and behind the scenes stuff on our go-pro because it was always cool to go back and relive. Since Covid was happening we didn't really know if we were going to be able to do a traditional video for it. But then we thought it'd be more impactful to use all the live footage and sort of piece together a video with it so we could share all the memories with our friends & fans. We edited it ourselves too so we could really dive deep into all the experiences and relive the memories so to speak.
What was the writing process like for "Back For More"? How long did you work on it and what were some of the lyrical inspirations?
T:
Back For More was pieced together not long after the release of our first EP. it was our first step towards lightening our sound up and making it more upbeat & fun! You can expect to hear this style on our upcoming EP.
You've been teasing an announcement on Instagram and just announced your sophomore EP, 'Dead End Conversations' will be out September 18th. What can fans expect?
T:
Yup! September 18th we're dropping our Sophomore EP 'Dead End Conversations' and we couldn't be more excited about it. It's the first EP to feature Alex on drums giving an absolutely killer performance. You'll hear equal amounts of Tyler and Bob singing and all the songs were written to translate over well live!
B:
I think fans should expect a classic pop punk feel good vibe, mixed with some heavier "EZCore" influence. I think this EP is by far the best music we've made together, and we've actually been writing new songs already for the future. It's all a process, but we've grown a lot in the way we write, and I think fans will see a big improvement from our first EP to "Dead End Conversations."
You recently released your new song, "Not Another Pop-Punk Song". What can you tell me about that?
B:
Straight up EZCore! Tyler and Sasquel really did a great job on the guitars in this song. The catchy riffs and heavy chugs are defining, and really catch the ear quickly. It's the first one we released that features me at lead vocals, and I had a lot of fun recording it.
T:
Our new single "Not Another Pop-Punk Song" is just a straight up good time. It's a song we've played at every show to date & that anyone who see's us will recognize right away. You can skate to it. You can dance to it. You can mosh to it! It's just a good vibe all around.
Tell us a bit about the artwork. It's really neat.
T:
All the artwork for this EP was done by the very talented Shannon Conway. We wanted to keep it themed in a way with the skeleton sort of coming back from the dead. It's a metaphor!
The pandemic has stopped touring and is hitting the music community hard. What has been some of the things you've been doing to engage with fans?
T:
Fortunately we've captured a lot of footage from previous shows and what not on the go-pro so we've had some good memories to look back on and share while we're unable to perform. We've also made a point to keep in touch with a lot of our friends bands and we're all doing our best to continue to support each others projects and keep the momentum going through this tough time. I think it's more important now than ever for bands to realize that we're all in this together and the scene is dependent on each other's support. We look forward to the day when we can get back to it and support each other in person.
B:
Pretty much just posting on social media and letting them know that we're still very much here and making new music all the time. I do a live stream of me playing acoustically every once in a while on my Facebook page as well. We also have a "Zoom" podcast set up for September a little after the EP release. So we're really just trying to let everyone know that we're not going anywhere, and once it's safe to play shows again we absolutely will be.
Thanks for taking the time to answer the questions. Do you have anything else that you would like to add?
T:
Thank you for the opportunity! Just wanted to give another quick thanks to everyone supporting us and for all the positive feedback on the new releases. This is an extremely tough time for everybody, no doubt, but we're all looking forward to the future and getting hang with our friends at shows and play these new tunes live for everyone. We miss ya'll.
B:
I would like to say thanks to everyone for all the support you've given us. I love this band almost more than anything else in this world. Seeing people sharing our music around and screaming our lyrics back to us at shows is truly amazing. We are very grateful to have you guys, and we hope you dig the new EP!
Follow Fluorescents:
Twitter
Instagram
Facebook
Website
Follow Sound In The Signals:
Instagram
Twitter