Poindexter - Sound In The Signals Interview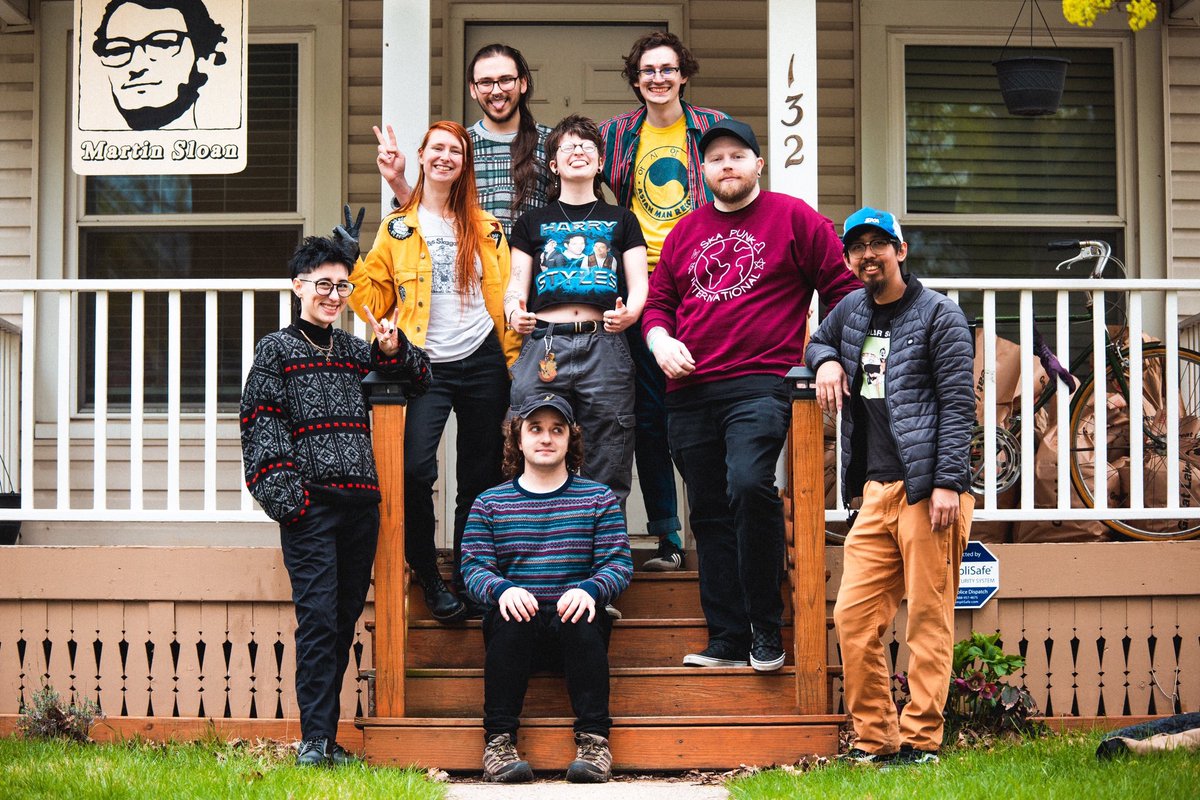 Bryce Mata
I recently had the opportunity to interview Poindexter. We discussed the writing and recording process for new album 'Treats', album artwork, collaborating with Ska Punk International, physical releases, and more. Check it out below.
First, thanks for the interview.
Thank you!
You recently released your new album 'Treats'. Have you been pleased with the response it has received so far? What are your thoughts now that it's out?
We've been absolutely floored with the response so far! We're just relieved that it's out and people are enjoying it. We're a band that doesn't tour or play many live shows in general, so it's gratifying to see people showing interest in "Treats."
Can you tell me about writing and recording the album?
We wrote the majority of the album remotely, by sending thousands of ideas back and forth for most of 2021, 2022 and early 2023. On rare occasions, our Michigan crew (5 of our members) would rehearse the demos and develop the songs at our practice space. We would have frequent discord video meetings to go over songs as well. On even more rare occasions, Nate (keys) or Gracie (vocals) would be visiting Michigan from SoCal and we would rehearse with them too.
Originally, we were going to release a "Treats" EP, which included the first four songs that are on the record now, but decided to combine it with some of the ska/pop/punk songs on the second half of the record and make it into a full-length. The "Treats" portion included songs like "Mammoth" and "Treats" that were written based on the lyrics that our trombonist Kenny wrote. So, Kenny wrote the lyrics before having any music written, and the band helped craft the song around that.
For other songs, like "11 to 8" and "Body Like That", our guitarist Kevin would come up with some chord progressions and melody ideas with Gracie (vocals) and the rest of the band would help put the song together from there. We have three different lyricists: Kevin, Gracie and Kenny. Unlike "Mammoth" and "Treats", the majority of the songs started with Kevin or Gracie's melodies and chord progression ideas. Our keyboardist Nate helped write a lot of the horn melodies remotely. Some of the songs were polished up and certain horn parts were written in the studio as we were recording the songs.
We recorded the album mostly at Cold War Studios in Grand Rapids with Rick Johnson (former Mustard Plug bassist), with help from our friend Matt Waterman and our very own Nate Phung. Most of the songs were recorded in the winter of 2022 and early 2023.
Which song was the easiest to write and on the other hand which song took the longest to complete?
That's tough to answer since putting any song together remotely can be a time-consuming and at times, frustrating challenge. I think the song we were most nervous about was "Be All You Can Be." We loved the original demos, but for some reason, we all were nervous that the song didn't turn out the way we wanted. However, the reception has been great and the song has really grown on all of us!
"Tongue Tied" is a song that was actually written in 2019, it just didn't fit with our first EP very well and we definitely didn't have our shit together enough to record it in 2020, haha. So, that one possibly qualifies as the song that took us the longest to finish!
I think the easiest song was probably "Mammoth" since it's mostly focused on the lyrics. Kevin and Justin came up with the minimal instrumentation and Nate wrote the horn melodies.
I really like the song "11 to 8". At what point in the album cycle did you write it?
Thank you! We love that song too.
Kevin had the idea for the song in spring 2022 and presented it at a rehearsal. I remember we didn't rehearse for a very long time after that, but Kevin eventually made a demo and had Gracie record vocals over it.
I remember that "11 to 8" came together pretty seamlessly. Gracie sent the vocal demo over the song Kevin wrote to our discord and we were blown away. From there, the song came together very quickly once Nate and Kiera developed the horn lines and Nate added synth.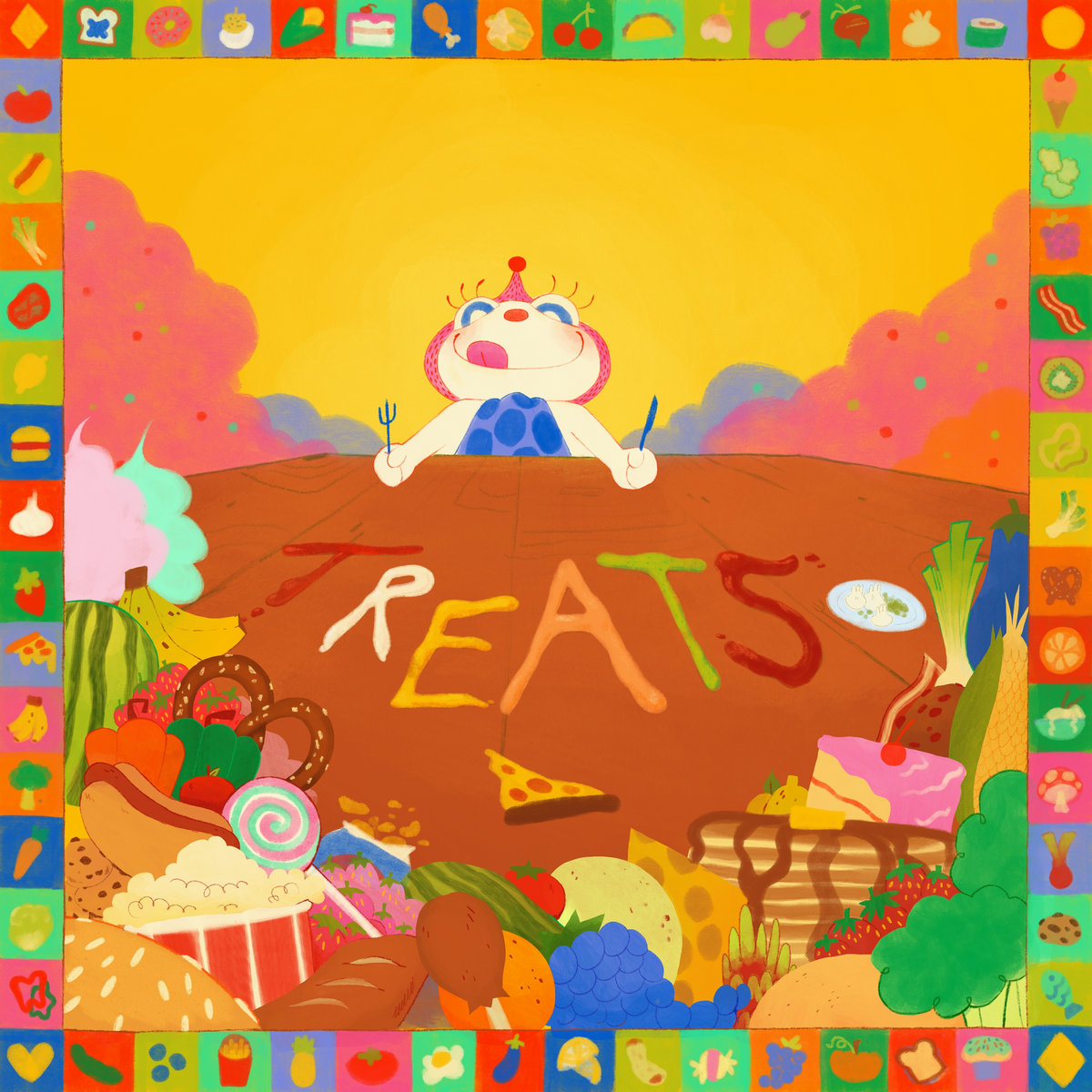 I think the album artwork is really interesting. Who came up with the concept for it and designed it?
Our singer Gracie Pryor!
Kenny (trombone) came up with "Treats" as a sort of central theme or motif for the album and it eventually became the title. Once we had the title, Gracie was like "I'm gonna try a little guy with a bunch of treats!!!"
You had a neat promotion leading up to the album with the band and label holding up various treats. Who came up with the idea for that?
I believe it was our drummer Justin with some help from Michi and Chris from Ska Punk International!
You signed with Ska Punk International for the album. How did it work out for you to be on the label?
We're all fans of bands on the label like Girls Go Ska, Hans Gruber and the Die Hards, Young Costello, etc. So, we had our eye on the label and it seemed like the best fit for what we're trying to do. From what we could tell, it seems like Chris was the right person to put up with our chaos and dysfunction, so we decided to reach out and he happily said yes! SUCKER!!! Haha.
They're releasing vinyl and cassettes for the new album. How important is having physical releases to your band?
It's a real "treat" to have a tangible object to represent our music and people's connections to it!
Thanks for taking the time to answer the questions. Do you have anything else that you would like to add?
Our debut album "Treats" is streaming everywhere now! You can order a copy on CD, vinyl or cassette from the Ska Punk International site or our Bandcamp.
Follow Poindexter:
Follow Sound In The Signals: