In Balance - Sound In The Signals Interview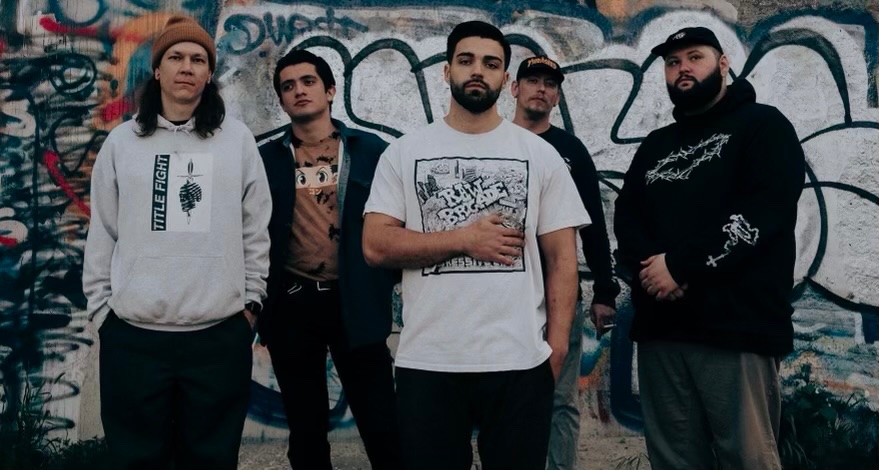 I recently had the opportunity to interview
In Balance
. We discussed how they started the band, writing new song "Lost (As I Am)", filming music videos, their upcoming EP 'Elements', plans for physical releases, live shows, and more. Check it out below.
First, thanks for the interview.
Of course, thank you for the opportunity.
Can you tell me how you started the band for those who may be unfamiliar with it? How did you initially become interested in music?
Chris: Sure. It was winter 2021 and I had demoed about 30 songs and was about to pick 12-14 and record a full-length locally. Then I saw Steve Klein had recently produced an album called Beauty Sleep by a great Bay Area band called Neverlyn that I loved. So I figured I'd throw a Hail Mary and Steve luckily responded. The singer at the time didn't work out and I asked Marcel to try and sing over a few demos Steve and I had put together and we all kind of knew we found the perfect fit. Then we were fortunate enough to add our drummer Anthony, lead guitar Zeke, and Alex on bass and vocals. We couldn't be more thrilled with how it all come together. I got into music really with Michael Jackson and Bone Thugs-n-Harmony. My older brothers eventually showed me some Fat Wreck Chords samplers and then I was all about fast melodic music until now.
Marcel: l initially became interested in music at Show and Tell when I was 7. Another kid brought a guitar and that's when I really became interested.
You recently released your debut single "Lost (As I Am)". Can you tell me about writing the song?
Chris: We were already 2 songs into writing the EP and we kinda felt we wanted to write something maybe a little catchier and Marcel came up with the intro riff and we just built on it.
Marcel: The lyrics are about overcoming a major obstacle in your life and learning how to start over again after a bad situation.
You released a video for it, which is really interesting. Who came up with the concept, and do you have a favorite moment from it?
Chris: We all came up with the concept, but most of the ideas were Casey Wieber. He was a total pleasure to work with. He used to be in a few great melodic punk bands so he understood the vibe we wanted and ran with it. Steve Klein also had a huge part in it. He's as focused and determined as anyone you meet so between them it was a really fun and professional vibe the entire time which was cool for us to experience. My favorite part of the video is Marcel singing in front of the 2-gether poster in the bathroom.
Marcel: My favorite part was doing all of the weird gross stuff.
Do you enjoy creating music videos or do you find them more stressful at times?
Marcel: For me, it's my new passion, honestly. Lost was my first video and it just made me want to create as many as we can.
Chris: Lost was just nerve-wracking for me. Obviously being the first video. Luckily I just had mainly performance scenes so just playing the same song over and over wasn't hard. Luckily Marcel does the majority of the acting. Which he absolutely kills. We did a video for Leveled Out that I can't wait for everyone to see.
Your new EP 'Elements' comes out in August. What can you tell me about it so far?
Chris: It's coming out on August 11th on Happy Haunting Records. We can't be more thrilled with how it all came together. We recorded with Steve Klein who also produced the EP. Kyle Black recorded drums. Both really pushed us and we had a great experience working with both. Elements from start to finish is really a roller coaster. Fast, energetic. But every song is different. No 2 songs sound the same. That's for sure. But it's all energy. The first single was the slowest song so I'm excited to see the reaction at shows after everyone has the EP for a few days.
You're signed to Happy Haunting Records. How did it work out for you to sign with the label?
Chris: Really organically. Steve asked me which label we wanted to sign with so he could shop our EP. I said let's start our own. He laughed. 1 month later he called and told me he was starting a label and asked if we were interested. I said yes immediately. I have social anxiety and we already have a family with Steve, Heather, Casey, and Dean so. Happy Haunting Records was a natural fit for us. Couldn't be more thrilled Steve wanted to start a label.
Do you have any plans to release the EP on vinyl or cassettes? How important is having physical media to your band?
Chris: Yes. Both. It's extremely important to us. It's important to our label too, which was also a selling point for us to sign with them. We had 200 followers and they said we believe in you so much we will press 300 vinyl. Pretty cool of them. We are also planning a tape release in the near future as well. So look out for those.
You've been playing some shows. How do you choose your set list? What can fans expect from your live show?
Chris: Really just what feels right. We want the crowd to be singing and moving the entire time. So that's the goal with our set lists and writing altogether. Soaring sing-alongs and pure crowd interaction. That's the goal for sure. We don't want to hear ourselves playing over the crowd singing.
Thanks for taking the time to answer the questions. Do you have anything else that you would like to add?
Just check out our single "Lost (As I Am)" out right now, and our debut EP "Elements" out on August 11th. Thank you so much for the interview. It was fun.
Follow In Balance: