The Merrier - Sound In The Signals Interview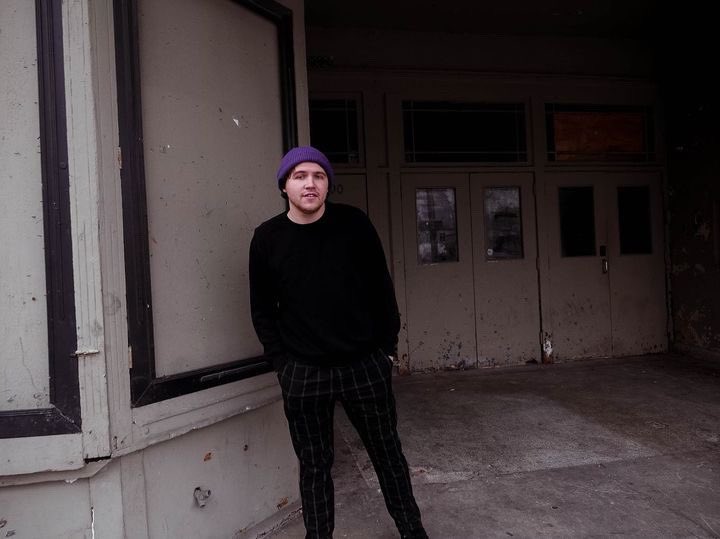 I recently had the opportunity to interview The Merrier. We discussed writing and recording new EP 'If We Fall Asleep Too Early', collaborations, working with Lonely Ghost Records, and more. Check it out below.
First, thanks for the interview.
No, thank you! These kinds of publications are huge for music, and for a project like mine where I don't play live.
Can you tell me how you formed the band for those who may be unfamiliar with it? How did you initially become interested in music?
I started writing some songs in college with my roommate Tristan Wells, I knew I wanted to do a collab project with more local Cleveland rap artists like Seth Hasan, but I was pretty unfocused at that time and was in other bands. Once covid hit and the bands dissolved I had plenty of time for something new so I started figuring out how to do merrier stuff. It's taken a lot of time to figure out how to record myself and do this.
I got interested in music through my dad showing me The Cure, and Gorillaz mostly. Short Fictions opened my eyes to the emo world and Kero Kero Bonito made me want to really dig deeper into producing.
You recently released your EP 'If We Fall Asleep Too Early'. Can you tell me about writing and recording the EP?
I often came up with ideas when I was feeling very stressed. The title of the EP came from the toxic mentality I developed while working a lot of jobs, and feeling isolated from everything as a result. I'm a sound tech and night owl but I started to tell myself I have to stay up late in order to keep my schedule going, keep being productive, I'll miss out on gaming, etc etc…"if I fall asleep too early I'll miss out" became a phrase I told myself often. I did not tell this to the guests so they would write about how they felt…turns out they were also feeling stressed in other ways and we were all on the same page without ever talking about it.
I wrote all of these songs in some emo tunings but did not want to be tied to that genre, and had a more pop approach to build around those riffs. Not having a live drummer to jam with has me relying on drum samples and patterns to build on and jam with. I love having a kick hit you in the chest and loud bass grooving.
I record everything myself in my living room, using ableton. I usually start with a guitar riff, and then mix up drum samples and then send that to the guest. Once the guest gives me vocals I build on that and fill in anything that gets left open.
One thing I really like about it is that you have all these vocalists contributing that make the album unique, but musically it sounds very cohesive. How did you choose which artists to collaborate with?
I just ask bands I love to listen to. There's always a different reason. I wanted a chiptune vibe on track 1 so I asked the commander of emo chiptune jas from exciting!! excellent!! and was joined by their partner Spun Lilac for a power couple track.
And I knew Analogue Heart would fit perfectly on the title track, that song means a lot to me musically and AH gave it SO MUCH emotion. That song makes me cry when I listen.
There's always a different reason, sometimes I think the band will fit perfectly, but sometimes I feel like if it's out of the band's element that can work. Just depends on how I'm feeling I guess.
Did you give any direction to the artists about their contributions or did you just let them try what they wanted?
I purposely leave them with no direction so they take it where they want, I think that's been an effective method to give them more control over the song.
The song "Lightsleeper" featuring Equipment is great. Can you tell me about writing that song specifically?
I was listening to algernon cadwalader & pinkpantheress and felt like those genres would be a fun mix up. I had been talking with Nick from Equipment and felt like this that song was very different from what they have out so it could be fresh.
Nick recorded his parts with Equipment's drummer Jake Pachasa and they KILLED IT. Nick sang, played bass on the verse & bridge, and the guitar solo.
Nick told me specifically he was going for more of a pop vibe, and wanted the mix to reflect that. I thought that was the perfect approach. Hire them for more features everyone!
Was there anyone that you wanted to work with on the EP and it just didn't work out at the time?
Two songs didn't make the cut, but they will both be on the next EP. One of them was VERY hard to leave off because it's with my fave band in the scene, but it will be worth the wait. It just didn't fit this vibe on the EP.
I'd also like to say that there are so many artists I haven't gotten a chance to work with because I just don't have enough ideas. So I hope no one takes it personally when I don't ask, I would love to be a feature on other bands songs.
You released the EP with Lonely Ghost Records. How did it work out for you to work with them and how has the experience been so far?
LGR has been the support group I've always needed. I met John on a very weird day in my life and asked him to be on my first EP. We always got along and had very similar values. They always have my back. I can count on them for advice and honest opinions.
Can we expect a physical release such as cassettes or vinyl for the EP?
Hmmm maybe if enough people ask. Cassettes would come first for sure.
Thanks for taking the time to answer the questions. Do you have anything else that you would like to add?
plz plz plz listen to the guests. This is nothing without them and I hope they enjoy the process as much as I do. Everyone on the EP was so cool and chill to work with and I would encourage everyone to hit them up for more features and work.
Follow The Merrier:
Follow Sound In The Signals: