Ben & Keely - Sound In The Signals Interview & Song Premiere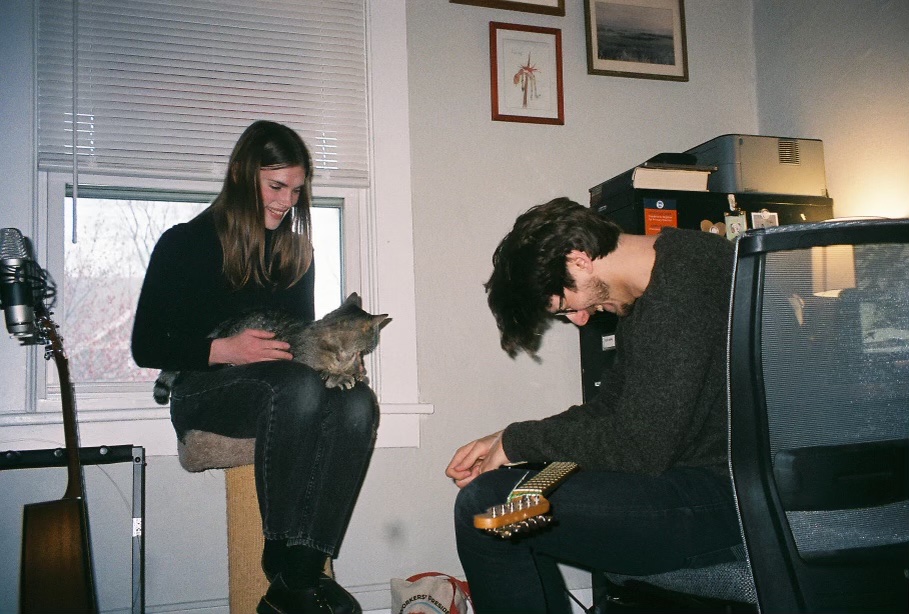 I recently had the opportunity to discuss new song "Hail Song" ahead of the release with Ben & Keely. We're excited to share what they had to say about the song and to debut it here today. Check out more below and preorder their upcoming album 'The Tell-Tale Party Noise'
here
.
First, thanks for the interview.
Thanks for posting it!
Can you tell me about how you formed the project for anyone not familiar with it? What initially inspired you to pursue music?
Ben: So, this time last year, Keely and I were relocating from Philly to Omaha, which is a twenty-hour drive, two days of mostly the most boring road you could imagine, cats going crazy in the back seat of the rental car, etc.
I'd just finished writing the second goalie record with them, and it wasn't going to be recorded until the end of the summer, and I remember feeling kind of antsy, like I needed to be working on something -- you know how it is when there's a deadline that you know will be, like, a hard and fast deadline eventually, but you can't really do anything to set yourself up to meet it because you don't have the requisite resources or whatever? Like you're preparing for a timed test, or you have all your stuff packed up to move but you don't have the keys to the house yet.
I remember having that feeling, and driving through Ohio, Lost Wisdom by Mount Eerie and Julie Doiron playing in the car, and singing along to it with Keely, and thinking, we could do something like this, probably. I had about three weeks free before starting my new job. So, I bought a condenser mic so we could get half-decent harp sound and got to work.
We did it all pretty fast. I made some roughs and sent them to my friend Nate Van Fleet and he made them into what you'll be hearing in a couple weeks. It's weird because it's, like, lo-fi desktop stuff, which I think has a somber association anymore, but I think of these as fun songs. I hope you like them. Keely wrote "Hail Song" so I'll let her say what she wants to about that. I just did the tune.
Keely: Like Ben said, this project was the product of the few weeks we had after moving to Omaha and before he started his new job. After surviving the two-day long drive (with our three very confused, howling cats) and settling into our new place, he spent a lot of time in his office making music, while I worked from home in my office, one room away. He asked if I'd be willing to play the harp and sing and work on some tracks, and I was very nervous and excited when I agreed.
Aside from singing in the car on the two-day long drive, I don't have any formal experience with singing. I started playing the harp when I was six years old, but I always approached it as a solitary activity. I was a creative writing major in college, but I'd never endeavored to write a song before. The entire process of collaborating and creating an album was completely foreign to me. Ben would work on the album during the day, and I would clock out of my day-job and into the album factory at four o'clock.
What was the writing process like for "Hail Song". How long did you work on it?
Keely: "Hail Song" was inspired by Omaha's wildly unpredictable weather, which interrupted our internet connection, and in turn, a game of Football Manager we were playing online with two of our friends. I want to say that I started writing the song the day after the hailstorm. I came up with lines, piece by piece, pulling from the events of the day before.
I tend to latch on to phrases from mundane things (i.e. weather alerts, news articles, instructions, etc.) and images tied to specific memories. I like the contrast between the more clinical language from articles or instructions and very vivid imagery. After cobbling together some lines and figuring out which ones I wanted to comprise the chorus, Ben helped transform it from scribbles on paper into an actual song. This part only took a day or two, but the recording took a bit longer, as there's so much going on in the song instrumentally.
How do you usually write songs? Does it start with lyrics, music, or a melody?
Keely: For me, all songs start with lyrics because that's what I know how to do. I'm trying to work on melodies more. Ben recently set up our Korg keyboard in my office to mess around with for this explicit purpose.
Do you have a favorite lyrical or musical moment from the song? Why?
Keely: My favorite moment from "Hail Song" is probably the last minute because of the harp and the sax. This is the first song we worked on with the harp, and I was not easy to improvise or collaborate with. I'm a bit of a perfectionist, and the mere idea (much less the actual act) of playing something that sounded unpolished or incomplete in front of someone else felt totally unnatural. When we settled on the chords and little trills we wanted and I listened to it with all the other parts of the song incorporated for the first time, it was such a wonderful feeling.
What can you tell me about your upcoming album so far? What are some of the themes or musical inspirations behind it?
Keely: Again, like Ben said, the album is lo-fi desktop stuff but more fun. It was really just the product of the things we had at our disposal: a big harp, an old sax, a Korg keyboard, guitars, the bells at the church near our favorite coffee shop, our biggest, meanest cat, etc. A lot of the lyrics stem from things we were thinking about, talking about, or doing together during the weeks it was made.
Follow Ben & Keely:
Follow Sound In The Signals: