Halo Bite - Sound In The Signals Interview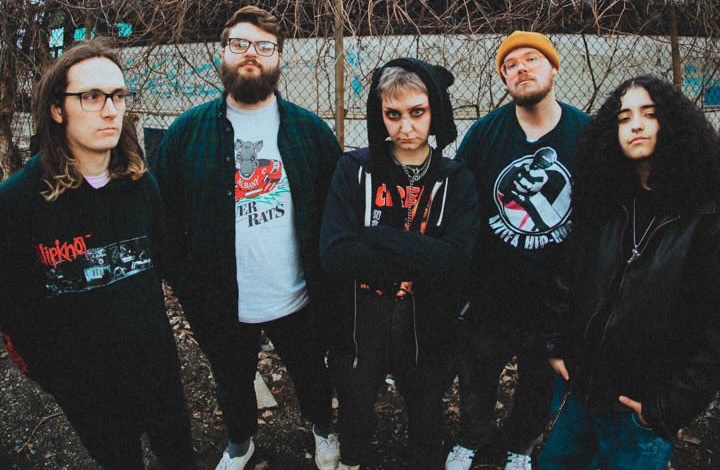 William Fredette
I recently had the opportunity to interview Halo Bite. We discussed forming the band, favorite aspects of performing live, thoughts on their 2022 EP, 'apathy!', songwriting and what they hope listeners take away from their latest release, plans for 2023, and more. Check it out below.
Can you tell me how you formed the project for those who may be unfamiliar with it? How did you initially become interested in music?
Halo Bite fell into place in such an organic way. Jeremy (guitar) and Russ (drums) were attempting to revive a former project that was slow to take off and decided to venture in a new direction. They had asked me if I wanted to take a wack at joining their budding hardcore project and of course I had to. I (J, vocals) had been in a few small short lived projects over the years and was generally involved with the music scene, but this was the first time I felt right at home and in my element, even without being a huge hardcore fan at the time.
Through rituals and smoke signals, we summoned Angie (guitar), an agent of chaos, bowls, and riffs, and Chandler (bass), a cereal connoisseur and certified funniest person in the band. Chandler actually gave one of my best friends a stick and poke while visiting mutual friends like 5 years ago and I never thought I would see his beautiful bald head again. This combo of folks really makes Halo Bite the entity it's become.
You've been playing a lot of shows including shows in March with Sunbloc. What are aspects of performing live that you are currently enjoying?
There is something so undeniably special and empowering to take what we cook up in our lab and share it with the world in real time. I spent years on the other side of the process - booking, hosting, and most importantly attending shows, so it's been a rush every time to be on these stages. Seeing people throw down and scream the lyrics back to us will never get old or cease to give butterflies.
For me personally, a byproduct of playing the shows that we have is the newfound love for and evolving confidence in dancing. It's hard not to when the bands we play with are rippers and Angie's pushing me to throw down with her. We were really looking forward to these shows with Sunbloc. We're lucky enough to be a part of a really amazing renaissance for local music in our scene, and hitting the road with some serious homies is an amazing opportunity. You gotta check out their new release, 'Sunday Music'. Shit's gonna make you shake your ass and push your friends, respectfully.
You released your EP 'apathy!' last October. What are your thoughts looking back on it now?
We wrote 'apathy!' as a trio during what was a pretty dark time in my life. On a very personal level, I think I would be still so stunted in the healing process without this band and this album as an outlet. That being said, it was received beyond any expectations we may have had. There's been an overwhelming amount of support and positive feedback from the rip that's really greased our gears and started us on our best foot forward.
The experience recording it with friends at Tummy Rub Records was great, and is a large part of why we went back that for our latest release. Needless to say, we've grown a surprising amount since then as musicians and as a unit as a whole. Even as a vocalist, it's been amazing to listen back on something released only a few short months ago and be able to hear how my voice has developed since then.
You recently released new songs "Real Guns, Fake Holsters" and "Bullets & Bobby Pins". What can you tell us about the writing and recording process?
RGFH is collection of two songs that came to fruition shortly after "apathy!". We spent a lot of time crafting them and tried to push the hardcore boundaries a little bit with rhythms and tempos that differed from our other stuff. Writing music together is a mosaic of different backgrounds and interests and I don't think we would thrive without our tastes contrasting as much as they overlap; we all bring a unique approach to the table that really makes our sound what it is. As mentioned, recording with Tummy Rub Records is always fantastic, as those folks are not only great friends but brilliant engineers.
What do you hope fans take away from the release?
Something that is so important to me specifically with this band is hearing from some our friends and fans that they can relate to and find relief within our lyrics. I don't write songs as songs, I collage journal entries and those one liners that you think of while you're driving or in the middle of laundry. These particular works function both as a raw outlet and a curse, very Stevie Knicks undertones.
That being said, these songs, I hope, inspire self worth and introspection with coming to terms with the end of a relationship where you had your heart fully invested in someone who willfully hurt you after multiple chances, and realizing that your optimism towards reconciliation means nothing if the other party isn't committed to making it work. Both songs follow the same dialogue of the idea where "if you weren't fed love on a silver spoon, you learn to lick it off knives". It can be extremely hard to find your footing when you walk a tightrope of wishing for a different outcome but knowing there is no other side to reach.
What do you think about the fan response to the cassette release and how important is it to you to have music released on physical media?
You can stream music all day, but having people pick up a copy of something they can hold in their hands really shows they care about the release and means the world. We do everything (layout, duplication, etc.) ourselves, and seeing that hard work pay off is great. It means a lot to be added to someone else's collection.
What's coming up for the band in 2023? Are you currently working on new music?
We have some really, really dope shows this year - some already announced, like our shows with Drug Church, and another with Scowl/Show Me the Body, and shows we're stoked on announcing. We're continuing to play out of town shows with the hopes of reaching new ears and new friends. We're consistently working on new music - it's addicting at this point!
Thanks for taking the time to answer the questions. Is there anything else that you'd like to add?
We really appreciate this opportunity, thanks y'all for asking us to partake and thank you, the reader, for making it this far! Please please support your local music scene, go to shows and share flyers and lift each other up. We wouldn't be anywhere without people coming out and taking a chance on seeing us play. In a way, Halo Bite is for the underdogs and those who have lurked on the outside wanting a chance to give it their all. Now's the time! Write that song even if you think the lyrics are corny, pick up that instrument you've always wanted to learn, go to that show in your town even if your friends aren't into it, and two step your way into the pit even if you think you're gonna look silly.
Follow Halo Bite:
Follow Sound In The Signals: