Yet To Bloom - Sound In The Signals Interview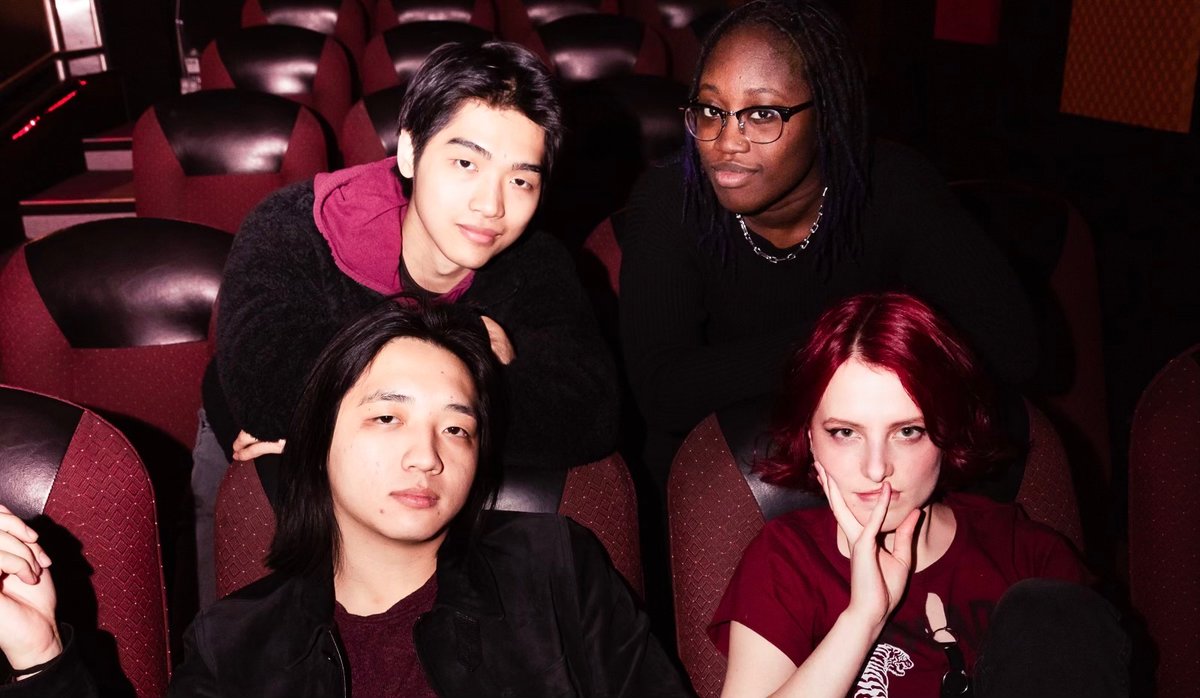 I recently had the opportunity to interview
Yet To Bloom
. We discussed how they formed the band, writing and recording new EP 'Ashes, Ashes', lyrical inspiration, musical influences, how the artwork connects to the EP, and more. Check it out below.
First, thanks for the interview.
YTB: Thanks so much for having us!!
Can you tell me how you formed the band for those who may be unfamiliar with it? How did you initially become interested in music?
Claire: It's one of our favorite stories to tell.
Ray: So, it was my first semester studying at Berklee, and I wanted to start a long-term pop-punk band. I put up this notice on my Instagram story telling people to DM me if they wanted in.
Claire: I was one of 20 vocalists who responded. It was a pretty sought-after position, I guess. I feel really lucky that he picked me.
Justin: I was the only drummer that responded, so that made Ray's decision pretty easy.
Ray: Yeah, that was weird. So many vocalists, but no drummers. Billie was the hardest to get in the band, though. I wanted her in so bad. I kept reposting the story in hopes that she would finally see it. But she didn't. We went to a concert together a few weeks later. I asked her personally at the concert, and she finally said yes.
Billie: He could have just messaged me and asked! He was subtweeting me on his public Instagram stories. But hey, I made it in the lineup eventually. Even if it took an extra month.
You recently released your new EP 'Ashes, Ashes' Can you tell me about writing and recording the EP?
Claire: Usually, Ray or I would come up with a little song seed on our own and show it to the rest of the band. I wrote the beginnings of Thorn In Your Side, and Ray wrote the beginnings of Step Up/Step Back and People Pleaser. From there, we work together to develop our songs. We just get into a practice room and shed.
Justin: We wrote the first song off the EP last January. So, more than a year ago, which is crazy to think about! We finished writing in October, and then we were just recording and refining from there.
Billie: We recorded almost everything in the Berklee studios, between the hours of 12 and 4 am on any given night. It was insane.
Claire: Yeah. We recorded most of the stuff during finals week, too, which adds to the craziness of it all. Maybe the adrenaline we were running off of while recording helped the records sound better, though. Even though we were sleep deprived, it was so much fun.
Ray: "People Pleaser" was mixed by Brett Romnes, and "Step Up/Step Back" and "Thorn In Your Side" were mixed by Jack Mello. They're both crazy talented.
I like the song "Thorn In Your Side". At what point in the writing process was that song written? What was the lyrical inspiration for it?
Claire: Thanks so much! That one's my favorite too. "Thorn In Your Side" was the last song we wrote on the EP. When I was growing up, I had the worst track record with relationships. I always ended up in these crazy "will they, won't they" scenarios. As a way to heal from those experiences, I wanted to write about them in "Thorn".
I was in this situationship with this guy who would complain to me about his girlfriend all the time. I could tell that he was trying to sway me into telling him to break up with her. It was a really weird position to be in. Right before I graduated high school, he told me he was in love with me. He and his girlfriend were still together at this point, too. I felt bad for her – and for myself, too. He fucked both of us over and played with both of our feelings. Definitely one of the most bizarre situations I've ever been in.
I saw the band Career Day compared you to Daphne Loves Derby. What do you think of that comparison? Who are some of your biggest influences?
Billie: If we're being completely honest, we hadn't heard of them before Career Day put them on our radar. We were all roughly 2 years old when their first album came out.
Claire: I hear it though. Daphne Loves Derby uses a lot of pop songwriting techniques, which we love using, too. In terms of influences, I would say I'm influenced by The Wrecks. I've loved them since I was in middle school. I've been to, like, 7 of their shows at this point.
Billie: Ray asked me to be part of Yet To Bloom at a State Champs show, which is funny, because we take a lot of influence from them, too.
Justin: We have a lot of J-rock influence, too. Ray and I are both huge J-rock fans.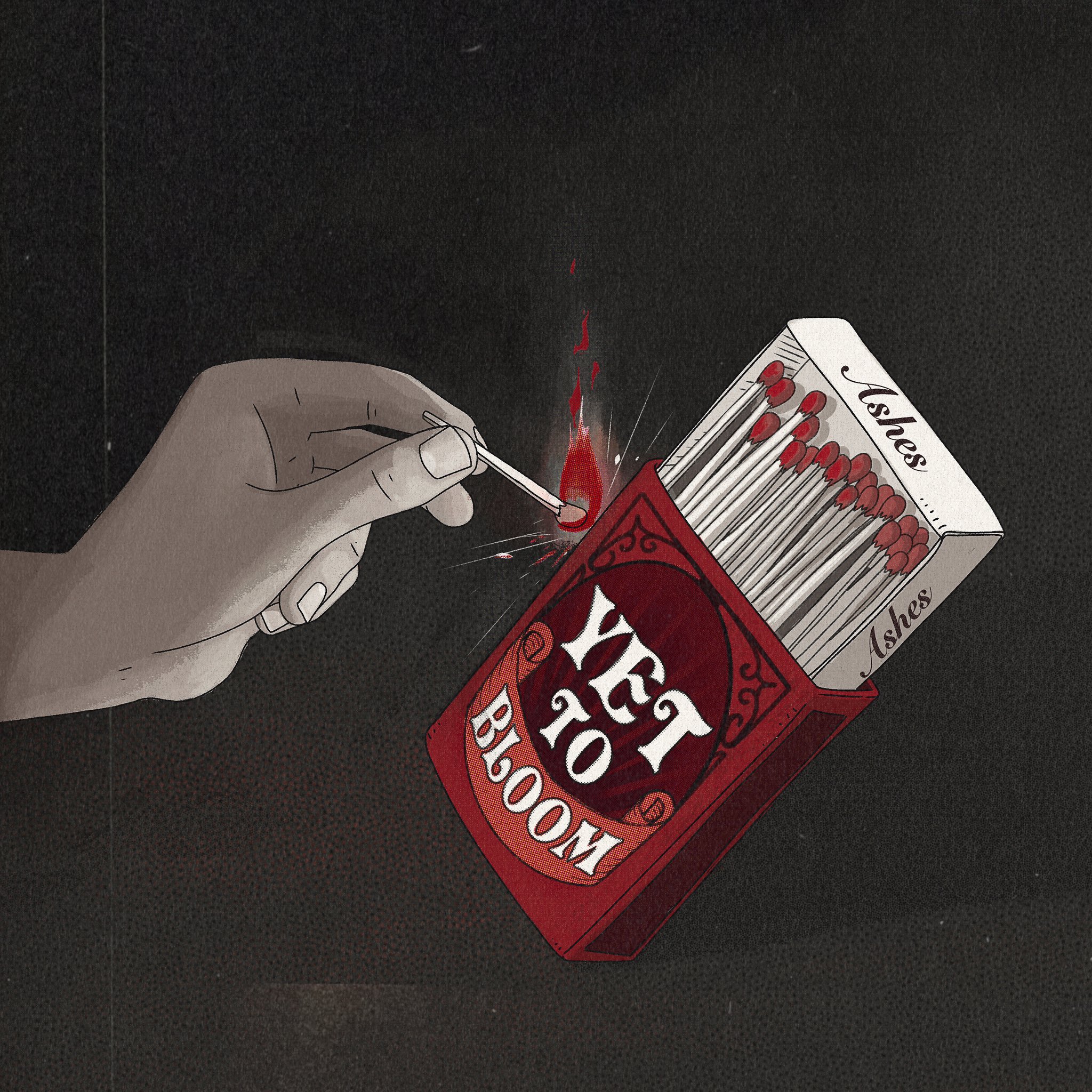 The EP artwork is interesting. Who came up with the concept for it and designed it?
Claire: We knew that we wanted the EP artwork to have a theme of decay, and from there we fine-tuned the concept together.
Justin: We found our artist on Fiverr. Her Instagram is @mariloleco. Check her out, she's super talented!
What is the meaning behind the artwork?
Ray: When everyone was arguing over what the main subject should be, I was walking around the FoTan district in Hong Kong, which translates to "Fire Ashes". That made me think of a matchbox. There wasn't any intentional deeper meaning behind it at first. I just thought it was a cool image – but the band loved it.
Claire: When Ray brought up the matchbox idea, I was like "oh my God, Ray, you genius." It was perfect because so much of the EP is about watching your childhood disintegrate in front of your eyes. Just like blowing out a lit match – poof, it's gone. There it goes. Pretty depressing, now that I say it out loud.
Is there any chance that we'll see a physical release such as cassettes or vinyl for the EP?
YTB: We're broke college students, so unless we somehow happen upon lots more money, we won't be having any physical releases anytime soon. Making physical copies of our music is a future goal for us, though! Stay tuned.
Thanks for taking the time to answer the questions. Do you have anything else that you would like to add?
YTB: Go stream "Ashes, Ashes" if you're cool. Also, we have merch available on our Bandcamp! If you want to support us, check that out!
Follow Yet To Bloom:
Follow Sound In The Signals: