Bush League - Sound In The Signals Interview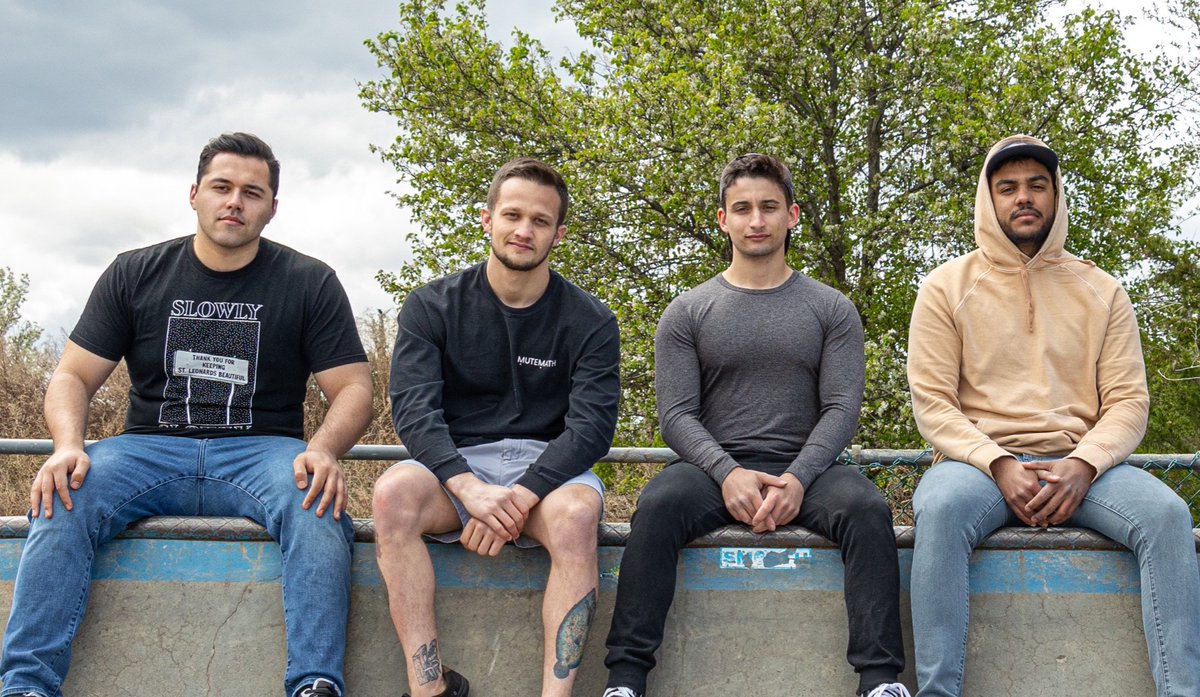 I recently had the opportunity to interview
Bush League
. We discussed how they formed the band, writing and recording their new EP 'Don't Waste Your Time', lyrical inspiration, plans for 2023, and more. Check it out below.
First, thanks for the interview.
Thanks for having us and for supporting smaller bands in the scene.
Can you tell me how you formed the band for those who may be unfamiliar with it? How did you initially become interested in music?
Our drummer, Vinny, and guitarist, Adrian, knew each other from growing up in the same town. Vinny and our other guitarist, Chris, met in high school. The three of us linked up to play some covers for a local talent show during our senior year of high school. After the talent show we pretty much went our separate ways musically for the next few years until we were reconnected by a mutual friend. We jammed as often as possible during Chris's breaks from school playing all kinds of covers and building chemistry. By the time we were all back in the same area again, we pivoted to creating original music.
A few months before the COVID lockdown, we found our bassist (Rich) on r/findaband and started writing a bunch of original music instrumentally. It took us months to find the right vocalist, but we eventually found Rhys on the same subreddit towards the end of the year. Aside from Rich, we were all really inexperienced at songwriting and playing in a band. That's why we chose the name Bush League - because we really were at that time. Once we solidified the lineup, we hit the studio within 3 months and started recording our first EP.
We came to find out that all of us are pretty sick at Guitar Hero, and that's probably where we all became interested in being in a band. Chris is probably the best of all of us since he beat Rhys head-to-head on the Wii most recently. Vinny can finish "Through the Fire and the Flames" on Expert but only when his girlfriend is holding down the green button, so we put an asterisk next to that. Adrian is the most underrated, but he's the best at real guitar.
You released your EP 'Don't Waste Your Time' at the end of 2022. Have you been pleased with the response it has received so far?
We're really pleased with the response that DWYT has gotten so far. We started slowly releasing the songs as singles back in May, so we've been getting feedback on the EP pretty much throughout the year with each individual song. I think people noticed how much more polished the songs are compared to our first EP, and it's great to see all of the love and support and all the new people discovering us from this release.
Can you tell me about writing and recording the EP? How long did you work on it?
Our writing process mostly starts individually. Sometimes we'll share an incomplete song with a few sections we really like, and another person will come in and make it whole. Other times, someone will come in with a mostly-complete song, and we just polish it and do a little bit of pre-pre-production.
For DWYT, writing began mostly during the 2020 COVID lockdown in parallel with our first EP "We'll Figure it Out". Songs like "Your Biggest Fan", "Don't Call Me Shirley", and parts of "Time Lapse" were mostly written before Rhys joined the band to be our singer and primary lyricist. By the time we finished recording EP1 in Summer 2021, we were almost ready to get back in the studio to record the next one.
Then we found Gary Cioni / Sound Acres Recording Studio. Gary was part of some awesome bands (Crime in Stereo, Daytrader) and produced/engineered some great records including Hot Mulligan's latest EP at the time, "I Won't Reach Out to You". We booked a session for late October and gave ourselves about 10 weeks to finish writing the EP. We wrote "Concrete Creatures" during that period, finished "Time Lapse", and put our finishing touches on the rest of our songs.
Once we got to Sound Acres, Gary and Dash (his engineer and co-producer on DWYT) helped elevate those songs to another level with some really great input on song structure, harmonies, and really everything. We recorded all 6 songs in 8 days and we're stoked with how they came out.
What's your favorite part of the writing process? What's the most challenging aspect of it?
Our favorite part of the writing process and the most fulfilling one is just seeing how our songs take shape from their inception to when they're finally recorded. It's always cool to see how the other members of the band make changes to our ideas, but it's even better to see some of the ideas that we're willing to keep when they deviate from our usual musical tastes.
And then we play the song that way for weeks or even months before we hit the studio, and we repeat that process again with our producer. Having that fresh set of ears to help shape our songs has really helped inspire a lot of cool ideas that we wouldn't have otherwise had on the record.
On the flip side, the challenging part can be demo-itis. It can be really surprising when a band member or producer wants to completely change a part of your song that you were really excited about. But almost every single time, we come around on the idea and learn to like it more than the original – even after bitching and moaning.
The overall lyrical themes of the EP are really interesting. What were some of the things that influenced the lyrics?
The lyrics across this EP were a group effort. A few of us started writing our own lyrics for the songs on this record, and when we'd share them with the rest of the band, we'd bounce ideas off each other and re-word the lines until we're all happy. The lyrics were influenced by a bunch of our real life experiences including depression, oneitis, couch-surfing, and feeling jaded during a night out in Hoboken.
We found a common thread while working on 'Time Lapse'. The line "Don't waste your time, there's still more life to be had' tied everything together with the idea of moving on from the things that weigh you down and focusing on what's ahead. That line became the namesake of our EP as well as a self-deprecating joke to fit the 'Bush League' vibe.
Don't waste your time stressing about where you're going to end up – just enjoy the trip. Don't waste your time on people who don't support you or believe in you. Don't waste your time in environments you don't enjoy. Don't waste your time on people who lead you on and leave you hanging. Don't waste your time trying to make it work with someone that you know is a dead end. Don't waste your time dwelling on the past.
Do you have a favorite lyrical moment from the EP? Why?
Personally (Rhys), the lyrics that hit me the deepest are in Time Lapse. The whole vibe of this song is very nostalgic and emotional, but when I'm singing it, it feels the rawest and most powerful because it's really about fighting through all that sadness and nostalgia, and moving forward instead.
"How do I keep it all up in my head
While letting go of my mistakes and regrets?
A motion picture flickering in my mind
Find comfort kicking back and laughing 'til my time"
Essentially this is saying, yeah it is hard to have all these thoughts and memories about the past lingering while you try to live in the present. So find comfort thinking of it as a movie in your mind, and see yourself as the audience. Focus on laughing at the good parts though, because you don't know when your time is going to be up.
I really like "Your Biggest Fan". Can you tell me more about writing that song specifically?
YBF is the oldest song on the EP, making it one of the first songs we ever wrote together. Naturally, it was the one that transformed the most in production. Vinny wrote the core instrumentals and it had a pretty "bubblegum" sound compared to the music we were writing at the time. We loved that vibe and continued working with it, adding some easycore influence to the verses.
When we got into the studio, we made a lot of structural changes and cut a lot of fluff. The intro was much longer and the verses were pretty boring. Gary helped us make the intro grab your attention right from the jump and get to the chorus as organically as possible. Vinny pulled the chorus drums out of thin air in the studio and we all loved it immediately. All of the lyrics and themes stayed the same but compared to the demo, the structure and instrumentals have a night and day difference.
Lyrically, it's a song about going against the grain and everyone that doubts you. In those situations, you have to be your own biggest fan and keep moving forward.
What is coming up for the band in 2023?
We're just looking to continue putting out better music with each release, make new friends, and play as many shows as we can.We have some of our first out-of-state shows planned for this year and we're looking to add a bunch more. Our next batch of songs for 2023 is already recorded and we're ready to start rolling them out later this year. We'll have some cool music videos to go with them too!
Thanks for taking the time to answer the questions. Do you have anything else that you would like to add?
Thanks for the opportunity to share more about ourselves and our music! Listen to our record "Don't Waste Your Time" anywhere that music is streamed. Give us a follow on Instagram BushLeagueNJ to stay up to date when we release new music later this year!
Follow Bush League:
Follow Sound In The Signals: