Pomegranate Tea - Sound In The Signals Interview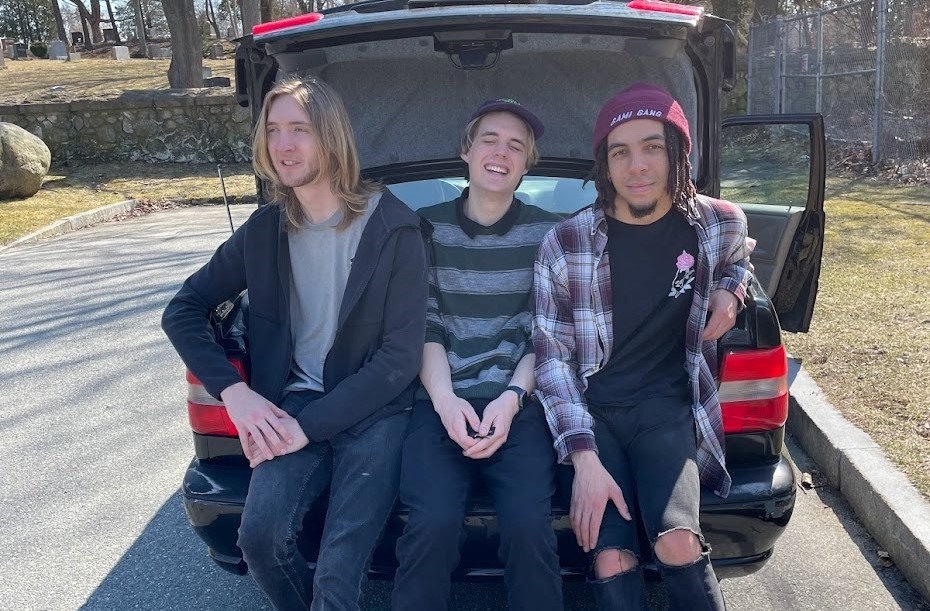 I recently had the opportunity to interview Matt of
Pomegranate Tea
. We discussed how they formed the band, musical influences, their latest EP, 'In Contrast', plans for new music, cassettes and vinyl, and more. Check it out below.
First, thanks for the interview.
Of course! Thank you for reaching out to us!
Can you tell me how you formed the band for those who may be unfamiliar with it? How did you initially become interested in music?
Before our band, Reece and I (Matt) met when we were in high school band. We've been best friends ever since. I think we met in 2016. Reece has always been an outstanding, devoted, and incredibly charismatic musician since the day I met him. I always wanted to be in a band, and one day I saw Reece playing an acoustic bass in the band room and I saw the bass player I've always wanted.
I started teaching Reece everything I knew about the bass, including a ton of Green Day and Muse songs that we would often spend all night playing together. Our first band was called The Coverts with our great friend Olivia and we learned a ton about bands, playing live, booking shows and all that fun stuff.
We formed Pom Tea in 2020 basically as soon as the lockdown happened. Reece and I wanted to finally start the emo-pop band that we had been conceptualizing for a couple years at that point. I started writing riffs and little things here and there, Reece would add cool bass and harmony stuff. He also brought his music theory expertise to help smooth the edges of the ideas. We knew Squid through my job at a hardware store, and our boy Garrett (love you Garrett) insisted that we play the new songs with Squiddy, and so the band was formed.
I wrote basic songs and added licks and riffs, I would record the parts in my room with programmed drums, render them, send them to Reece and Squid to get their contributions, and they would send parts back to me, and we had real songs on our hands. We started having band practice at Squid's house, and the 6 first 6 songs we had became our first
EP
. The EP ended up being completely recorded and produced by us, and once it was done being recorded, we set up an Instagram and started building hype through our friends and connections from our old band. Everyone was and is so supportive of us to this day and we're eternally grateful.
Who are some of your biggest influences and how did you come up with your sound?
Our biggest influences in our music careers have always been Green Day first and foremost, and the Pom Tea sound was Green Day mixed with bands in our scene that we fell in love with, including Origami Angel, Mom Jeans, Prince Daddy & the Hyena. Reece has a lot of classical music inspiration, alongside everything that I listen to. Squid's drumming has been mostly metal influenced up to this point, but going into this record, he has been really cutting his teeth learning the true emo style and weaving it in with his playing style.
Our sound came together slowly, over about a year of writing. The songs that came to define us often had mathy licks and riffs (from popular current emo), intricate but melodic bass writing from Reece (came from Green Day), and Squid brought his metal drumming to the table and adapted it to work in a poppy kind of setting.
Your latest EP 'In Contrast' came out earlier in 2022. Have you been pleased with the response it's received so far?
We were stoked to see the response to our newest record.
Margaret
was the talk of the town and it was great. A lot of the smaller songs on the record have gotten love from fans too, which we weren't really expecting. People would send us little covers on crazy instruments of songs like
Maraschino
and
FU Reece
, and it was very gratifying. We're just always stoked if our music can evoke someone's emotions.
I really like "Different" from the EP. Can you tell me about writing that song specifically?
We don't typically get a lot of comments on that song specifically, so thank you! Writing that song was tough. The chorus of it was one of the standouts of the writing process, but we never really were quite happy with how it was coming and we felt it was too similar to the other songs. A week before going to record the EP, we decided to switch basically the whole song to half time feel drums, all the way up to the final chorus, where everything comes together like intended and goes for a big mid-record climax. Followed by a heavy outro, straight into Margaret, which we figured would be the big hitter, so it would be awesome. We are pleased with how it came out, and every once in a while we're happy to hear someone say that they enjoy the song.
Do you have plans to release new music in 2023? Is there any chance that you're working on a new EP or album?
Yes, we do have a couple things in the works for 2023. We have a special project we're working on with some close friends and we are SO excited to go in and record it soon and get it out in the first half of the year. Our plan is to release a full length record before we release any more EPs, and we're having an absolute blast writing tons of new songs.
Your band has a lot of buzz in the emo/punk community. What do you think it is about your sound and style that's connecting with so many listeners?
The buzz that the band is generating has been super unexpected. We're not sure exactly what is doing it, but we always try our best to meet as many people, talk to as many people and fans as we can, get our name out, and just try to do everything the right way. A lot of amazing people have helped along the way. People say that the songs are catchy and that's why they listen. People might connect with us as people behind the music, we always try to bring a fun vibe, and people love that. That's why our faces are on both covers.
Both of your EPs had cassette pressings that sold out. Is there any chance that you're planning on releasing more cassettes or potentially a vinyl release for either of the EPs?
We're definitely open to doing more cassette presses of the first two EPs if we see that there is demand for it, but the demand for tapes seems to have gone down since its mid-lockdown boom. We would love to do a 12" vinyl press of the first 2 EPs, both on one disk, one EP on each side. I think that would be amazing and a great way to truly legitimize those 2 works forever.
You worked with We're Trying and Chirp Records on a really interesting Nintendo themed run of cassettes. Who came up with that idea and who designed all the artwork and packaging?
The idea for those awesome tapes were wholly that of Nick from Chirp and Jordan from We're Trying. They worked super hard on it and it was so so so cool to see it come to life and sell out so quick.
You mentioned your band relationship with Please 2003. Can you tell us more about why that band relationship has been important to you?
Our relationship with Please 2003 goes back several years and several bands. Reece and I had our first REAL show opening for Boys Cruise and Don Rico in our old band. They got us truly started, they set the bar for us to be the best performers and songwriters we could possibly be. We have been so lucky to know Jake and Ben for so many years, as well Sean and Lucas since meeting them from Please.
That first show was in 2019 and even right now I'm sitting on Jake's couch answering these questions. Our bands are closely knit, and we always try to raise the bar for each other to do better and help each other out with getting to that next level. We're truly lucky to know these guys because we wouldn't be anywhere without them, and we'd love to one day be the faces that people think of when they think of Boston Emo.
Thanks for taking the time to answer the questions. Do you have anything else that you would like to add?
Awesome! That's good for us! Thank you very very much for reaching out, and have a happy new year!
Follow Pomegranate Tea: