8th Grade Slowdance - Sound In The Signals Interview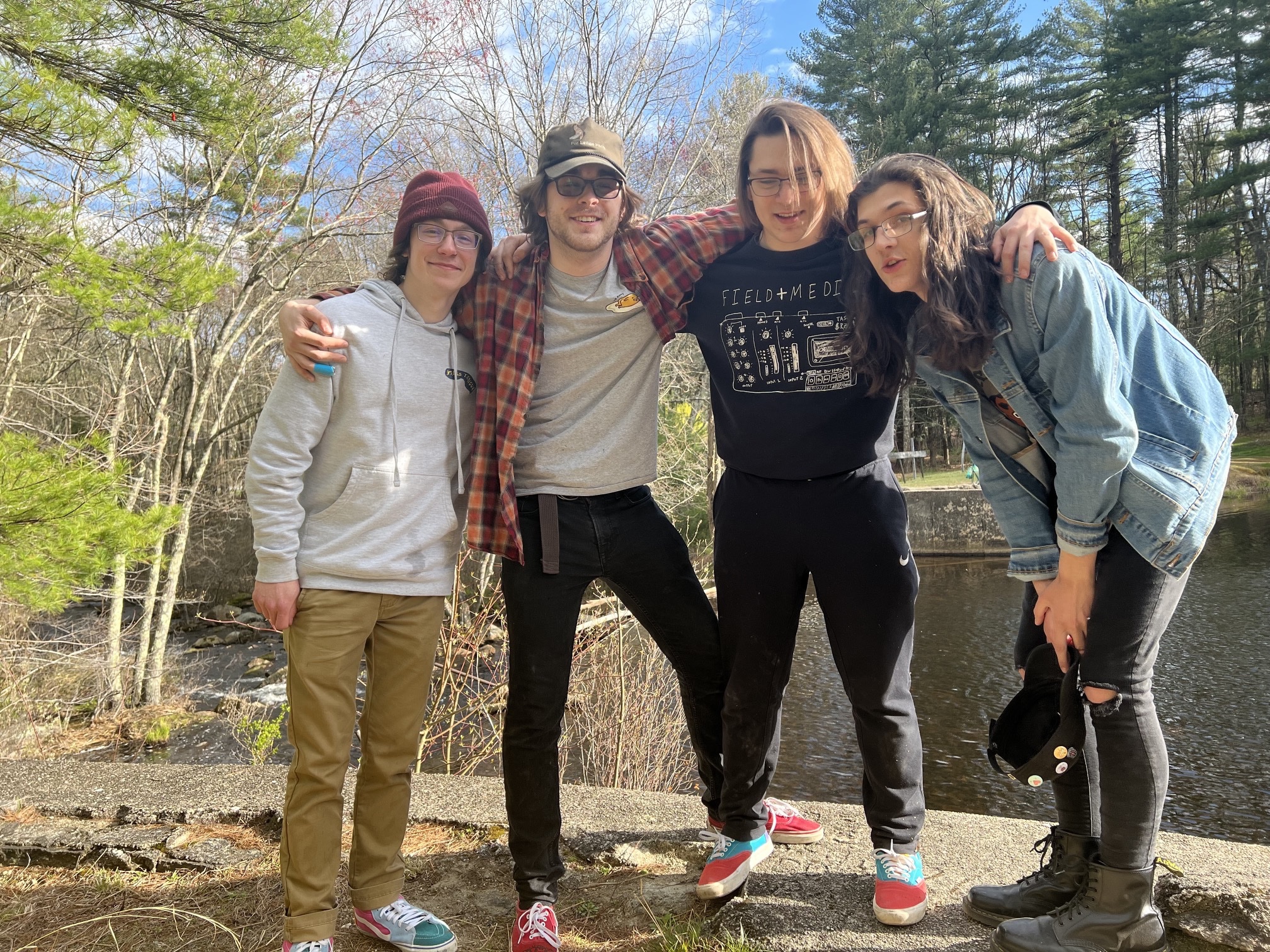 From left to right: Owen Lamberto, John "Guppy" Guptill, Connie Drezek, Ty Wagner
I recently had the opportunity to interview John "Guppy" Guptill of
8th Grade Slowdance
. We discussed an early desire to perform, using beautiful poetry and raw emotional storytelling in lyrics, collaborating with Chirp Records, the importance of having physical releases, lyrical inspiration, plans for 2023, and more. Check it out below.
First, thanks for the interview.
No problem! I'm absolutely honored to be doing it.
Can you tell me how you formed the band for those who may be unfamiliar with it? How did you initially become interested in music?
So it was around some time in late December of 2021 when I (Guppy) reached out to our drummer Connie online because they were asking if anyone wanted to start a band. It was an insane shot in the dark, but I seem to have a strange condition where I need to be always making music with somebody at all times, regardless of distance. Then, in around March of last year, we recruited our friends Ty and Owen to help fill out the sound. We played our first real show in April, and there's been no going back since. They're all absolutely incredible musicians and working with them has been second to none.
Since I was a kid I was desperate for attention, and what better way to get it than stand in front of a microphone on stage? But really, I used to watch taped concert footage on TV with my dad all the time and imagine myself up there on stage as well. My dad also had once been a 20-something who loved music and has plenty of stories he's shared over the years, definitely cementing my desire to have my own stories to tell.
Who are some of your biggest musical influences? Why?
I would have to say my biggest influences are The Weakerthans (more specifically John K. Samsons' work in general), Jake Ewald (Modern Baseball, Slaughter Beach, Dog), the Wonder Years, Dear and the Headlights, Forever Came Calling, Michael Cera Palin, and Jimmy Eat World. All of these bands use beautiful poetry and some sort of raw emotional storytelling that I'm trying to learn how to master myself. They all have this innate ability to pull from incredibly specific emotions and moments in their lives, fictional or true, and put them to words in such a beautiful way that inspires me to try and emulate that same skill as best I can.
Chirp Records recently announced a cassette for your 'Slowbends' release. How did it work out for you to release this through Chirp?
We've known Nick from Chirp for a while now, and they reached out to us a bit ago asking to work with us on some sort of physical release for the split. They've done so many awesome releases with other bands, we felt that it would be an incredible opportunity!
How has it been working with them so far?
Nick is a homie. It's genuinely been a pleasure being able to work with them to put something real like this into the world. Sure, having music out on streaming services is cool, but there's something so magical about being able to hold it in your hand as well, y'know?
How important is releasing physical media like CDs, cassettes, and vinyl to your band?
Like I mentioned before, it's a really special feeling, being in possession of a physical copy of art. I personally have been working on a small collection of records and cassettes, and now being one of those people, with something to show for our efforts (and people actually showing interest) is insanely cool.
I really like the song "Three Wishes". Can you tell me about writing that song specifically?
Oh boy. Three Wishes was one of the first songs we wrote, and also probably one of our more emotionally-charged tracks as well. The inspiration for the song in terms of its idea and structure and whatnot come from Modern Baseball's song "Alpha Kappa Fall Of Troy The Movie Part Deux (2 Disc Director's Cut)".
Lyrically, the inspiration comes from the idea of the desire for independence and freedom, but the fear of what may come with that independence if you're not really ready to let go and be on your own. Being comfortable with what's familiar while also being drained emotionally, begging for an escape only to be terrified of whatever comes next. Change is hard, but necessary.
How do you generally write songs? What's your favorite part of the process and what's the most challenging part of the process?
For 8GSD, it's a very hands-on process. Usually, Ty or myself will bring a riff idea to practice and we'll just jam on it and brainstorm different bits to add to the structure of the song. It's a very fluid process, and usually results in some really cool stuff. My favorite part of the process would be the first couple practices when we're coming up with ideas for the song, but then having to sit down and pick apart each piece and actually put the song together in some sense of coherence is the boring part. We've got loads of voice notes and recordings that are 30+ minutes long of us just brainstorming ideas and writing the song together. Might as well just release those as singles instead of actually finish the songs (now imagine me grinning really big).
Can we expect new music in 2023? What can you tell us so far?
Absolutely. We've got so much in the works right now and we all can't wait to share it with everyone. Can't really share much at the moment, but just know that 2023 is gonna be a lot of fun.
Thanks for taking the time to answer the questions. Do you have anything else that you would like to add?
Thank you so much! And thanks to everyone for listening to what we have to say. It really does mean the world to us that people care and pay attention. Right on. I'm gonna go eat breakfast now.
Follow 8th Grade Slowdance:
Follow Sound In The Signals: