Beauty School - Sound In The Signals Interview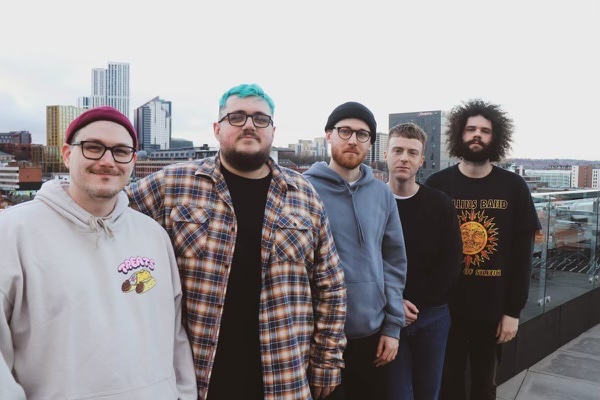 I recently had the opportunity to interview Beauty School. We discussed their upcoming performance at Slam Dunk Fest, details about their upcoming album, 'Happiness', how lockdown inspired the band, their recording experience, the album's vinyl pressing, what's next for the band, and more. Check it out below.
First, thanks for the interview.
No problem thanks for having us!
You're playing Slam Dunk Music Fest in June. Who are you excited to see? Do you have any surprises planned for your performance?
Oh man! There's so so many good bands playing Slam Dunk this year. Our stage, the whole thing is just stacked with amazing bands, bands that played a big part influencing our band. The Wonder Years, Motion City Soundtrack, The Story So Far. Bands that we grew up on like sum 41, the used and Alexis. Some great smaller bands as well the line up is just stacked wall to wall. As for our performance. Well they wouldn't be secrets if we told you would they! No, to be honest as far as the performance goes it's going to be business as usual for us but we may have some surprises at the merch table. That's all you're getting!
You have plans to release your debut album, 'Happiness' via Slam Dunk Records in September 2022. How far along are you in the process? What can fans expect?
The process is complete. In fact the process was complete last August, in terms of recording anyway. It's just been a case of figuring out when and how was best to start putting songs out and getting the ball rolling in that sense. It's obviously a really strange time to be a new band trying to promote your first album because ordinarily new bands can support singles with touring but only just now is the music industry really returning to normality in that sense and bands that were already on the touring circuit are making up for lost time and things are just kind of backed up. So it's been challenging finding live opportunities to support the music but thankfully that's picking up a lot more now. We have 3 singles out already and 3 more to go before the album drops in September.
I've read that the album "is an example of a group drawing from multiple areas of inspiration and experiences". Can you tell us more about your inspiration for the album?
Yeah! So away from the music, the five of us have been friends for so long. We have been in various bands together or been in bands that toured together. As people we are all so different in so many way but we have always been bound together one way or another through music. Growing up together like we have has meant we have shared each other's highs and lows and we have been each other's leaning posts in the best and worst moments of our lives. Those experiences alone inspired so much of the writing on Happiness. The thing was, when we started the band we didn't know we were going to be plunged into a 2 year long lockdown. We weren't in a rush to write a record, but when we couldn't play any live shows it was like there was nothing left to do except write. The options were either just call it quits or write songs because the rest of being a band just wasn't an option. That period of time in lockdown was a really reflective time for us. I think it forced us to look inward and dig deep to find what makes us happy. So that kind of became the inspiration for the record. That's why it's called happiness.
You released a few songs since December 2021 and recently released a video for "Drysocket". Tell us about the writing and recording process for these songs and more about your stylistic influences?
Yeah, so all those singles are from the album. We recorded the album with James Kenosha. The recording process was amazing for us. James has accommodation at his studio so we basically just moved in for the time we were there recording. It allowed us to be completely focused on the album 100% of the time. That's not to say that we were recording day and night but more that we were were just excited to be in that space together and we didn't have anything else to focus on but the album so it just allowed us to be authentic which I think you can hear in the music. In terms of stylistic influences I think each member of the band kind of brings their own influence and that amalgamation of them together is what creates the sound we have. There isn't one band we can say we are trying to sound like it's more of what the individual member brings to the table. Sometimes that even varies from song to song.
Are there plans to release any more new music soon ahead of the album release?
Yeah, we have 3 more singles dropping and the album will be dropping alongside the last single.
The album is getting a vinyl pressing. What can you tell me about the packaging? How important is it for your band to release your music on vinyl?
You can see the packaging on the pre-order link. You can also pre-order the album on the pre-order link ;) haha. The dog in the front of the record is Merlin. He's our guitarist Dan's dog. In terms of having our album pressed to vinyl, it's not that it's important, I mean, obviously it is important but it's more that we just feel so lucky to be getting the opportunity to do this. To have created something that we have put so much into and to have Slam Dunk Records believe in it the same way we do and for them to be making this life long dream a reality for us it just doesn't have an appropriate way of describing how that feels. No matter what happens with beauty school we will always have this physical thing that will immortalise such an amazing time in our lives and that's a special thing to us.
You're also set to tour in September. How are you planning for those shows so far?
To be honest we haven't planned for them at all yet! We are obviously so excited to be heading out on a full UK tour with The Dangerous Summer, but we have so many other things coming before that tour that it's just kind of not the most urgent thing on the agenda yet. We have shows with Trash Boat at the end of this month, we have Slam Dunk Festival at the start of next month, we have 3 more music videos to film, and we are headlining Make A Scene Festival in July. Things are just crazy at the moment and stuff is coming in thick and fast. It's a really exciting time for us.
Thanks for taking the time to answer the questions. Is there anything else that you'd like to add?
Depending when this gets published our new single Nightwalker us out now or coming out very soon (5th of May) please give it a spin! That will be joining our other singles on our debut album Happiness which you can pre order here.
Follow Beauty School:
Follow Sound In The Signals: