Out of Service - Sound In The Signals Interview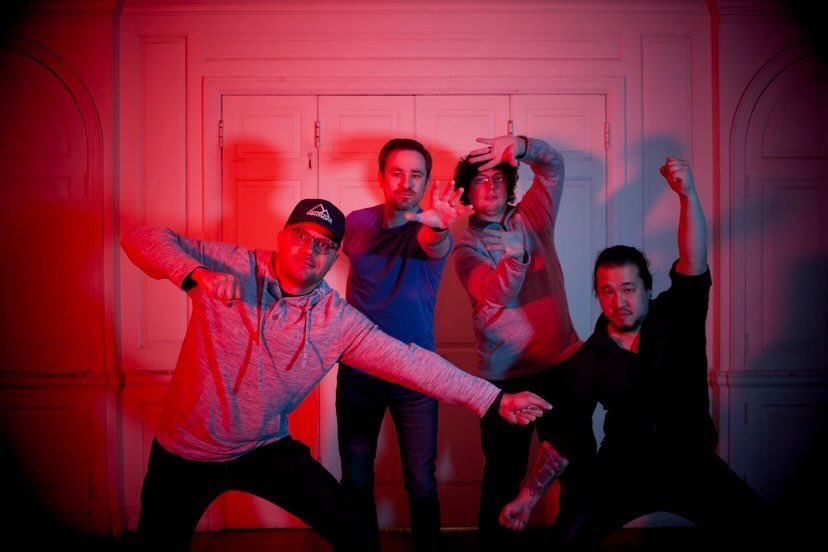 I recently had the opportunity to interview
Out of Service
. We discussed what to expect on their upcoming album, 'The Ground Beneath Me', their unique recording experience, collaborating with John Nolan, creating artwork, writing new song, "The Fall" and what Nathan Hussey brings to the song, favorite lyrics from the song, and more. Check it out below.
First, thanks for the interview.
Of course — thank you for having us.
You have plans to release a new album. What can you tell us about it so far in terms of writing, recording, and what fans can expect?
The album is called The Ground Beneath Me and will be available on streaming, vinyl, and cassettes on June 3, 2022. We started writing this album way back in 2020 with the bulk of it being done in the spring of 2021, so we are psyched for everyone to finally get a chance to hear it. Writing an album during the pandemic was an interesting experience. We set up all of our gear in different rooms of our practice space and connected everyone through our bassist's recording gear. So we rarely actually saw each other during the process, but we could all hear each other, and argue over parts in our headphones. By the end of it I don't think we had ever been as tight as a band. You can expect a very dynamic listening experience that flows from beginning to end with purpose.
How was it collaborating with John Nolan for "What You See"?
John was amazing to work with. We all grew up listening to Taking Back Sunday and Straylight Run, so when John agreed to contribute to the record we almost didn't believe it. We sent three tracks for him to pick from and he came back pretty quickly with "What You See" as the one he wanted to sing on. A few weeks later he sent the raw vocal tracks to us and we were blown away. He took the parts we wrote and made them his own. Those classic John Nolan yells in the final chorus were perfect for the song.
I think you always have great artwork that catches the eye. The video for "What You See" features the artwork for the album. How do you come up with your artwork designs?
All of the artwork for The Ground Beneath Me and its four singles are based on paintings made by our vocalist, Mike Capuano. Mike has been a pretty prolific painter for years, he also painted the artwork for our last album, Burden, and our last single, Shelter. For The Ground Beneath Me, each artwork features the same red, black, and gray landscape with a single white object that ties into imagery or meaning behind the release it's attached to. We have a really cool limited edition vinyl coming soon that incorporates all of the art into a single image.
You recently release new song, "The Fall" featuring Nathan Hussey. Can you tell us more about writing this song specifically?
The Fall is one of the standout songs on the album. It was actually the last song that we wrote for the album. We wanted to bring in another faster track with strong hooks that would kick off the second half of the album. The Fall checked all of the boxes for us.
You're racking up some very nice features as well. What do you think Nathan Hussey brings to the song?
Nathan Hussey's feature on The Fall is short but very memorable. He sings a short, repeating line in the bridge that is unmistakably Nathan. We really wanted to get Nathan on this album vocally because we have been working with him for so many years — he mixed and produced our last two albums as well. But this was the first time we all got to work on a record in person with Nathan at a studio. He was instrumental in bringing The Fall to life specifically and his influence is all over the song as we made a number of tweaks to in the studio.
Do you have some favorite lyrics from the song? Why?
Mike wrote the lyrics to the songs, and his favorite from The Fall is the first line of the second verse, which is "I grew addicted to the thought that I was flawed beyond repair. A tragic fantasy born of my disease.". This line refers to him dealing with depression and anxiety for so long that the feelings and thoughts associated with that state of mind have become his normal. In a messed up way, if those issues were absent, he's not even sure that he would feel like himself.
Thanks for answering the questions. Do you have anything else you'd like to add?
Thank you for the interview! We hope that everyone will check out The Fall when it hits streaming platforms on April 21, and the full album when it's released on June 3.
Follow Out of Service:
Follow Sound In The Signals: