Flying Raccoon Suit - Sound In The Signals Interview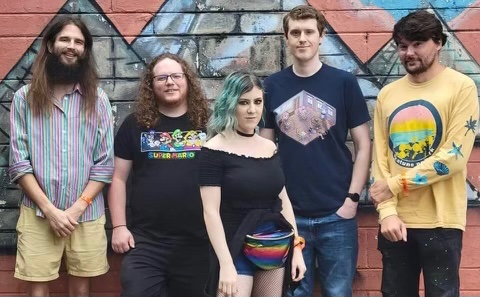 I recently had the opportunity to interview Jessica and Andrew of Flying Raccoon Suit. We discussed what fans can expect from their live shows, their favorite moments from 2021, the "
sadness and heartache underneath the bouncy sounds
" that you can hear in punk and ska music, what's next for the band, and more. Check it out below.
You have shows coming up in Baton Rouge, Austin, and San Antonio in March. What can fans expect from the live show and set list?
Jessica: We've never played in that area so of course we're going to be ECSTATIC to meet our friends from over there. That energy will definitely translate over to our live shows and our folks will finally get to see us in all our nerdy, raucous glory. It'll be… chaotic good. We'll be playing our most energetic stuff, which gives me the liberty to be a goofball on stage, plus a couple of our slower songs that kind of put us on some people's radar.
Andrew: Yeah, our new album will definitely be heavily represented, but there will be some surprises too.
It seems like your band had a breakout in 2021. What were a couple of your favorite moments from last year?
Andrew: I'd say being able to play FEST 19 alongside some of our favorite bands of all time like We Are the Union and Kill Lincoln. The success of our Kickstarter, the fact that we're on the second vinyl pressing of an album we self-released, finding out that some of our heroes like Scott Klopfenstein liked our music. It was a year of highlights, despite not having a proper album release show until half a year later.
Jessica: I have to agree with Andrew on FEST. We had such a great year that it's hard for me to pick favorite moments, but definitely getting to duet No Doubt's "Sunday Morning" with Brit from Catbite and singing Natasha Bedingfield's "Unwritten" with Devon Kay & the Solutions. It's hilarious watching clips from the Sunday Morning video because I'm 5'1" and Brit is about half a foot taller than me. Having a single released on Bad Time's Shape of Ska Punk to Come Vol. 2 was another one of my favorite moments. Being on a tracklist alongside Jeff Rosenstock and Mike Park??? Unreal.
You're part of a booming scene with artists like Joystick and Catbite. What do you think it is about your music and artists like them that is causing this giant interest in punk and ska?
Jessica: I think people are starting to notice ska and punk aren't just novelties to make fun of, there's actually substance underneath the happy, energetic sounds they're hearing. I've been told by people that they like us because our lyrics have a deeper meaning than just surface level and it's true, there's a lot of sadness and heartache underneath the bouncy sounds you hear. I love it when bands manage to make songs that are like personal journals but also instrumentally exciting. My favorite example of this is Joystick's "I Can't Take It Anymore". Duck presents his vulnerabilities in a way that's heartwrenching but you can also headbang to it.
"Rebirth" is a favorite song of mine from "Afterglow". Can you tell me about writing and recording that song?
Andrew: I came up with the skeleton of the song, but the lyrics are sort of an amalgamation of my lyrics and Jessica's. Originally this song was called Rebirth/Regress but somewhere along the way we simplified it. Our writing is really collaborative, so the horns fleshed it out a ton, and Kerley, in addition to playing drums and producing our music, really filled out the textures by adding some background vocals, organ, and extra percussion where he saw fit.
Do you have plans to record or release any new music this year?
Jessica: We do! We're always writing and bouncing ideas off of each other and we're all best friends so it's easy to get lost in the friendship aspect of it, but when we're determined, we get things done. We have an EP coming out soon that was supposed to be the "acoustic" EP that we promised if we hit our $10k stretch goal on Kickstarter, but it ended up being a little weirder than that. Things we do always end up being a little weirder than they're supposed to but I love that about us.
Thanks for taking the time to answer the questions. Do you have anything else that you would like to add?
Andrew: We'll be touring the northeast this summer with Stuck Lucky! If you're in the area, check it out!
Follow Flying Raccoon Suit:
Follow Sound In The Signals: