Tate Logan - Sound In The Signals Interview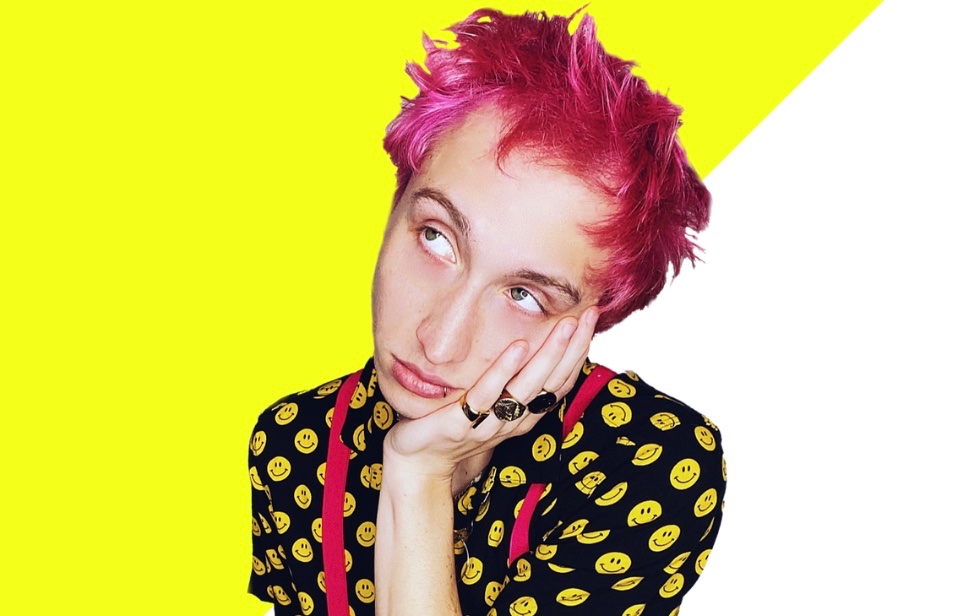 I recently had the opportunity to interview Tate Logan of Happy. about his new digital card collection club and solo music. We discussed why it is the right time for solo music, how writing the new music is different from writing for Happy., musical influences, connecting with fans, the perks of joining the card collection club, horror movies, and more. Check it out below.
First, thanks for the interview.
Of course! Thank you so much for having me!
You've gained some great interest in Happy. and the band has a lot of hype. What encouraged you, at this point in time, to step out on your own and do solo music?
I started Happy. when I was still a teenager. I love that project more than anything in the world and always will. I put my entire life into Happy. for 5 years and it took me to places I could have only dreamed of! Over the last year however, I have written tons of music. The songs I am most excited about feel very different than the world that Happy. lives is in. I love Happy. for what it is, and if I released the music I'm working on now under that moniker it wouldn't feel right. I want Happy. to always be a grungy, pop punk band! I'm writing outside of that box. I also felt like Happy. wasn't allowing me to fully represent myself as a queer artist. I want the freedom to shed more light on my personal life experiences that lead me here because I feel that a lot of people can relate to it.
How is writing for your solo music different from writing for Happy.? Will there be some stylistic departures?
Happy. was certainly a joint effort in the writing process, but I always wrote the first draft of the songs on an acoustic guitar with the lyrics. It was always just the default to say "okay, let's add the drums, bass and lead now" and then it was finished. I really want to explore a much larger sonic pallette. Punk is my first love, and will always be rooted in everything I do - but I also draw inspiration and influences from lots of other genres. Currently I am incredibly intrigued by the influence of Swedish pop production in our top 40 radio, I am fascinated by the recent emo/punk revival, and I am captivated by 90s britpop. I grew up listening to The Wallflowers, Sheryl Crow, The Eagles and Marcy Playground.
In middle school I was grossly obsessed with Lady Gaga. I clean the house to Simon & Garfunkel and drive to Bach. I've seen All Time Low 16 times and had a radio show in college dedicated to midwest emo. I truly appreciate all sorts of music. It's like when I stepped back from Happy. for a moment, I realized there was so much music that I listen to everyday that I love so much, that I've never let influence my writing or stylistic choices. I'm not trying to say I'm going to scream over a cello or anything insane hahahah, I'm just saying I'm excited to explore outside of the pop punk realm. It's invigorating to blend genres, I think that's how you end up with something super unique.
You've said your mission "is to give people the space to express themselves and connect with others, finding support in the process". What do you hope to accomplish with this project and what do you hope fans take away from it?
I am a trans guy from a very small town in the south. My life at times was unbearably miserable because I was so ashamed of my secret and was drowning underneath the person I was pretending to be. I never thought I'd be able to truly be myself. All I wanted in the world was to be happy and I had this crazy dream that if I could just come out as trans, pursue music as my authentic self, it would give me happiness. After the loss of my best friend to suicide my first year in college, I realized that as far as I know, I only get one life. Suddenly everything became very permanent. I couldn't imagine living the way that I was for another second.
I decided that I wasn't going to let anything get in my way, that I wouldn't let anyone in the world keep me from being who I was. After I went through that journey, I felt like literally anything was possible. If I could handle that, I could handle being a starving artist haha. As a kid and preteen, I didn't have a trans man to tell me "hey! you can be cool! you can be successful! you can be respected! AND you can be a rockstar!" like, that would have totally changed my life. I wanted to be that for someone and it inspired my to be brave. I want to tell LGBTQ+ kids that - I promise them, it is possible to be happy and successful and respected. I am lucky to have a beautiful partner who supports me and an incredibly loving family who is ride or die for me, but the world is big and the world can be scary.
I want my fans to know that there is a community out there for them if they don't have the same support system that I am lucky enough to have. They can find friendship and support in so many different beautiful ways. I believe music is a vessel for creating these incredible communities. I want my music to encourage a community of love, acceptance, support, inclusivity and positivity. I also want it to be a super sick and rad party though too! lol
You're releasing a digital card collection. What are some of the details around that and what can fans expect?
Yes!!! I'm so excited. Fans can purchase digital cards in packs of 10, 50 or 100. These cards act as tickets to access super awesome & super exclusive perks. All of the cards are totally random to get, some being very common and others being very rare. Each card has a unique perk paired to it. For example, one card offers access to live acoustic performances, another card offers access to exclusive Q&A's, another card offers access to a new unreleased song. The most rare card comes with 2 free movie tickets! The goal is to collect as many as you can, while trading with your peers. I will continue to release collections with perks surrounding new music, touring and any other ventures I do! I'm very excited to connect with my fans in this new and very cool way!
A digital card collection is an interesting idea. How did you come up with the idea for it?
I've seen a lot of other artists doing a similar thing, but not quite like this. I was super inspired to try and have a unique take on it that offered a more intimate and engaging experience. I teamed up with Tim and the team at Cloutchain because I felt it was the best platform. It's really user friendly and sleek! I think this is the future for VIP experiences for a large portion of artists.
You received a lot of interest in your horror movie reviews on TikTok. What's your favorite horror movies and why?
Thank you! I really enjoy horror movies. I have watched one almost every single night since I was a young teen lmao. It's totally an obsession of mine haha. This is such a difficult question so I'm going to have to break it down into a few categories if that's okay, forgive me for the laundry list but I am PASSIONATE hahah.
My favorite classic horror movie is 1000% The Shining. I also love the original Blair Witch Project, Nightmare on Elm Street, The Thing, and Scream. My favorite blockbuster hits are The Witch, Midsommar, and Hereditary. My favorite modern horror movies are Creep, The Strangers, Funny Games, Coherence and the Suspiria remake.
My favorite underrated horror movies are Hell House LLC, The Last Shift, The Ritual, and The autopsy of Jane Doe. My favorite horror directors are Jason Benson and Aaron Moorhead - Their films Resolution, The Endless and Synchronic are incredible. My favorite new releases are Anything For Jackson, The Lodge, and The Dark and The Wicked. Channel Zero is the greatest horror TV show ever made.
Thanks for taking the time to answer the questions. Do you have anything else that you would like to add?
Thank YOU so much for asking such awesome questions. I'm very very very stoked to release music soon and play shows again. Drink lots of water and pet your dog or cat for me. Much Love!
Follow Tate Logan:
Follow Sound In The Signals: