Kaonashi - Sound In The Signals Interview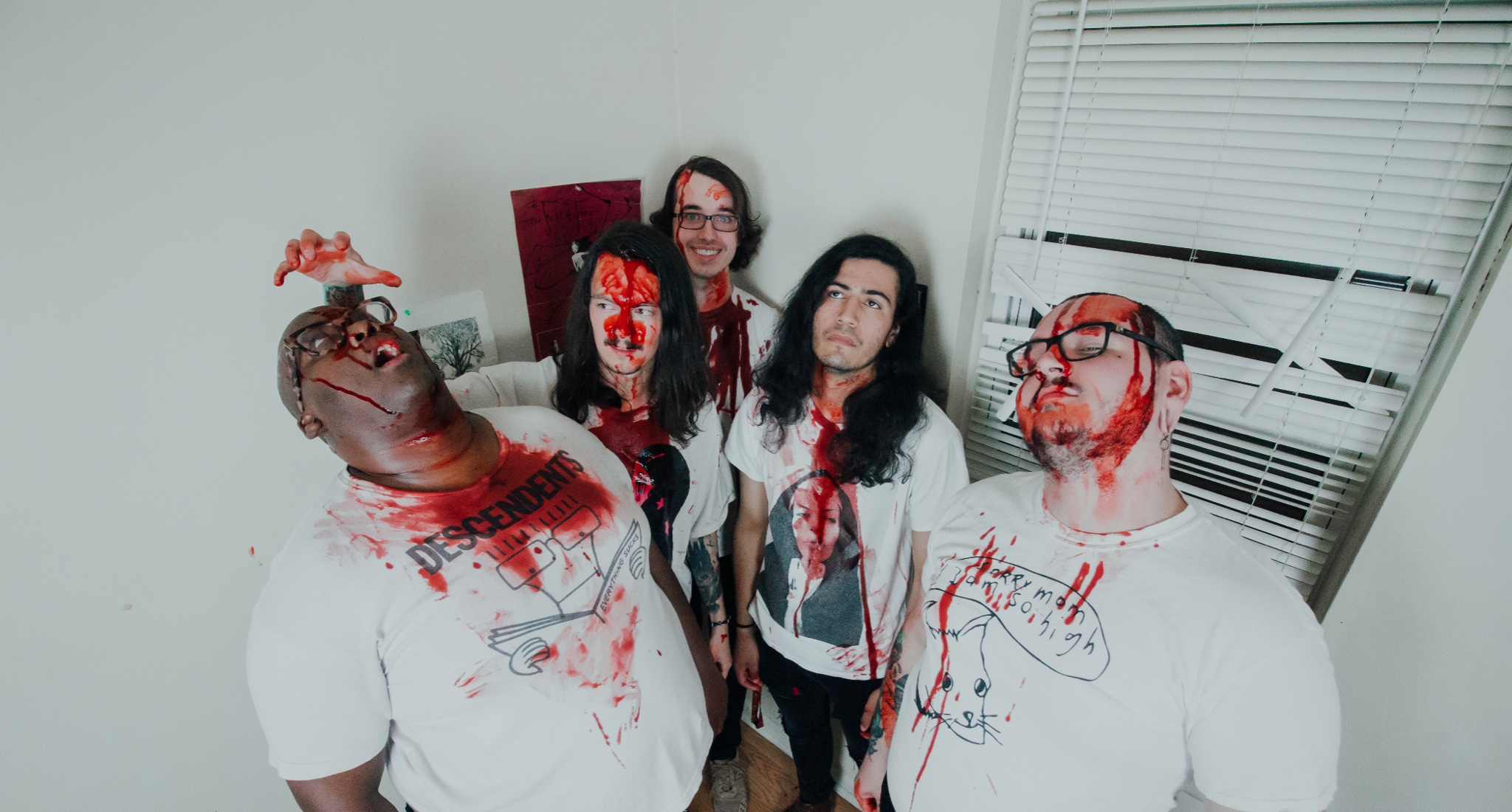 I recently had the opportunity to interview Kaonashi. We discussed how their sound has evolved, how their influences from very different places breathes new life into their releases, writing and recording their new album, 'Dear Lemon House, You Ruined Me: Senior Year', favorite moments during the recording process, filming their new video, and more. Check it out below.
First, thanks for the interview.
Alex: Thank you so much for having us!
August: Thank you for being interested!
Roger: Thank you!
You call yourselves "emo/mathcore". Can you tell me about the meaning behind that? How did you find your sound?
Alex: We had originally messed around with other genre names like progressive hardcore, but as our sound evolved we realized that wasn't quite the right fit. A lot of our rhythms are derived from more "mathy" elements like taking palindromes and turning them into rhythms, or making morse code into a rhythm, or using twelve-tone theory. Our lyrics have always been on the more emotional side, and we continue to highlight those themes through the story within the music. And we still have a lot of hardcore elements within our music so we settled on emo-mathcore, but genre names are really not important to us. We just enjoy making music we like.
It's hard to pinpoint exactly how we found our sound, because it is constantly evolving. One thing that has always made us stand out has been Peter's unique vocal style, and chaotic/unnatural rhythms. We all draw influences from very different places, so that constantly breathes new life into our sound with each release.
Your new album, 'Dear Lemon House, You Ruined Me: Senior Year recently came out. Can you tell me about the writing and recording process for the album?
Alex: In the past most of the writing had been done with Alex and August writing ideas out in Logic Pro, and then sending the rest of the band ideas as they are written. Pao lived really far away from the rest of the band, so we couldn't meet up together for writing sessions very often. With Dear Lemon House, we took the time to rent a cabin for a few weeks prior to recording where we could write and hash out ideas together in the same room. The basis for a lot of the songs were structured in that cabin, and we then took those ideas and added layers and changed sections before heading into the recording session with Evan Sammons in Belgrade, Maine. Also breakfast sandwiches from the Tri-Pond Variety fueled the recording sessions every day.
August: The writing process for this album stretches quite a long span of time. Fuck Temple University was a demo I had on my computer since around the end of 2017/beginning of 2018 that we adapted and molded for the album, all the way to writing the end of Run Away Jay days before album tracking began. There are songs that we wrote in my basement, songs we wrote at the cabin in Maine, songs that were written just on a computer, and songs that were written live jamming in a room together. That large span of time and the different methods of creation we used I believe had a hand in creating the diverse sound that the album came to have.
Roger: Even before I joined the band, I would go down to August's basement and meet up with both Alex and August to work on music. And at that point it was the early stages of the recording process where everything was just an idea. We started incorporating more of our ideas into it and blossomed when we went to the cabin where it was all of us coming together with ideas and putting the final touches on the songs.
Did you try anything new in the studio this time around?
Alex: We added a lot more production elements to this record than we have to any other release.
There are live pianos in some sections, more vocal harmony layers, a much larger variety of guitar and bass tones. Adam Cichocki at Timber Studios mixed the record, and really helped add swells and atmospheric elements that we had lacked in prior releases.
What was your favorite moment recording the album?
Alex: My (Alex) favorite moment is kind of insignificant but was the perfect combination of right place, right time, to make the right sound. At the very end of "Scooter" there is this sort of droning pick-scrape sound mixed in behind the rest of the music. We use 8 string sets, and remove one of the strings to put onto our 7 string guitars. So we took that leftover string and started dragging it across the rest of the strings and added a ton of reverb and it was the perfect addition to that section. One of those things that you wouldn't have noticed if it was never there, but now the song wouldn't feel the same if it was gone.
August: I loved the whole process, but honestly the very end is my always my favorite part. The sigh of relief, and intense sense of accomplishment after the longer than usual writing process we had was a great feeling.
Roger: I enjoyed the entire process. I think my favorite part was at the beginning where we made specific tones that we made for certain parts of the songs to create a more dynamic feel.
Do you have a song that you were most excited for people to hear and why?
Alex: I (Alex) am most excited for everyone to hear The Underdog III: Exit Pt IV (A Self Fulfilling Prophecy). This was one of the songs that we really solidified in the cabin writing process, and has some of my favorite Kaonashi riffs of all time. The lyrics on this song are also the most visceral, and really open the listener's eye's to Jamie's story. This is the song that I am most proud of to date.
August: I'm most excited for people to hear both Run Away Jay, and A Recipe for a Meaningful Life. Run Away Jay was one of the songs on the album that we weren't as thrilled on going into the studio, but once we properly tracked it became what I think to be one of the hardest hitting songs on the album. Even stranger, the ending of that song was written only a couple days before we actually tracked it in the Airbnb we were staying in during recording. A Recipe for a Meaningful Life I'm excited to get out there because out of everything we've written as Kaonashi it is not only the furthest out genre wise we've explored, but also one of the songs we wrote at the cabin that flowed out of us the easiest.
Roger: I'm most excited for Run Away Jay, some of the riffs in there are my personal favorite but I'm also equally excited for Broad Street (Take Me Home). Like August had said, that song come into creation a lot earlier but after tweaking it we were a lot happier with it. I just love the fact that it's in a different tuning compared to the album and the diversity of the song.
You released a video for "An Evening of Moving Pictures with Scooter Corkle". Can you tell us more about writing this song specifically and filming the video?
Alex: "Scooter" was one of the first songs that we had written for this release at the cabin, and even played it live on our run with The Fall of Troy in December of 2019. We wanted a song that was heavily influenced by post-hardcore, that would be fast and catchy and fun - and "Scooter" was the result.
We wanted the video to reflect the story in the song of Jamie on a first date with Casey, head over heels in love but having doubts that Casey feels the same way. We laid out our ideas from the story, and Jesse Korman absolutely killed the directing for the video. We also decided to choose spaces that are very dear to us as a band. The fight scenes are all shot inside of Voltage Lounge, which is basically a second home to most of the Philly hardcore scene. The shopping/food scenes are from a local bodega where we grab food after practice. We all take influences from our everyday life, and wanted the video to do the same!
August: Scooter out of all the songs we've ever written as a band together I think was the most natural. Most of the song was written in a day, and started off as just the intro bass line. There were a lot of accidental moments we had writing this song that contributed to the final product, but the very ending in particular where both guitars and bass are doing their own independent runs came to be literally because we were joking around and jamming over top the pre production track. Out of all the songs on the album we definitely had the most fun writing this one, and I think it shows.
Roger: Yeah, as both of them said, scooter was the first song we collaborated on as a full band. I'm pretty sure we all just woke up, had breakfast and got to writing when August came up with a cool bass line. It slowly evolved throughout the day and it was at night when we got a little silly and came up with the idea for the independent runs.
I really like the artwork for the album. It's really interesting. Who came up with the concept for it and what is the meaning behind it?
Pao: Peter was the mastermind behind the vision with the help of an amazing artist/photographer Mike Elliott to capture it. I think it's a perfect representation of the overall flow and meaning to the record. Personally, I feel like seeing just the Album Cover, it almost sets you up to have a pre-bias for the album.
As for the meaning; just like your grandma's favorite recipe, you know we cant just give all the secrets away ;)
Listen to the album and please tell us what you think it means!!!
Thanks for taking the time to answer the questions. Do you have anything else that you would like to add?
Alex: Raise Hell and Praise Dale
August: Listen carefully and check on your friends.
Roger: We all struggle and we don't know what everyone is going through. Listen and reach out to one another.
Follow Kaonashi:
Follow Sound In The Signals: