Rest Easy - Sound In The Signals Interview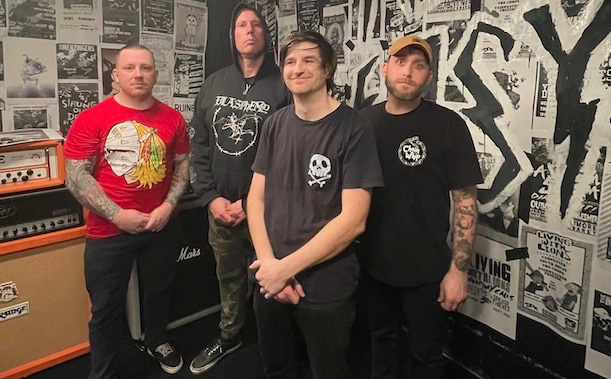 I recently had the opportunity to interview Kenny of Rest Easy. We discussed signing to Mutant League Records, recording the band's upcoming EP, their new song "Get Busy Dyin'", and more. Check it out below.
First, thanks for the interview.
Hey, Thanks so much for wanting to talk!!!
Your band features members of Daggermouth and Shook Ones. How did you come together and form this project?
Our two bands played a few shows together back in the 2000s. And I've always been a big fan of Shook Ones. Over the last few years Jimmy would write me on Facebook and just make small talk. He tried to convince me a few times to do some tunes with him, but I was busy with the Daggermouth reunion stuff. But that started to die out at the end of 2019 and he wrote me again and just said "i sent you a drum track, see if anything comes to mind". So i figured out Garageband and we started just going back and forth with song ideas. We both love Lifetime and Kid Dynamite alot so we kinda just started having late night online writing sessions in between talking about bands from Philly. Then I figured we needed a bass player so I asked Dana since hes a wonderful human and he was in Dmouth as well. And then when it came time to look for a singer Dylan wrote me asking if he could try. And he played in Slingshot, who also played with both our bands back in the day, and he sent some demos in and they rocked.
Your new EP 'Sick Day' will be out in February. You recorded with Tim Creviston. What was the recording experience like for this EP? What was it like recording during the pandemic?
Recording the EP was great. The numbers out here in BC for Covid weren't that bad at the time so studios were open thankfully. Tim was great to work with. He's fast at editting and he's a total pro. Jimmy flew out from Edmonton and busted the drums out in one day and then whenever we had a free day we would go in and do everything else.
Your debut single recently came out. Why did you choose it as the introduction?
The first song we are releasing is gonna be called "Get Busy Dyin'". It's actually a song Jimmy wrote and it's a banger. As for picking the song Nate from Mutant League Records chose that one. So who are we to argue with the boss! I think fans can expect it to sound a bit like our previous bands. We wear our influences on our sleeve pretty good, so if you're a fan of Kid Dynamite and such I think you'll like it.
Paul Miner mixed the EP. Why did you go with him for the mixing? How did it go?
Paul is a old friend of Jimmy's and Jimmy worked with him in another previous band he did. I was a fan of a lot of stuff he recorded. His resume is pretty insane. He's worked with Terror, Agnostic Front as well as New Found Glory and his old band Death By Stereo also rules so it was a no brainer. Plus he kinda knew the sound we wanted to go for. I'm stoked with how it turned out.
You signed with Mutant League for the release of the EP. Why did you decide to sign with them and how has the experience been so far?
Nate hit us up out of the blue. I think Tim mentioned us to a band from here on Mutant League called Chief State and they told Nate about us. So far Mutant League has been great. They checked all the boxes that we would want in a label. Plus they were able to get the 7 inch out really fast. I mean we could of sent it around and that could of taken months and we just wanted to get it out fast so it's perfect. His label has put out some great releases in the past and he's really focusing on us so we are happy.
Thanks for taking the time to answer the questions. Do you have anything else that you would like to add?
Go grab a copy of our 7 inch when it comes out...wear a mask and wash your hands and hopefully in 2021 we can play some shows.
Follow Rest Easy:
Follow Sound In The Signals: