Like Giants - Sound In The Signals Interview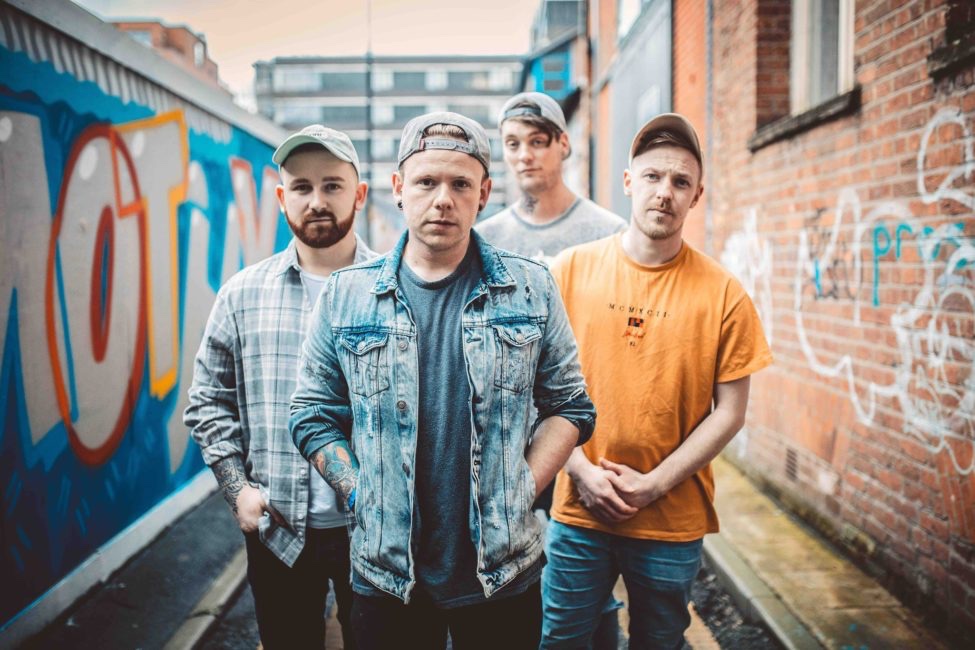 I recently had the opportunity to interview UK pop-punk band,
Like Giants
. We discussed the band's origins, songwriting, mental health, and more. Check it out below.
Can you tell me how you got together and formed the band for anyone who is not familiar with your band?
It's a weird story. So Ben and Kai have known each other for about 13 years and met when Ben was doing merch for a band Kai was in at the time. Was only after a show when they got home they'd lived three streets away from each other since about 1990. Insane, right?
Fast forward to late 2018, and Ben had just left a band he was in, so it just made sense to try and do something together, and that's how Like Giants started.
You recently made the Alternative Press list for upcoming UK Pop/Punk artists. How did it feel to be included on the list?
It's insane. We've read that magazine since we were kids, along with Kerrang! and Rock Sound, and to be featured in all three of them in the space of a year is absolutely unreal. Some of our favourite bands of all time have been in these magazines and for us to be in there alongside them is an absolute bucket list moment.
What do you think has contributed to your band building up buzz and becoming a band on the rise?
I wish I knew! I think it just comes down to us trying to be as honest as we can when it comes to songwriting. For the most part we try to write songs that people can relate to, because it's based on things we've been through ourselves, so I think it's literally just about being real. People can relate to us, they feel they can approach us if they need to talk about things or get stuff off their chest. What you see is literally what you get with us, and I think our fans like that aspect because we're just the same as them and I think we make that come across quite well.
Earlier in the year, you passed 20,000 Spotify streams. What it's like, as a band, to see that many people listening to your music?
It's incredible. All any musician wants to do is write and record music people like and want to listen to, and for us to have over 20,000 people listening to our music is beyond amazing. If we can make just one person feel better with our songs then that's job done for us, so to have this many people stream our stuff is absolutely unbelievable.
The singles you have up on Spotify are really good. Is there any chance we'll hear an EP or full length anytime soon?
We're writing as we speak! We're always trying to come up with new ideas and new songs. We never set out to write an EP or write an album, we just want to write as well and as truthfully as we can, and then decide what we wanna release it as.
Unfortunately COVID-19 has thrown a massive spanner in the works across the entire music industry, but as soon as we can all get in a studio again, we're jumping straight in there.
Can you tell me about writing "Sovereign". How long did you work on it and where did you record it at?
When we started writing music for Sovereign, we wanted to write songs that had influences from the sounds we grew up with, we wanted to write about topical issues but in a way where we didn't come across as preachy. Depression and anxiety are something that hits the band on a personal scale, each one of us have been to the darkest depths of mental health and have helped pull each other through in one way or another and we wanted Sovereign to be driven by a single that shouted out 'IT'S NORMAL TO NOT BE OKAY AND YOU'RE NOT ON YOUR OWN IN THIS!'.
So many people don't talk about their emotions, this rings true for both men and women but we find that stereotypically men feel like they need to build up these barriers of emotion and that everything's fine when it's not. The thought of looking tough outweighs your emotions and it's stronger to keep quiet, which sadly is furthest from the truth. The strongest thing you can do is to sit down, admit to yourself that you're not okay and that there really are people who care and who will pull you through this one song at a time!
We recorded Sovereign with our good friend Matt O'Grady (You Me At Six, Don Broco) and had always talked about collaborating on a project. When we first heard the rough outlines of what was to be 'Cut and Run', we knew we needed someone like Matt to put some beefy tones into the mix, so we headed down to Reading for a week and started to record. The EP originally had a different name, but due to most of the lyric writing sessions being in the 'Sovereign' pub, we thought it would be fitting to name it after the place where Kai wrote the lyrics and with Sovereign being such a symbol to British culture, we thought this also would be a fitting title.
You've discussed how important mental health awareness is to the band. You're set to perform at Mind Fest next year. How did this come about and why do you think it's important to focus on mental health?
When we were talking about what we were gonna do for the video for Cut & Run, we decided we were gonna use it to raise awareness for mental health. As we've said before, everyone in this band has suffered greatly with depression, from relationship breakdowns to suicide attempts, and we know that despite how far society has come with making it more acceptable to talk about mental health, there's still a massive stigma attached to it, and we want to always continue to do as much as we can to remove that. When we were approached by the guys at MindFest to play, we said yes without a seconds thought. No matter what we had going on we were gonna play that show. Suicide is the biggest killer of men under forty and 25% of the U.K's population suffer mental health problems every year. That's 16 million people. We will always do our part to help raise awareness and give people a safe place to come and talk to us if they need to.
Thanks for taking the time to answer the questions. Do you have anything else that you would like to add?
Head over to our socials (@likegiantsuk across the board), give us a like and a follow, check us out on Spotify and head over to likegiants.co.uk to bag yourself some merch! In the current climate, we can't tour or record so selling merch is really the only way us, and the majority of bands out there, can continue to make a living from music, so please help any way you can!
Follow Like Giants:
Follow Sound In The Signals: