Dave Hyde (Showoff) - Sound In The Signals Interview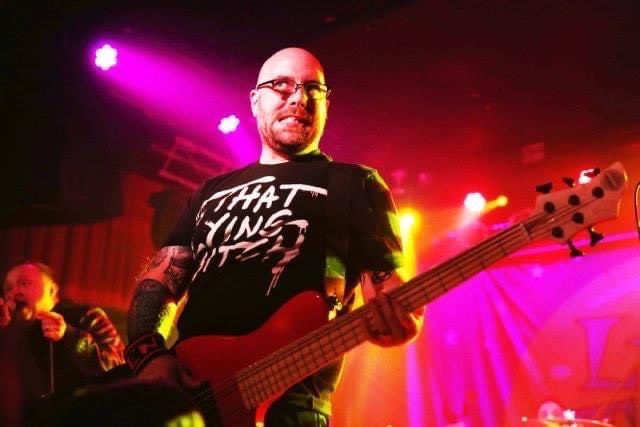 I recently had the opportunity to interview Dave Hyde of Showoff. We discussed lineup changes, the band's songwriting process, what's next for them, and more. Check it out below.
First, thanks for the interview.
Thank you for being kind enough to chat with me! Before we get into this, can I suggest that we call this "An Interview with the Spectacular Dave Hyde, A.K.A. The Worlds Favorite Bass Player", because that would be pretty cool. I'm foolin' of course (not really).... no I am. Oh, also.... this is completely unrelated, but the last few days I have woken up with that Do They Know It's Christmas song by the super group Band Aid, you know the one where like 83 singers all sing "Feeeed the Woooorrrrrrld" and I can't help but wonder if it is because I am in my mid-40's or what, but why can't I just wake up with a piss hard-on like normal fellas?
The big news in the band is that Dan recently left and you are going to continue on with the band. Can you tell me about why Dan chose to leave?
I think for a few reasons. Dan (and his brother George who was also playing guitar for us in recent years) have a band called The Fold. They have a lot going on with that and understandably that has been the priority to them. You have to also factor in having a family, which of course is more important than anything. A real job.... all those adult life things. You hear a lot about work/life balance these days. That is true when you work a normal day job or are an entertainer for a living. So I feel like Dan leaving the band at this time was a hard decision for him to have to make, but one that made the most sense to bring him and his family a better work/life balance.
You're putting together a new band for Showoff with Chris. What are some of the plans with that and when do you hope to have the new band put together?
It is all in such the early stages at this point that I am not entirely sure how to do it. Right now we are just putting it out there that we have some spots to fill and we will start weeding through responses we get and go from there. Covid of course makes it all that much harder. It's not like we can just get together with people right now, so we have to do it with Zoom meetings and such. I hope it is a fairly quick process, but I also don't want to rush it and end up with some clowns in our band that we can't stand, or people who can't drop everything and hit the road and tour or play some long weekends or whatever. I can tell you though, we have officially filled the Drummer position with this fine young man who actually used to play in Showoff with Chris, but after I had left the band for a while in the early 2000's. His name is Mickey Molinari. It makes too much sense to bring him back into the world of Showoff. He has done it before and he is clearly a gluten for punishment because he asked to do it again. If that isn't resilience, I don't know what is.
You posted a teaser image of a CD with 'Showoff Lives' written on it. What can you tell me about that CD and what might be on it?
Funny thing about that... that was actually a picture from a handful of years ago when we were working on Midwest Side Story. I came across it and found it interesting to do so just after Chris and I had started talking heavily about making a new record.
How will the music you've been working on be similar and/or different to 2017s 'Midwest Side Story'?
Again, it is very early in the process, so I can't say for sure. I can say that my vision and vibe is to get back to simpler times in a way. The punk and pop-punk roots. A little bit of aggression and an energy boost, if that makes sense. I love how every song turned out on Midwest Side Story, but I miss the edge we had on earlier records. You also have to consider having new people involved with the band. They will bring a different energy and idea than the path we have been on in recent years. Assuming we think they have kick ass ideas.... If they come off with a bunch of boner ideas, they will just have to do what I tell them instead. That's how I do it... a Democracy unless I don't like it. Then it's my way or the highway.
What's the writing process been like for the new songs?
Everything starts with Chris. He is an absolute machine and can pump out countless songs in the blink of an eye. From there we just develop the songs and hash out ideas and eventually end up with our songs. I wish I had a more magical way to describe it, but it really is that easy. What we do is serve the idea of what originates with Chris. We don't write the songs so much as the songs dictate what we do.
When do you think fans might hear some of the new music you're working on?
We really hope to have this thing complete by late spring '21. I would imagine if we can stay on pace for that, you might start to hear things out of is around April '21.Hopefully here wont be much delay in our plans. So much rides on people as a whole doing the right things to settle the world around us down enough to get back to whatever our new normal will be. So like it or hate it, if you ask me, doing your part is paramount... mask up, wash your ass regularly and stay home as much as possible!
A lot of your fans would really like to see some of your discography get pressed on vinyl. Is there any chance that could happen?
That is something we have kicked around on and off, but not done. I would like to make that happen eventually. The only record we can't do that with is the Self-titled (1999) record. Warner Bros. retains the rights to that release, so we really can't do anything with that one. They can though, so maybe if we somehow make enough noise with a new record, someone at Warner would consider it. Tell your friends.
The band started releasing music in the late 90s during what would become the pop/punk explosion. The genre has grown and changed a lot over the years. What are your thoughts on the current punk and pop/punk scene? Do you have any favorite newer bands from the genre?
I am very likely the wrong person to ask that. I don't have much respect for the modern day popular punk and pop punk stuff. I am also pretty disconnected from it, so I am probably way off base with my opinions on it. It just seems the music called punk that is being done by these younger generations is not even remotely close to what it was or I think it should be. I am probably more ignorant and uneducated on the subject than I would like to admit and shouldn't have an opinion on it. People work hard on their music no matter what it is and it finds its audience, and that's all that really matters. That all said, there are bands I love that are new in comparison to when I came up doing this stuff. The Bombpops and Horror Section are probably two of my very favorite "newer" bands that I can never get enough of.
I've always wondered this, but what happened to Graham Jordan? After those early Showoff years it seemed like he just vanished from the music scene. Did he ever share any thoughts with you or anyone in the band on this new Showoff era or 'Midwest Side Story?
Graham certainly went his own way and did so very quietly. I still talk with him on and off, but we don't spend much time talking about Showoff. Not that it is a sore subject or anything... or maybe it is... it's just that we already did that together when we did, so we have other things to talk about when we do talk.
Thanks for taking the time to answer the questions. Do you have anything else that you would like to add?
I really appreciate you taking time with me to talk about our band. It is always so humbling to still have anyone out in the world who knows who we are and cares enough to reach out. Feel free to do so again in the future anytime you like. I'm begging you... please continue to pay attention to me! Ugh, I may have had too much caffeine by the time we started this. Remember, Flavour Dave Envy loves you and everyone else thinks you're a jerk!
Links to our Social Media empire are: Facebook.com/ShowoffMusic @ShowoffBand on Instagram We have a Twitter, but never use it because I can't remember the log on for it, but it is also @ShowoffBand You can seek us out on YouTube even though at the moment we don't really post anything there. You can do the same and find us on things like Spotify, Pandora, Last.FM, iTunes and such.
You can also find me personally on: Facebook.com/DavidA.Hyde @_hydro_13_ on Instagram Twitter is @_Hydro_13_ Snapchat is davehidden13 and can also be found regularly at your local Ice Rinks skating or playing hockey
Follow Sound In The Signals: