The Casper Fight Scene - Sound In The Signals Interview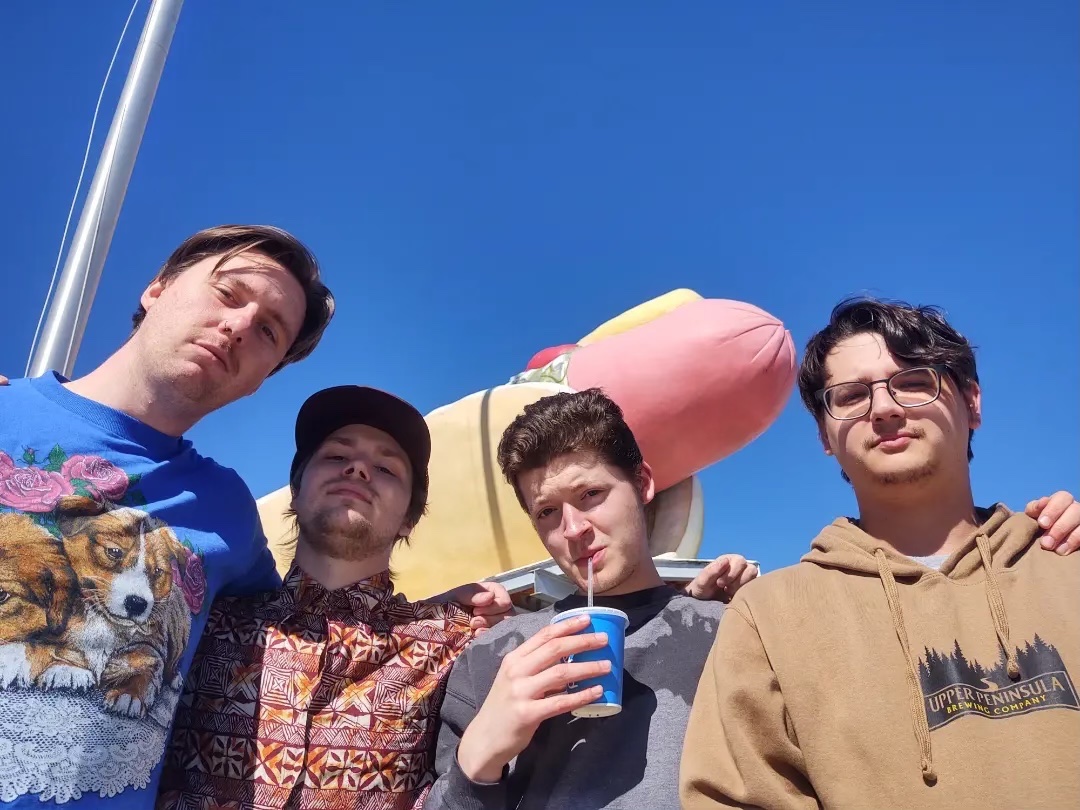 I recently had the opportunity to interview Jason of The Casper Fight Scene. We discussed how they formed the band during the pandemic, recording their new EP 'Good Deal', songwriting, artwork, the potential for physical releases, an upcoming split release, and more. Check it out below.
First, thanks for the interview.
No problem, I'm happy to be here!
Can you tell me how you formed the band for those who may be unfamiliar with it? How did you initially become interested in music?
Well our guitarist Kenny and I started playing in bands together our freshman year of high school but we were really just playing like blink covers and stuff like that. We started going to random diy shows around our hometown (Iron Mountain, MI) and that sort of got us into writing our own stuff. Around 2014 we found out about bands like Mobo and Tiny Moving Parts and that's really how we got onto the path that we're on now!
During lockdown in 2020, we were doing a whole lot of nothing just like everybody else. We weren't really working, it was freezing outside and we needed to do something so Kenny and I just started recording stuff. I was going through a lot at the time on top of dealing with a pandemic and I think Kenny was too so working on music felt like the right thing to do. We started sending what we made to our friends and they liked it so we decided to turn it into Casper! We moved to Marquette a few months later and that's when everything really got started. We've had little lineup changes over the last couple of years but I met both Zach (bassist) and Mikey (drummer) back in like 2018 playing shows with our old bands and we've been good buds ever since so once we needed people they were an easy fit. I love those boys.
You released your EP 'Good Deal' in 2022. Have you been pleased with the response it has received so far?
Oh, Absolutely. We've gotten so much love for this record it's incredible. We've got an awesome homebase here in Marquette. Everyone is super supportive and goes nuts at shows. We've been getting a ton of support from all the homies downstate too so yes we are very pleased. The Michigan emo scene has a lot of cool stuff going on right now and we are just so happy to be a part of it.
Where did you record the EP? How long did you work on the writing and recording?
We recorded Good Deal with Tyler Floyd at Eureka Studios in Wyandotte and I want to say we finished everything in like two days. We put out a few singles before we did this and once 'Kill Me' was out for a bit, people were asking about an EP so that's when we started putting this thing together. The timing just seemed right!
One of my favorite songs from the EP is "Wyoming". Can you tell me about writing that song specifically?
For sure! Much like the rest of our songs, Wyoming is very open, honest and personal. I'm kind of a nervous guy and most of the lyrics I write are just things that I'm too afraid to say to the right people. Wyoming is no exception. People seem to really enjoy this one though so I think everything worked out!
What's your favorite part of the songwriting process? Why?
Definitely getting all of the final pieces together and hearing the song complete for the first time. Everything we have starts out on an acoustic guitar so after I have the bones for a song I bring it to practice to show the guys and they make it all cool. It's obviously never an easy process but once we finally get everything where it needs to be it's the best feeling in the world.
The artwork is really interesting. Where did that photo come from and why did you decide to use it?
Our buddy Eric Lapalm actually took that photo (shoutout Eric!) The lighthouse is a well known spot up here and I am very proud to be from the U.P. - all of us are so we liked the idea of putting one of our landmarks out there. Not to mention it's just a badass photo by one of our badass homies.
Is there any chance that you'll release vinyl or cassettes for the EP at some point?
Yep! Folks have been asking about physical copies so we're working on that now. I don't want to say too much yet but we will for sure have tapes available around Valentine's Day and we will have more news to announce about that before then!
You have a split coming out in May with some fellow Michigan bands. What can you tell us about it so far?
Oh yes, we are very excited about this release. Like I said before, the emo scene here in Michigan is kind of going off right now. We've been lucky enough to make friends with a lot of awesome bands and a lot of awesome people. It's really great knowing that we're collaborating with any of these bands because they are all so talented. It's wild. We don't have all of the details yet but we'll talk more about the record once it gets a little closer.
Thanks for taking the time to answer the questions. Do you have anything else that you would like to add?
Thank you for having me!
And thank you to everyone for all of the support we've gotten for this record. Please keep supporting Michigan music and go listen to Good Deal! Thank you! :D
Follow The Casper Fight Scene:
Follow Sound In The Signals: