FinalBossFight! - Sound In The Signals Interview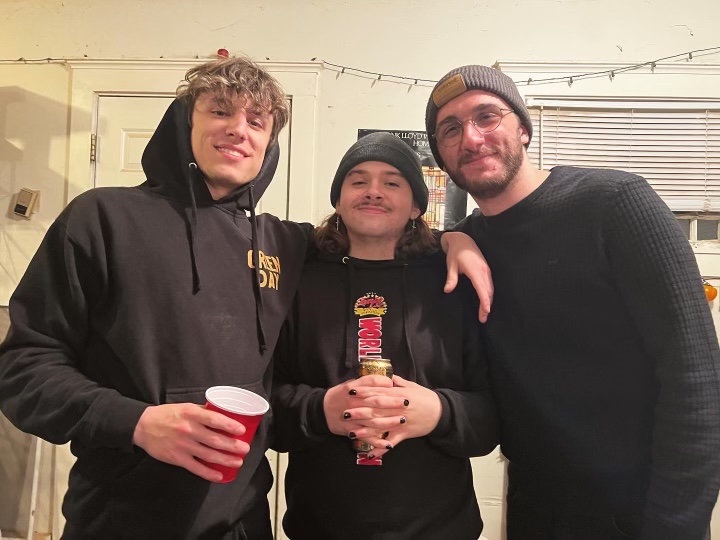 I recently had the opportunity to interview John of
FinalBossFight!
. We discussed how they formed the band, the writing and recording process for new album, 'If You Don't Mind', what they hope to accomplish with the album, their album release show, album artwork, the cassette release, and more. Check it out below.
First, thanks for the interview.
Thank you for interviewing us :)
Can you tell me how you formed the band for those who may be unfamiliar? How did you initially become interested in music?
The band consists of bassist Billy Cosmo, guitar/vocalist John Coote, and drummer Sage Denam. I (John) met Sage when we were in a high school classic rock cover band called 3rd degree burns. We both bonded instantly over our love of pop punk/emo/alternative music. Initially we were both in different bands after we graduated. However both of those projects came to an end and one day I saw Sage tweeting about how he had some songs written and wanted to start a band. I replied and within a week or two we had jammed a couple times and realized we write songs really well together. Initially we didn't have a full time bassist, but after a while of searching we talked to Billy a bit through Twitter, jammed with him a few times and the rest is history. I honestly couldn't imagine a better fit for the band than Billy. He brings our band to the next level musically and by just being a fun person to be around.
Your debut album 'If You Don't Mind' came out in October. Can you tell me about writing and recording the album?
As far as writing goes we all write music for FinalBossFight!. We usually come to practice with anywhere from 50% to 95% of a song and we work out the kinks together. I have a diy home studio in my garage and that is where we practiced and recorded "if you don't mind". Recording for this album was unusually long because we were limited to recording on Saturdays because that was the only days all of us had off work. So whenever we weren't playing shows, we were in the studio writing and recording. It started around January and we finished the last track in June and I didn't finish mixing/mastering until mid-September. This album was a long time in the making and I'm glad that it's finally out to the world to hear.
Was the writing process any different for this album than the process of your previous material? How so?
It was a bit different because in the past releases I would write and record bass because we had no bassist. But now we had Billy writing bass parts as well as whole songs. I feel like this was a game changer for us because Billy and Sage are both incredibly talented songwriters and to have them both in a band with me is an absolute blessing.
What are a few important things you want to accomplish with this release?
I personally want this album to reach as many people as possible and just be able to give people the same feeling I get when I listen to my favorite songs. We also want to start touring the country and play to as many people as humanly possible. At our shows we want to give people a good time and an outlet to get away from thinking about everyday life overall.
Do you have a particular song that you're most excited for people to hear? Why?
My favorite tends to change often but currently I really enjoy
West South St. 6
. This song is pretty heavy emotionally and something about screaming the chorus and bridge feels really cathartic for me. It's kind of like how you tend to feel better after you've had a good cry.
You recently had your album release show as well. How did you put together the lineup for that? Were there any surprises planned?
From the start of planning this show we knew we wanted to get some of our closest friends' bands who were with us from the start involved. Tequila Mockingbird, Dad Caps, & Something Missing have always been very supportive of us and we felt like it was our chance to give back to them. We also hosted Background Character who is currently touring on the show as well and they absolutely killed it! They fit the lineup insanely well and it was a pleasure to have them. We didn't have any surprises planned but I was surprised by just how many people showed up and supported us and every band on the bill. I'm very thankful for our Lansing community for always showing up and having a good time.
I think the artwork is fantastic for the album. It's really interesting. What's the meaning behind it?
Thank you! We knew for a long time that we wanted the album artwork to be animated. We had a few album covers in mind that we wanted it to be similar to, like Prince Daddy & the Hyena's first album "I thought you didn't even like leaving" for example. We also wanted to incorporate aspects from our single artworks onto the album as well. We contacted Charlie Lower (@cisgenderman on instagram) to do it and they absolutely knocked it out of the park. It turned out better than I would have ever imagined. Don't hesitate to contact them if you're looking for artwork for anything. They're amazing at what they do.
Do you have any plans to release cassettes or vinyl?
We currently have no plans for vinyl, however we have
cassettes
in the works! I feel like we'll dabble with vinyl when there's more of a demand for it.
Thanks for taking the time to answer the questions. Do you have anything else that you would like to add?
Thank you for giving us this platform to express our thoughts and process of making this album. I would like to add that this album is dedicated to my parents Candice and Gary Coote who unfortunately both passed away in the last year and a half. If it weren't for their endless love and support, none of this would have been possible for me.
Follow FinalBossFight!: