BUD - Sound In The Signals Interview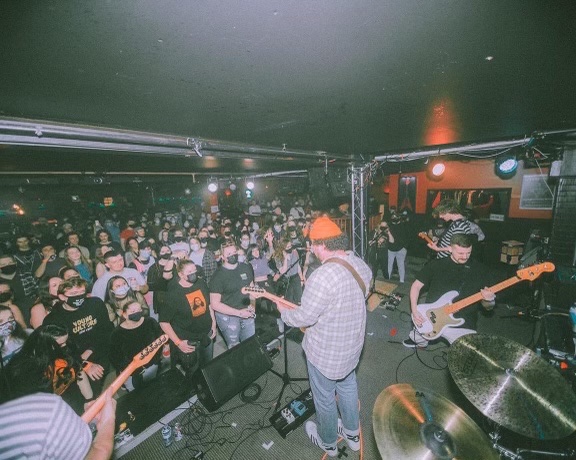 I recently had the opportunity to interview
BUD
. We discussed falling in love with writing music, motivating others, playing shows with Bearings, how the band's message is resonating with fans, writing and recording new song, "Free Our Soul", favorite musical moments, plans for an upcoming EP, and more. Check it out below.
First, thanks for the interview.
No problem at all! Always happy to chat!
Can you tell me how you formed the project for those who may be unfamiliar? How did you initially become interested in music?
My dad got me a guitar when I was 12 because I'd been begging and really wanted to be like Billie Joe Armstrong. After that I just remember playing every day after school and falling in love with the idea that I could just come up with a random riff when I felt like it.
In terms of bands, my first band ever was in grade 8 and our only gigs were at lunch during school where we covered stuff like the Foo Fighters and Green Day. But I started my first real band in high school and we were called "Gold Finch", it was very emo/grunge - we toured eastern Canada, released a couple of EPs, but it eventually ran its course and the music wasn't my cup of tea anymore. So the band ended and that was the green light for me to finally start something new.
Sounds cliche, but BUD was always a dream where I could write my own songs, spread my message and truly be myself in hopes of motivating others to do the same with whatever they do. And now we're here!
You recently opened some shows for Bearings and Young Culture. How did it work out for you to open the shows and were you pleased with the experience?
Bearings have been my lads for a very long time now, some stuff happened where they needed an opener for their Canadian dates so they reached out to me and I immediately said yes.
These were some of BUD's first shows and they were absolutely phenomenal. So grateful that so many people showed up for our opening sets, we had a time and can't wait to do more.
It seems like you're building some really good buzz with fans and listeners. What do you think it is about your band that people are responding to?
That's very kind; thank you! It's so cool to see because there were moments in the pandemic where I was like "what am I doing here?". But I think the biggest thing with BUD is that me and the band are just here for a good time. BUD's message from day 1 has been to block out the bullshit and do exactly it is what you want do. Just go do it unapologetically. And I think that is what resonates with folks, the music just happens to be good as well.
You released your single "Free Our Soul" in March. Can you tell me about writing and recording the song?
I went to Hamilton, Ontario to record a song with Fitz and Dougie from Bearings. It was around the time some terrible things were happening in the world, specifically where my family's heritage is from. I felt the need to put those emotions on a paper and help people here envision what it's like to be ripped away from your home and everything you love due to politics and oppressive forces. Musically, it was nice to hash out ideas with my friends and create something beautiful.
Do you have a favorite lyrical or musical moment from it? Why?
I think my favourite moment is either the first time seeing people sing along and dance to BUD at our first shows or the first time I went to record with Anton Delost and we just sat back listening to what we'd made while eating Karaage Don. It was surreal and I remember it being one of the first moments where I was doing something right with BUD.
You've been releasing singles pretty frequently. Is there any chance that you're working on an EP or album? If so, what can you tell us about it so far and/or other singles that you might be working on currently?
A BUD EP, is in the works. I'm doing some more writing and recording later this summer so that will be very cool.
Every day I dream about the first BUD album, so if anyone is reading this (rich record label people) I'd be more than happy to take your money and write the greatest rock n' roll record of all time.
Thanks for taking the time to answer the questions. Do you have anything else that you would like to add?
Really loved these questions and thanks for asking me to do this! Check us and the music out on any social media platform at Budisbants, cheers!
Follow BUD:
Follow Sound In The Signals: