Hey, ily! - Sound In The Signals Interview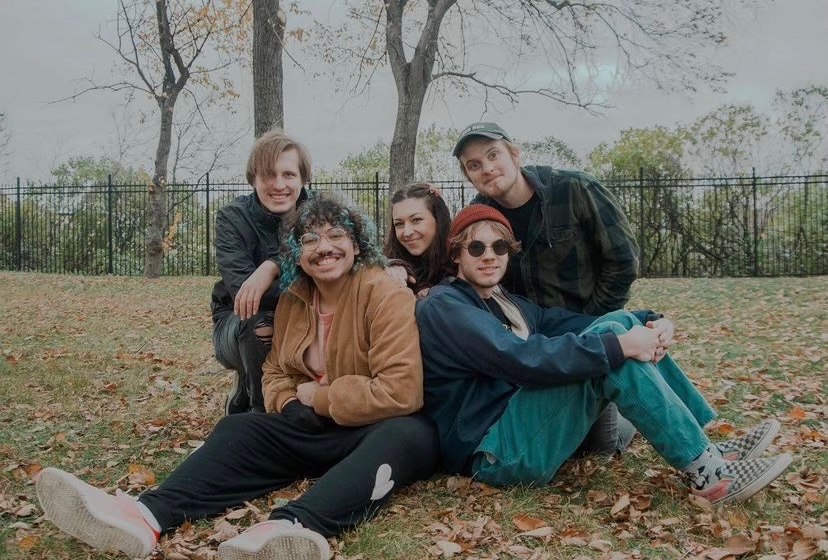 I recently had the opportunity to interview Hey, ily!. We discussed musical influences, writing and recording the upcoming album, a song they're most excited for fans to hear, signing to Lonely Ghost Records, vinyl pressings, and more. Check it out below.
First, thanks for the interview.
Thanks so much for having me! I love doing interviews so I'm super stoked about this!
One thing I like about the music you're making is how unique it is. Nobody is really combining elements in the way you are. How did you come up with your sound and what or who are some of your biggest influences?
Ever since middle school I've been really inspired by musicians who experiment and create something new. Mr. Bungle, Radiohead, They Might Be Giants. I was super into that stuff before I discovered the classic Indie-Emo bands like American Football, Cap'n Jazz, Sunny Day Real Estate around my sophomore year of high school, which is probably the perfect time to discover that kinda stuff. Then around 2020 I discovered bands like Weatherday, Your arms are my cocoon, and Glass Beach and it blew my mind.
Even though emo is already a versatile genre, I think there's a lot of undiscovered territory in it, lots of experimenting to do. Although obviously we're not gonna get a Kid A out of this music, it's so cool seeing bands start to shake up the game a little bit. I really wanted to be apart of that, and so I started working on Hey, ily! It isn't the most original music in the world, I'd argue that most of it is just combining genres I like with other genres I like, but it makes stuff I wanna listen to, so that's rad. Oh, also a lot of video games. Ever since I was a little kid I've loved video game soundtracks.
You have a new album coming out this year. What can you tell me about it so far?
I'm super proud of it! We all are. I recruited my friends Trevin Baker, Skyy Haman, Conner Haman, & Stephen Redmond to expand Hey, ily! into a full band, and we got to work writing this album really quickly and intensely. Most of the songs were written after a few weeks because we just put the rest of our lives on hold and hyper-focused on writing recording.
We really just wanted to create something we'd really like to hear. Sometimes it's weird and chaotic, sometimes it's super-straightforward. It has this strange Earthbound-inspired concept behind it. There's even a beautiful classical piano piece Skyy wrote on her own a long time ago on it, just stuff we thought would be cool to put into an album!
I know you recorded some of your previous recordings on a phone and relatively quickly. Can you tell us a bit about the recording process for the new album? Was it completed in a similar way or did you try some new things?
Recording this album was super different than the first two EPs in a lot of ways, yet similar in that we recorded most of it ourselves. The first two EPs were recorded very quickly and without much thought. I would really only spend like half an hour recording most of each song. Recording these new songs was very thought out and intentional though, whereas I didn't really have an idea of how I wanted old songs to sounds going into them. For the most part, we all knew what we wanted each second of each song to sound like.
We recorded Conner's drums at our friend Phil's studio in Butte, Montana. Conner and Trevin and I had worked with him before so we knew he was going to get something we really like. Then we used that drum track to record everything ourselves over the next three weeks. We struggled finding a single good place to record so we basically recorded anywhere. My guitar, lead vocals, and Stephen's bass were done in my bedroom. Trevin's guitar and the rest of the vocals were done in his garage, Skyy's synth was done in her and Conner's living room, and her piano was done in the theater of Skyy's dad's high school. Though, like the earlier stuff, there were a lot of happy accidents and things we didn't initially plan on being on the record, and that's something I hope never goes away.
Is there a song that you're really excited for fans to hear and/or something musically you tried that you're interested to see how fans react to it?
Obviously we're excited for people to hear the whole thing, but yeah, there are a lot of little moments we're especially excited to see the reaction to. Most of us, with the exception of Stephen, went to the same high school where we were really involved with the music department. So we still keep in contact with its music teachers from time to time. I had this idea for the second to last song on the album to have this big climactic breakdown followed by a soft acapella part. I can't remember who it was, but someone jokingly mentioned that we should have the honors choir class from our old high school preform and record it.
We laughed and then all looked at each other with this intense look of excitement. We shot our old choir teacher an email asking if she and her class would be interested and she immediately responded positively. We then wrote out a choir piece, got it translated to Latin by our friend Walker, and sent it over for them to learn. A few weeks later we recorded it and it was such a life-changing experience. There are a lot of experiments like that on the record that we are just so excited for everyone to hear.
You signed with 'Lonely Ghost Records'. What made you decide to sign with them and how has the experience been so far?
When the first EP came out, Hey, ily! was signed to a now defunct label that our previously mentioned friend Walker ran called Rats Nest Tapes. Unfortunately the label went down so I sent out a tweet that was just like, "Hey! If there are any labels looking for new signees message me!". I didn't really know what I wanted from a label, I just new I wanted to be signed to one, and Lonely Ghost were the first to reach out. It was wild though, Rats Nest was mostly just like "Hey, wanna be on my label?" "Sure!".
I had this long call with Lonely Ghost, though, and got to actually sign a document, I got to pretend I was an impending rockstar signing the biggest deal of my life. Really though, it wasn't that big of a deal, Lonely Ghost is a DIY label, who are really doing what they do because they just love music, especially their signees' music. John and Shane put so much effort into what they do and we're all really thankful for it. I know for a fact Hey, ily! wouldn't be where we are today without everything they've done for us. I guess this is a really roundabout way to say our experience has been nothing but positive. The only thing I gotta get used to about being in a label is that I can't impulsively drop music, which is definitely a good thing that I can't do that.
You're releasing a vinyl pressing of your first two EPs. How important is it for you to have your music on vinyl? How closely did you work with the label on packaging and variant choices?
Honestly, having physical releases of our music isn't super important to me personally. I just think it's really cool. Holding music I made in the form of a tape or something, that's a super sick feeling. If people want to buy it, that's totally cool too! I'm super obsessed with aesthetics so I made sure to be like "Hey! I want the vinyl this color, I want the sleeve to look like this". All within reason of course!
Can we expect a vinyl release for the new album?
If all goes according to plan, yes!
Thanks for taking the time to answer the questions. Do you have anything else that you would like to add?
Thank you so much for taking the time to ask! Whenever people ask if I want to shoutout anything I always try my best to shoutout our friends but there's really too many to list in this kind of format so for now I'll say checkout all the bands signed to Lonely Ghost Records!
Follow Hey, ily!:
Follow Sound In The Signals: