Saint Judas - Sound In The Signals Interview
I recently had the opportunity to interview
Saint Judas
. We discussed his early interest in music, how he started the project, the writing and recording process for new EP, 'A Terrible Year', which song was the easiest to write and which song was most challenging to complete, artwork for the EP, releasing it on cassette, and more. Check it out below.
First, thanks for the interview.
Thank you so much for having me; it's a pleasure to be here!
Can you tell me how you formed the project for those who may be unfamiliar? How did you initially become interested in music?
Yeah! So music has always been really important to me growing up. I was always listening to music as a kid with bands like Relient K, My Chemical Romance, and Switchfoot, and I started playing guitar for my church's youth worship band in high school - really crazy to think about knowing who I am as a person now - which got me into performing music. I was diagnosed with various mental health disorders at a pretty young age and listening or playing music was my escape from reality, a way for me to channel those thoughts or emotions in a healthy way.
When I got to college, I began my deconstruction from religion, completely leaving that behind, and having that on top of my growing anxiety and depressive disorders proved to be an immense weight on my mental well-being. After being involuntarily hospitalized, I turned to music again to vent all the thoughts and feelings that were in my head. Those emotions became poems, those poems became lyrics, and in the span of a couple days I had written the first five songs for Saint Judas.
I decided on the band name after reading a play called The Last Days of Judas Iscariot by Stephen Guirgis. It's all about this idea that Hell doesn't want Judas because betraying Jesus was a good thing. No betrayal means no cross, and no cross means no salvation for all humanity, right? I'm not religious anymore, but I thought there was something beautiful about that. People hate Judas, I mean he's the guy that got Jesus killed. And if he of all people was misunderstood, then maybe there's hope for me.
You recently released your new EP 'A Terrible Year". Can you tell me about the writing and recording process?
The writing for 'a terrible year' was an arduous process to say the least. It almost serves as a sequel to my 2019 EP 'songs for Dorian,' which was all about the fear of change. I wrote 'Dorian' in the months leading up to me moving from Nashville to Florida. I had spent most of my life in Tennessee, and it was stressful having to leave everything I knew and all my friends behind. I was scared and anxious, so I wrote those songs about the uncertainty of the future.
Then I moved, released 'songs for Dorian', and the uncertainty of the future became my reality. The worldwide pandemic hit soon after I moved, so making new friends wasn't really an option. Old friends stopped responding to my messages and calls; it was really lonely. I started to dissociate from myself and relapsed into a severe depression, the panic attacks came back, so I retreated into the one thing that always seemed to help: music.
I began writing the songs that would eventually become 'a terrible year,' and in the process I discovered a community of people online that were struggling just like me. The DIY emo scene has been a huge support for me and ended up collaborating with tons of people while creating the EP. I've met some of my best friends over the past two years, and these songs wouldn't be anywhere close to where they are now without them.
What was the easiest song to write for the EP and on the other end which was the most difficult to finish?
Oh, I love this question! So the easiest song was definitely 'spooky ghost noises,' and it was also the first song I wrote for the project! It was originally going to be a song on the debut Saint Judas LP, but I decided that it didn't fit thematically with the album so I figured I would find somewhere else to use it. I wrote it in maybe . . . 30 minutes? And it turned out to be a really good transitional song for the EP, acting almost as an intermission.
The most difficult song to finish was definitely 'like turning off the TV,' and it was also the last song to be written for the EP. I think I started overthinking that song a lot, and that's why it took so long. I put a lot of focus on musical breaks for this EP; I liked to imagine these as songs we could dance to at a house show. I put a lot of thought into writing the instrumental outro for the song as a great moment to just go crazy and start dancing, and I really wanted to put a horn section in it, so writing the horns and building a great atmosphere for dancing proved to be a long process. That along with a couple lyrics that I couldn't quite pen down, the song probably took around 6 months from the moment I wrote the hook to the moment it was completely written and ready to record.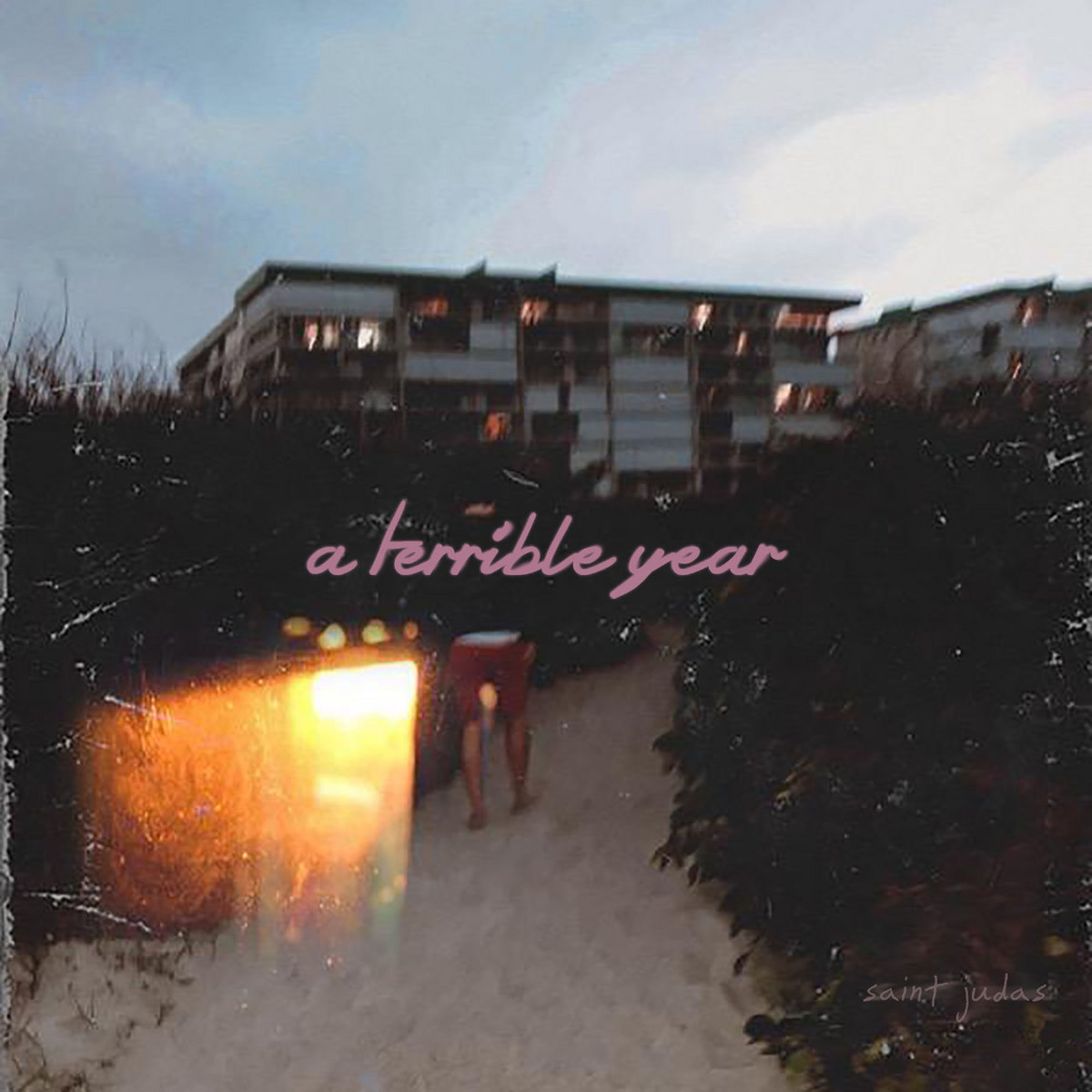 I really like the artwork. Where did you get the photo from and why did you feel like it fit the EP?
Thank you! My sister took that photo of me when we went to Cape Canaveral to watch a NASA space shuttle launch. When she showed me the picture, I asked if I could use it for album artwork. I wasn't sure what it would be artwork for at the time, but I knew I wanted to use it. She's a really talented photographer and I love using her pictures for my music.
When I was at the back-end of the writing process for 'a terrible year,' I decided the shuttle launch photo was a perfect fit. The picture feels very cold and lonely and foreboding, which I felt matched the tone of the music quite well.
You released the cassette with Sleepy Clown Records. How did it work out for you to work with them?
I am! I'm so stoked about the cassettes! It's been absolutely wonderful working with Sleepy Clown Records on this release and getting cassettes for the EP. I've never done an official physical release for my music before, so it's been really exciting. We almost sold out on the first day, and there's only 2 cassettes left which is insane to me. I'm so humbled that Sleepy Clown loved the EP so much that they wanted to make cassettes for it, and so glad I got the opportunity to work with them.
Thanks for taking the time to answer the questions. Do you have anything else that you would like to add?
Of course! Again, thank you so much for having me, I really appreciate the opportunity to talk with you! I think the only thing I have to add is a huge thank you! Thank you to everyone that helped make this release possible, and thank you to everyone that's listened. Music helped me through the worst parts of my life, and I want to try and pay it forward as much as I can. It might be a terrible year, but we don't have to go through it alone.
Follow Saint Judas:
Follow Sound In The Signals: