The Hopesos - Sound In The Signals Interview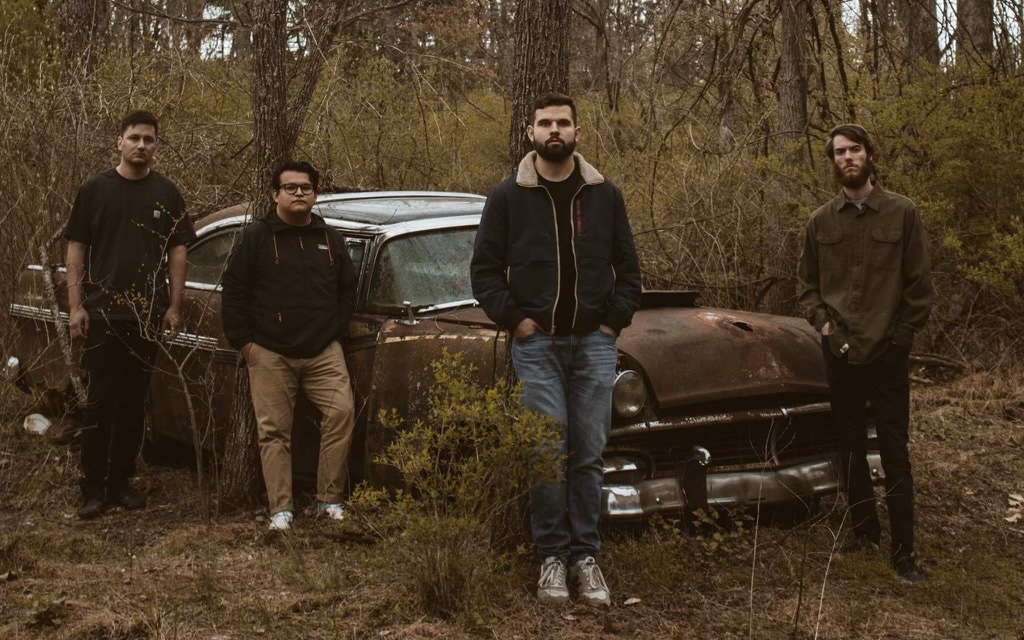 I recently had the opportunity to interview Seth Mitchell of
The Hopesos
. We discussed how the band discovered music together, the inspiration behind their upcoming album, 'Bound', writing and recording the album following a chiastic structure, creating a film around the album, what he hopes listeners and viewers take away from the album, what's next for the band, and more. Check it out below.
First, thanks for the interview.
Thank you - I'm grateful to speak with you.
Can you tell me how you got together and formed the band for those who may be unfamiliar? How did you initially become interested in music?
Yeah, that's a fun one. So my cousin Dustin is our drummer, and he was the one that got Marc, our guitarist, and I, into the indie-alternative scene when we were kids. He got us listening to a lot of the tooth and nail stuff - mewithoutyou, underoath, as cities burn, all that stuff. And Marc has always been an incredible musician. His dad's been a singer in the metropolitan opera his whole life and his mom taught music for kids. He started with drums and then got into guitar and I've always been a decent singer, so we started making when we were like ten, and kept it up through high school.
A few years went by and I was living in Virginia and was itching to make some new music. I met Will, our bassist, there and we started jamming. Then I moved back up north east and Marc, Dustin and I got together to work on some of the stuff I had been writing. Things developed from there and we kind of ended up forming a band through working on this project all together.
You're releasing new album, 'Bound' on October 22nd with the visual coming out October 24th. Can you tell us more about your inspiration for the album?
The album came from my personal experiences with religion, depression, and reading philosophy. I've always kind of felt a tension in my outlook. A lot of artists see the world as meaningless and that makes a lot of sense to me rationally. But emotionally, I've always still felt like life means something. I think the album came from a place of trying to figure that out.
You've mentioned the album is written as one idea - 24X7 lines long and 24:07 mins of music with a chiastic structure. Can you tell us more about this idea and about the writing and recording process?
Yep, so the album has a chiastic structure in terms of the songs meanings: ABCDCBA. That means the first and last songs talk about the same topic, same with the second and sixth, and so on. In the center of the album is the line 24/7. That's where the meaning is supposed to be. 24 represents the monotony of life - it's a cycle of time we're bound to and it's constant, indifferent, and empty. 7 is the idea of perfection in a lot of literature, and so that, to me, represents life's meaning, what we're bound for in a sense.
So the album is about being both bound to monotony and for something meaningful. It's about experiencing life stuck in the middle of those outlooks. I always think putting constraints on a project forces you to be more creative, and this project definitely forced us to do that. It was a balance act of writing songs that sound good in and of themselves, while distributing the lines of the project somewhat evenly between 7 parts, and then putting them together in what feels like one movement within the time limit that we had. It took about two years to come together.
After writing and recording some demo versions, our friends from the band Out of Service connected us with an awesome producer, Nathan Hussey, from All Get Out. He really dug what we worked on and agreed to mix and master our stuff. That's when things got busy. I had to record in a lot of different places because we were so spread out, and logic destroyed my laptop so I was carrying a 2010 desktop to a bunch of friends houses to record.
We laid down drums with some borrowed equipment from Out of Service near Philly, I recorded with Marc in Montclair, NJ, Will laid some bass stuff down in VA. Other people pitched in here and there near my place. It was all home studio recording. I'd love to record in a studio one day, but I pretty much put all my money into mixing and mastering so that we could get that piece right for this project.
You filmed the visual over two years in Lewisburg, PA. Can you tell us a bit about your inspiration for creating the film and more about filming it?
Yeah, so I started showing our demos to a friend who is a director in Boston, Elise Orlowski, and she thought they were really cool. Originally, she offered to make an animated video for one of the songs once she heard it, but then she caught the idea for something bigger. Since we had the 24 number thing going, she thought, "what if we made a visual album that looked like it took place over the course of a full day?" and I thought that was brilliant. I also thought the music was really cinematic and that adding visuals felt like a compelling way to communicate this project as one story.
So she pulled together an amazing film crew of about 10 people - Hannah Middlekauff our producer, Ben Rountree our director of photography, and Brandon Coleman our star to name a few - and we raised a few thousand dollars to film for about 5 days in Lewisberg. Marc's family had an abandoned house there and it was the perfect set for our music. The filming process itself was definitely a unique challenge. It's pretty different than playing the music and was my first time doing something like that. I loved it though - it was an honor to be with so many talented artists making something we all cared a lot about. I can't wait for everyone to see it.
What do you hope listeners and viewers take away from your new album? What are you taking away from completing this project?
I'll answer the second one first. I'm taking tons from this project. Having so many people believe in it gave me the confidence to create and I'm a better writer, artist, and creative as a result. But I think the biggest thing I'm taking from the experience is the relationships. It was such a gift to work with so many talented artists and to make new friends along this journey and I can't wait for more projects in the future. As for others, aside from enjoying the art for what it is, I'm hoping that listeners and viewers will come away from this album thinking more critically about their experience of life and the meaning they assign to it.
What's next for the band for the remainder of the year? Can you share any future plans you may have at this point?
Yeah, so for this year, we're entering Bound into a few film festivals to see if it can garner some attention and are also working on a small 5 song ep for our indiegogo donors. After that we'll see - I'm definitely starting to write again and am thinking about a new project. We also might want to do some gigs and collaborate with other bands. We were just a part of a Blink 182 TOYPAJ 20th anniversary comp we really enjoyed.
Thanks for taking the time to answer the questions. Do you have anything else you would like to add?
Just want to say thank you to everyone that's supported us. This has been a fun ride and we're looking forward to seeing what's next. Shout out to the rest of the crew and the integral roles they played in bringing this project to life - thank you Jason our gaffer/ DP second unit, Danielle Johnson our co-producer, Emilee our production designer, Destin Hernandez and Tristan Peace our assistant camera men, Stephen Whetzel our production assistant, Josh Villegasii for the artwork and Brian Iacobucci for doing the sound design for our film. Also thank you to Margaret Persing and Ken Bond for the musical talent you contributed to the record.
Follow The Hopesos:
Follow Sound In The Signals: