Trading Twilight - Sound In The Signals Interview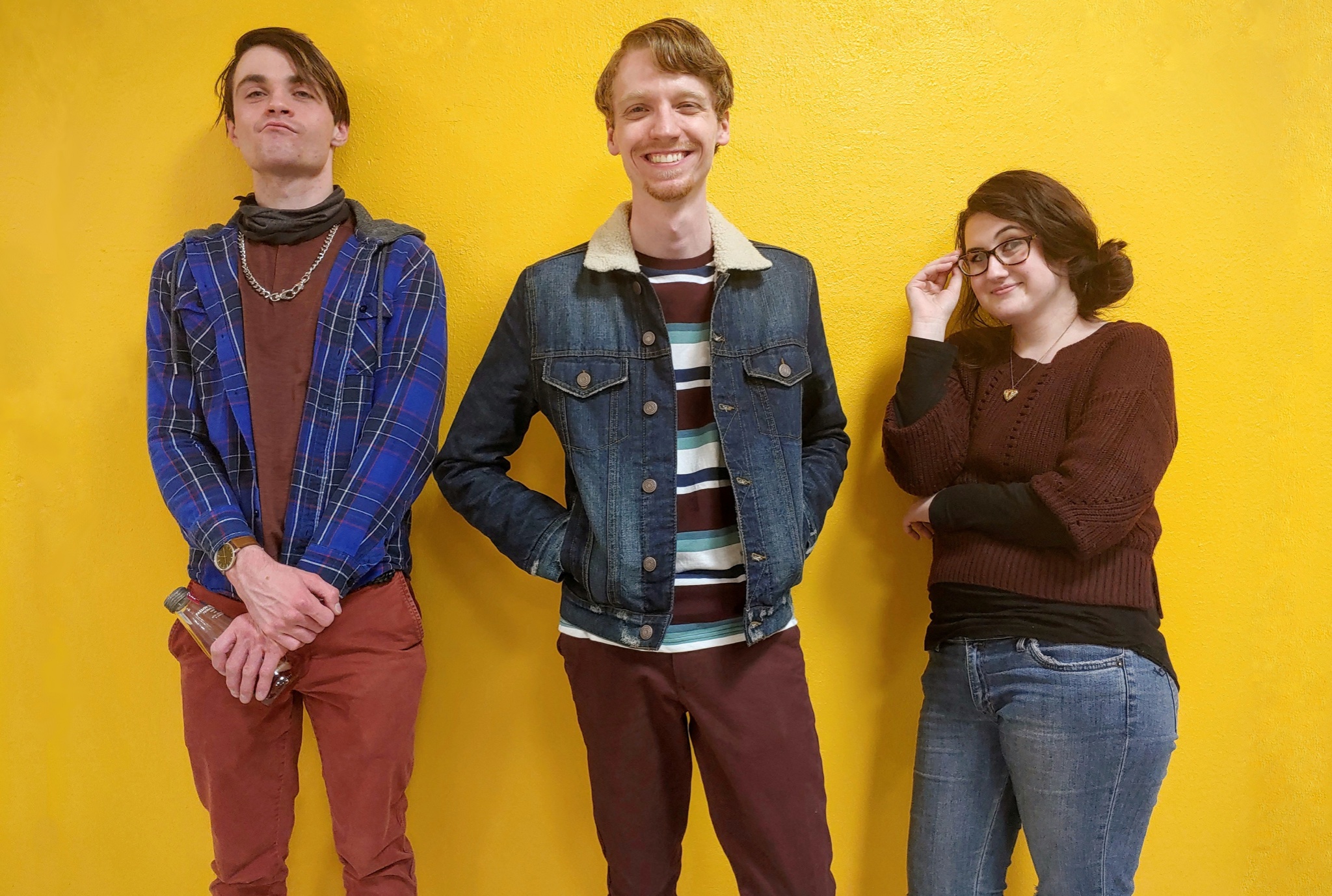 I recently had the opportunity to interview Tim Hawk of Trading Twilight. We discussed the band's evolution, early influences, recording and releasing cover songs, what to expect on their upcoming concept album, and more. Check it out below.
First, thanks for the interview.
Of course! Thanks for offering to interview us!
Can you tell me how you got together and formed the band for those who may be unfamiliar? How did you initially become interested in music?
Yeah, so the story of our band actually goes back to 11th grade of high school, 2011. Josh and I were distant friends back then, and would sometimes skip lunch and walk the empty halls of the school where we'd listen to a lot of formative pop punk/pop rock music. I'd often sing while we walked, and he was taking guitar lessons, having recently gotten a guitar, and we'd often joke about forming a band together -- little did we know we actually would one day!
I moved for my senior year and we pretty much lost contact. It wasn't until a couple years later, after high school, when he and I would start hanging out regularly, and even a couple years after that when we'd form a band together.
One day, about a month after a particularly difficult breakup in 2016 -- with an ex of mine that was greatly important to both myself and Josh's emotional development (the three of us having gone on a pretty defining trip to California together), I went over to Josh's house and was playing music REALLY loudly, a break from the recent month I'd spent despairing. I was shouting the lyrics to what I believe was a Cartel song when Josh just started strumming along on guitar, having just recently picked that back up again. After a couple songs ended, he asked me to sing along to 'Dammit' by blink-182, one of the only songs he knew how to play at the time, and that became our first song as a band.
Well, sort of.
I wouldn't really say we were a 'band' in the traditional way at that point. We were 22/23 years old and had just started playing guitar and singing seriously for about the first time in our lives. We were essentially no different from 12-year-olds who just started playing music!
But we were serious about it. And would get together once or twice a week to practice new songs. And in the first year and half, played at probably 15 different open mics, 2 bar shows, and at a local festival. We knew we weren't great, and were consistently one of the worst acts at most of the places we played at, but we were eager to improve.
In early 2018, we met Libby, who started playing keyboard with us. Her and I were dating at the time, and she assimilated pretty well into the band. She'd been playing keyboard since her adolescence, and had written music on her own before, but it was her first time in a band.
That summer, we finally created our social media pages in preparation for of our first big show together at Slippery Rock's Back to School Extravaganza. We were one of two bands booked for it, alongside a slew of DJs who were playing down the hall. In the end, the other band didn't come, so our 1-hour set turned into an impromptu 2 that we were far from prepared for. But it was fun. And the 5 people listening seemed to have a good time.
I think that's when I'd consider us a real band. Probably August of 2018.
Sorry if this response was incredibly long by the way!
As far as music, I think all of us have always been interested in music! I remember myself as a young kid writing out the lyrics to every song on Linkin Park's Hybrid Theory on yellow notebook paper because I didn't have access to the internet and wanted to memorize them.
You describe your band as indie/emo/pop-punk. Who are some your biggest influences?
I'd say that there are 3 albums that have probably influenced us the most:
...Is A Real Boy by Say Anything

Everything In Transit by Jack's Mannequin

The Greatest Generation by The Wonder Years
...Is A Real Boy because it just oozes creativity. It ranges the entire rock spectrum from soft acoustics to punk to hard rock. Every song has these moments of manic intensity or theatrical pomp, but also moments where it feels like the character has clarity and sincerity. I once read a review saying that it never insults your ears by making you listen to the same thing twice on the album, and I 100% agree.
Everything In Transit on the other hand is a vibrant, breezy depiction of youth -- of a difficult breakup, finding yourself, gaining the determination to make things work again -- as well as just a great depiction of life in Southern California. The whole album is laced with sun and gentle sarcasm, and when I'm listening to La La Lie on a nice summer day, I feel full of determination and like I'm living my best life.
The Greatest Generation is probably one of the best records from the last 15 years. It's what really opened The Wonder Years to a broader audience, I feel. (Even though their two records before it were also good.) I think it really speaks to a lot of the anxiety of our generation. Of being late to the party, of having fallen between the cracks, not feeling like we're living up to the standard we've been shown in the media and often from older generations.
All three of them are amazing because of the story woven throughout the albums, or the cohesive themes and how anthemic/defining they are.
Other influences, both new and old, would probably be blink-182, New Found Glory, Motion City Soundtrack, Modern Baseball, Julien Baker, and Mitski.
You've been posting covers from various bands on your Instagram. What made you decide to cover those and do you have a couple favorites you've shared?
For me personally? I think my favorite song we've covered that's posted on our Instagram is either Art Is Dead by Bo Burnham or Admit It!!! by Say Anything. Art Is Dead because I really get into it when I sing it, and I feel like Bo and I sing in a pretty similar vocal register, so it's super natural. Admit It!!! because that's an incredibly hard song that we put a ton of effort into learning in the past, and I love the perversity and edginess of the spoken word lines.
For Josh, his would be either Your Heart Is A Muscle, due to the positive themes expressed in the song, or Living Room Song by The Wonder Years, as a huge TWY fan himself.
Libby's is probably This Is Fine, because even if it's a joke song, it has a great campfire sing-along feel to it, and I think she likes laughing as I try my best to rap. (Her favorite song we do is Sunsets by Mixtapes, but that's on our youtube and not instagram.)
Do you have more of those coming up?
Of course! We don't have an exact list of songs coming up to post, but we do have a pretty extensive list of songs we're familiar with playing from when we used to do a lot of live cover sets, and we latch on to new songs probably every week that we have interest in trying out.
We also plan on posting snippets from our album pretty soon, so stay tuned.
I saw that you are currently working on an album. When do you think we can expect more details on it? What can listeners expect?
Yeah, so it's in the very early stages right now, but what I can say is... It's going to be a concept album, with a singular narrative throughout it that we've already mapped out. We sort of wrote a story, using our own combined experiences, though we're planning on using the story more as 'world building' for the album instead of necessarily telling a story directly.
It deals with some pretty heavy themes, and we're trying to be careful about how we go about talking about them so it comes across as responsible and thoughtful.
Tonally? Hmm... I'd say there are elements of all the artists I've listed in this interview so far!
Do you have a song from it that you're most excited for people to hear? Why?
Well, as of the moment, we have about 14 different instrumental tracks we've written together, but most of those were written before we defined the concept/story for the album, so it's hard to say what will actually make it to the final cut, if any of them! We might release an EP before the album is finally out, containing songs we fleshed out from before the album writing process began. We have two unreleased songs right now, Proud Of Me and Summer Haze, that both have really fun solos/breakdowns though, which we've been thinking about how to debut.
Thanks for taking the time to answer the questions. Do you have anything else that you would like to add?
Just a thank you to you guys over at Sound In The Signals, as well as to all of our fans for keeping up with us and reading this! We know our social media was kind of dead there for a little while, but releasing this album, as well as maintaining a regular posting schedule has long-since been a goal of ours. We were all just either fairly busy or going through a lot in our personal lives -- some of us still are -- but we're doing our best.
Follow Trading Twilight:
Follow Sound In The Signals: