Misplaced - Sound In The Signals Interview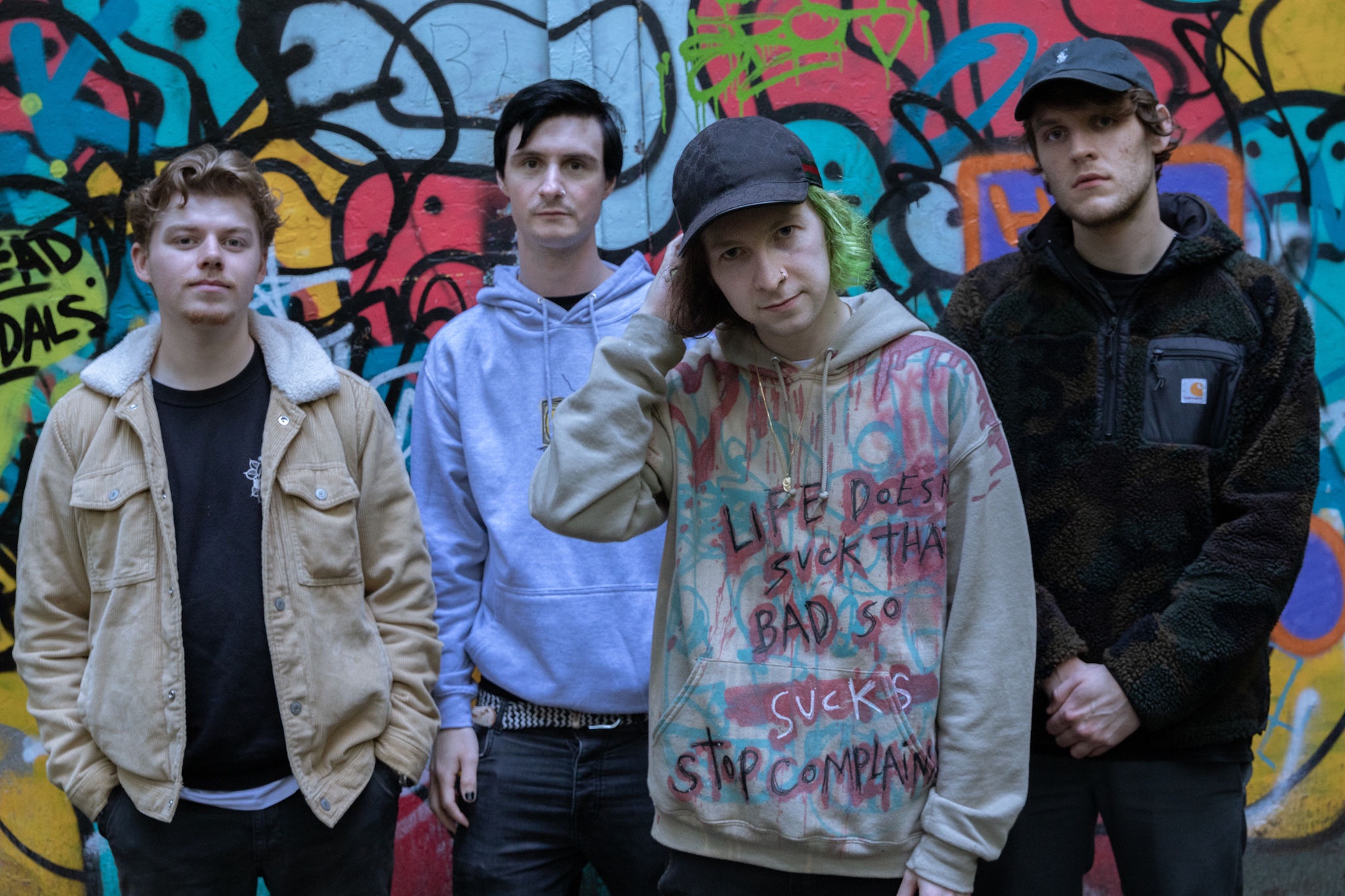 I recently had the opportunity to interview Kyle and Kenny of Glasgow pop-punk band, Misplaced. We discussed their new song, "idk why i try", filming the video, releasing music during the pandemic, and more. Check it out below.
First, thanks for the interview.
Kyle: No problem! Thank you for having us.
You just released your video for "idk why I try". What was the video shoot like and who came up with the concept for the video?
Kyle: For that music video we knew it was going to be released around Halloween time, so it was only fitting to have it themed. With all of the lockdown restrictions in the world right now we were pretty stretched for locations so we just decided to shoot it at me and Kenny's flat, the idea was essentially a sad ghost story where he throws a Halloween party for himself which now looking at it was probably what a lot of people done this year!
Kenny: Kyle and I came up with the original concept and developed it with our friend and director Mark McMurtrie. The shoot was hilarious! We've worked with Mark before so it was a really laid back atmosphere. Shooting in the flat was a huge bonus because we had no deadline and could go late each night.
Do you have an interesting story from the video shoot?
Kyle: We actually recorded a lot of behind the scenes footage on a GoPro that we'll be releasing on YouTube in a couple of weeks! At first the original plan was for someone else to play the ghost but they couldn't make the shoot so I got to throw the costume on and play ghost!
Kenny: Kyle couldn't see a thing under the costume! So of course there were some mischievous moments... you'll be able to see all the behind the scenes fun very soon!
I really like the song. Can you tell me about writing it? How long did you work on it and what were some of the musical and lyrical inspirations?
Kyle: Glad to hear you like it! I came up with the chorus riff a while ago and took it to the guys in the practice studio where we sort of just fleshed the idea out from there. We enjoy writing songs that will go off live, if people can jump during the chorus then it's a win in our eyes. Once we have the structure nailed I'll sit with headphones and write lyrics. I usually draw from my own experiences when it comes to inspiration, I got messed about by someone for a while and it took me a long time to release that's what was happening. So once I came to terms with it I had to get it off my chest, I can't express how cool it is though for people to relate to the song!
Kenny: Kyle nailed the rhythm on this one so when I was writing the lead it all came very quickly. The chorus came to me right away; especially the 2 notes that come in just before, I'm in love with that part. It's so simple but it bangs! It's always good to feel the ideas flowing out of you when you're writing, trusting that instinct and not overcomplicating things is really important.
I think "idk why I try" is a big standout song for your band and one of my favorites you've released. Did you know it would be a special one for your band when you finished writing it?
Kyle: I definitely knew the hook was catchy. Before we'd even recorded the song we played it on a small Scottish tour we played weeks before and I could already see people singing along which was crazy!
Kenny: Not until I started hearing it back in the studio. Sometimes a song is dope but the production or performances aren't what you want on record and it can be disappointing so I try not to get too excited until everything is laid down. But when I heard the guitars in the chorus coming together I knew this one was gonna hit. We did this cut with Ian Sadler, he did a really amazing job capturing our sound and I definitely think it's taken us to another level.
What's it been like releasing new music during the pandemic and what have been some of the ways you've been able to promote your band and music during this time?
Kyle: To be honest I've enjoyed releasing during this time, don't get me wrong I really miss playing shows but a time like this has really allowed us to focus on the marketing. We've been able to set out schedules for all of our content which has really helped keep momentum thus far. It's never been more clear that video content is key in 2020 so we plan on keeping that up!
Kenny: I don't know what Kyle and I would've done without it to be honest. We live together and we live this band every day. Managing and planning is what has kept us going the whole time and seeing the positive feedback we've been getting on 'idk why i try' and 'fuck that i'm alright' has been a massive boost for all of us.
Thanks for taking the time to answer the questions. Do you have anything else that you would like to add?
Kyle: I would just like to say thanks to everyone taking the time to interact with us and leave comments on our music! It's amazing that people actually enjoy what we've got to offer and makes even the hardest times completely worthwhile.
Kenny: Thanks to everyone who has been supporting us! We're all so glad that you're enjoying it and all we do is think of new ways to give you guys content you will enjoy! We're coming big in 2021 so stay tuned and tell everyone you know xoxo.
Follow Misplaced:
Follow Sound In The Signals: